Past Newsletters
Spring 2022 Journalism Newsletters
Here's the latest news from the Brandeis Journalism Program. Check out our upcoming events, fall 2022 course offerings, recent guest speakers, journalism opportunities and more below.
Fall 2022 Course Offerings
We've got an exciting roster of new courses and faculty members for the fall, as well as number of returning popular courses. Here's what you can expect from the Journalism Program in fall 2022.
JOUR 112B — Social Journalism: The Art of Engaging Audiences
 Students will learn how to use social media storytelling to develop their own voices, sharpen their reporting skills, and reach new communities and platforms. They will also learn the art of tracking and building audiences through engagement tools and will critique the work of professionals and colleagues.
Taught by Adriana Lacy, Audience Engagement Editor for Harvard's Nieman Foundation who previously worked at the New York Times, Axios and the Los Angeles Times. Meets Mondays and Wednesdays from 4:05-5:25 PM.
JOUR 114B — Arts Journalism: The Making of a Podcast
How do audio journalists cover culture in a world of ever-expanding media options, and find stories that captivate audiences? In this course students will develop their storytelling skills as they work collectively over the semester to produce a podcast that delivers innovative arts, entertainment and culture coverage. Taught by Iris Adler, former executive director for programming and podcasts at WBUR, who helped created some top public radio podcasts. Meets Tuesdays and Fridays from 11:10 AM-12:30 PM.
JOUR 13A — Multimedia Storytelling Lab
In this two-credit course, students at both beginning and intermediate levels of experience pursue projects in photography, podcasting, and video to develop their skills as multimedia journalists. This lab course provides instruction on best practices with equipment and software as well as a forum for workshop and critique. Usually offered every year. Taught by Mark Dellelo, director of Brandeis Sound and Image Media Studios. Meets Tuesdays and Thursdays from 3:55-5:15 PM.
JOUR 89A — Contemporary Media: Internship and Analysis
 This course brings together students who have held a summer internship in journalism or are interning concurrently with the course. The instructor will work with students one-on-one and in group settings to sharpen the skills they developed as interns and advance to a higher level of producing professional journalism. This course is required for an internship to count toward the journalism minor. Offered every year. Taught by journalist and lecturer Rachel Raczka, the Journalism Program's Assistant Director for Internships and Outreach. Meets Mondays and Wednesdays from 5:40-7:00 PM.
JOUR 113A — Longform Journalism:  Storytelling for Magazines and Podcasts 
What makes for a great story? This course will examine the hallmarks of successful narrative nonfiction, in both written and audio form. Students will analyze award-winning magazine stories as well as reporting-based podcasts that have injected new energy and financial success into the journalism world. They will learn story structure and techniques to capture and hold the audience's attention. And they will learn by doing, producing their own podcasts and written pieces. This course fulfills the Reporting requirement of the Journalism minor. Usually offered every year. Taught by longform journalist Neil Swidey, the director of the Journalism Program. Meets Tuesdays and Thursdays from 2:30-3:50 PM.
AMST/JOUR 137B Journalism in the 20th Century
This course examines what journalists have done, how their enterprise has in fact conformed with their ideals, and what some of the consequences have been for the republic historically. Usually offered every year. Taught by Maura Farrelly, chair of the American Studies Program. Meets Tuesdays and Thursdays from 5:30-6:50 PM.
JOUR 152A Truth, Fact and Research in Journalism
This course investigates the concept of journalistic truth through immersion into research, fact-checking, and the art of the interview. Working with transcripts, footage, and other sources, students learn how to find the story, leveraging the power of New Media and converting information into knowledge. Taught by Ann Silvio, associate professor of the practice in journalism and former 60 Minutes senior producer. Meets Mondays and Wednesdays from 2:30-3:50 PM.
UDR News
Jillian Brosofsky and Juliana Giacone will be the Journalism Program UDRs for the upcoming 2022-23 school year. They'll be your contacts moving forward for questions about the minor, upcoming events, and ways to get involved with the program. Maddy DuLong and Scarlett Ren will round out our student leadership team, joining us as our official Social Media Coordinators. They will guide our social media strategy and multimedia content.
We're grateful to Anna Nappi and Noah Zeitlin for their work during their tenure with the Journalism Program and are excited to see where our students take us next!
Contact:
Jillian Brosofsky (jbrosofsky@brandeis.edu)
Juliana Giacone (julianag@brandeis.edu)
Guest Speakers
Here's the latest news from the Brandeis Journalism Program. Check out our upcoming events, recent guest speakers, journalism opportunities and more below.
Upcoming Events
A.B.I. (Always Be Investigating)
Frontline producer Michael Kirk will join Ann Silvio's Documentary Journalism class on Monday, March 21 at 3 p.m. Kirk is a multi-award winning producer, writer, and documentarian — covering a vast array of investigative topics, including a most recent episode chronicling Putin's Road to War.  He also produced a documentary called Pelosi's Power that will premiere on March 22. 
Kirk will discuss his career and take questions from Brandeis students.
The inside story of the COVID vaccine
Join Wall Street Journal writer, bestselling author, and 1988 Brandeis grad Gregory Zuckerman for a discussion with the Brandeis Journalism Program about his new book, A Shot to Save the World: The Inside Story of the Life-or-Death Race for a COVID-19 Vaccine. Named one of the best books of 2021 by The Economist, The Financial Times and the New York Post, Zuckerman's book was published by Penguin Random House and optioned by HBO. His previous bestselling books include The Man Who Saved the Market.
This webinar will be moderated by Director of the Journalism Program Neil Swidey and Lecturer in Journalism Ann Silvio.
Where: Virtual
When: Tuesday, April 5, 2 p.m.
Recent Featured Event
Gina McCarthy: How to talk about climate change so that people actually listen
"If you can't talk to people, you're gone," said Gina McCarthy, the federal government's top national climate official, during a March 8 Brandeis Journalism webinar. The fate of climate change policy, if not our planet, she suggested, will rely heavily on our ability to communicate with one another.
The event featured McCarthy, the nation's first National Climate Advisor, in a wide-ranging, spirited, hour-long conversation with Neil Swidey, the director of the Brandeis Journalism Program. Swidey drew from the hundreds of questions that Brandeis students and other webinar attendees had submitted.
After a welcome from Brandeis President Ron Liebowitz, Swidey kicked things off by asking McCarthy how she can possibly maintain her optimistic attitude even though climate change is such a bleak issue and existential threat. She cited her Irish heritage and her knowledge of what works from her many decades in public service. Using the metaphor of a Boston Marathon runner, McCarthy criticized the many climate change activists who greet signs of progress by lamenting how much more there is left to do. "Well, for Christ's sake, don't remind me of that when I'm going up Heartbreak Hill," she said. "Celebrate every damn step!"
Before serving as President Biden's chief climate advisor, McCarthy ran the EPA for President Obama. She stressed that her job isn't to make people understand climate change – or even to care about the climate. "The goal is to get them to act in a way that's consistent with what climate tells us," she said.
McCarthy cautioned people not to talk down to those who disagree with them about climate change – or to try to prove how wrong they are. Instead, she suggested focusing on solutions where there can be common ground, like the shift to clean energy. "I need people's spirits lifted right now," she said. "I need them to be hopeful." In the end, she said, hope – not fear – is going to drive change.
—Nashvin Kaur
Guest Speakers
Adriana Lacey:  Redefine What Engagement Means
Adriana Lacey, the digital and audience engagement editor at the Nieman Foundation for journalism at Harvard University, urged Brandeis journalism students to challenge the traditional metrics of success in the field.
"How can we redefine what engagement means?" Lacy asked during her visit in February to Neil Swidey's Reinventing Journalism for the 21st Century course. "Like, maybe it wasn't the most read story, but maybe we got the highest community response for it. Or maybe we wrote about an issue that hasn't been covered and that organization got more funding. That's a success." By avoiding the trap of solely chasing eyeballs, she said, journalists can determine how to best serve the public and uplift marginalized voices. Lacy also stressed the importance of meeting people where they are, and reaching out in meaningful ways to underserved communities.
Though still in her twenties, Lacy has already had impressive experience at a host of top news outlets, including the Los Angeles Times, the New York Times, the Guardian and Axios. Committed to helping those coming up behind her, she is also the founder of Journalism Mentors, a nonprofit site that connects young journalists with mentors in the industry.
—Lesedi Lerato Mataboge
Ann Scales:  If I Don't Understand It, I Can't Communicate It
Ann Scales, Director of Media Relations for the Massachusetts Department of Public Health, stressed the vital importance of clarity in both journalism and health communications when she spoke in February to Neil Swidey's Science Journalism, the Pandemic and Disinformation course. Earlier in her career, Scales worked in a variety of high profile editing and reporting jobs, including serving as a White House Correspondent for the Boston Globe.
In her Brandeis talk, Scales told students how she pushes for transparent, accurate data, particularly on the health department website.
Discussing the trends of public trust in science journalism, a prevalent theme in the class, Scales lamented how politicized the pandemic and other public health matters have become, an occupational hazard for both science journalists and science communicators. But she celebrated the growth in student interest in both fields. "They want to be a part of what we know,'' she said. She also stressed the importance of being able to pivot during a pandemic when knowledge changes rapidly. "It's not that somebody was wrong," she said, "it's that facts change so we must adapt to that."
Her role makes her a critical bridge between scientists and the public, and she works hard to make sure the experts speak in clear, comprehensible language, rather than falling back on scientific jargon. "If I don't understand it," she said, "I can't communicate it."
—Srishti ​​Nautiyal
Betsy West:  How to Make News Documentaries That Matter
Betsy West, one of the filmmakers behind RBG and My Name is Pauli Murray, visited Brandeis on March 7 to discuss her acclaimed documentary films and answer questions about finding stories, getting funding, and responding to criticism. "The thing about going into documentaries is that it's not really a business, it's a calling," she told Ann Silvio's Documentary Journalism class about going into documentary-making. But she's not disillusioned by this calling of hers. She and Julie Cohen, her co-creator, are committed to objectivity and accuracy. After all, she's "not an activist."
Mainly asked about RBG and My Name is Pauli Murray, West explained her process of telling the stories of these extremely accomplished people. Finding the narrative for both Justice Ruth Bader Ginsburg and Pauli Murray meant deciding what to leave in and what to take out. "There was just too much," West explained about Pauli, who was a non-binary civil rights pioneer, Brandeis professor, lawyer, and reverend. Similarly, in making RBG, West and Cohen "found that the arc of the story was women's rights," leaving out information about the justice's work in procedural law.
As a professor at Columbia Journalism School, West is passionate about helping young people find their calling, be it in documentary-making or something else. "Try to work with people from whom you can learn," she explained about taking advantage of the wealth of knowledge available in newsrooms and production companies. For those not sure about a career in journalism, her advice was to try it out. "Just go do it."
—Jillian Brosofsky
Abigail Hauslohlor:  The Wisdome of a Foreign Correspondent
Abigail Hauslohner, a national security reporter at The Washington Post and former "roving" journalist covering the Middle East, gave Brandeis journalism students a taste of the resilience that can mint a successful foreign correspondent on Feb. 18. Hauslohner kick-started her career by booking a flight to Iraq at 24, not much older than many of the students listening to her speak.
"My biggest anxiety was failure," she told the students of the International Reporting course taught by Catherine Elton and Romesh Ratnesar. She reiterated the advice that her father offered when her stress crescendoed: "Abby, you don't need to win a Pulitzer for this." Not every piece has to be perfect, she said.
Hauslohner faced dangerous conditions abroad — covering events like the Arab Spring — and learned to weigh the risks against the rewards of each excursion she embarked on. She expressed the importance of sending journalists to sites of action. At one point in Iraq, she said that the facts on the ground were "dramatically different from what the rhetoric was [in the US]." Often traveling with reporters from other publications, she felt a unique sense of purpose-driven camaraderie; they each aimed to truthfully inform readers back home. Hauslohner also emphasized the importance of transparency and empathy when interviewing individuals for stories. She stressed how crucial it is to "always treat your subjects like people."
After serving as a TIME magazine Middle East correspondent, Hauslohner became the Cairo bureau chief for The Washington Post. Naturally curious, Hauslohner continues to love journalism. "It's like you're in school forever," she said. Abroad or back home, she enjoys the excuse to ask people questions. Hauslohner left the Middle East after seven years but continues to report on foreign policy with the Post'sPentagon team.
—Sarah Kim
Resources
Media Access: As a Brandeis student, you have free access through our library to many newspapers and magazines, even if those publications have paywalls that make their content open only to subscribers. Here's a handy guide with links.

Aimee Slater, the librarian for the Journalism Program/ Social Sciences, has put together this guide that she has designed specifically for journalism students.
Internships, Scholarships & Opportunities:
Other opportunities
Hiatt's World of Work Fellowships (stipends for students taking unpaid summer internships — please pay attention to categories when applying)

Deadline: April 10

Also, note, Hiatt has a number of opportunities for transportation reimbursement, microgrants, and prizes — including ones that are specific to the category of study you decide to pursue. Check them out here.

The Online News Association will host a virtual career day with recruiters, fellowship opps, resume reviews, and networking. And it's FREE. Sign up here.

SJP's Giant List of Job Boards
If you are searching for internships/jobs and unsure where to start, check out the Society of Journalism Professionals' list of media career resources — including free toolboxes with even more job boards, how-to guides, and networking tools.
For more information on internship opportunities, please contact our new Assistant Director of Internships & Outreach, Rachel Raczka.
GET PUBLISHED!
Need clips? Pitch one of our two excellent campus publications, the Hoot and the Justice. Below are their pitch and submission guidelines. All writers are welcome and no previous experience is required.
The Hoot
Email eic@thebrandeishoot.com with story ideas, drafts, and/or concepts, and an editorial team member will forward you on to the appropriate section. Additionally, if you're strapped for ideas, News and Features have a regular flow of articles to assign.
Stories range from 400-1000 words and can live across five sections: News, Sports, Features, Opinion, and Arts. Additionally, the Hoot meets every Thursday in the BMC (Room 332 on the top floor of SCC) at 6 p.m., and interested writers are encouraged to stop by to meet the team. (The final production night of the semester took place 12/2, but will resume in January for the spring term.)
The Justice
Email editor-in-chief Sofia Gonzalez Rodriguez at editor@thejustice.org with story ideas, queries, or to request more information. Published stories run across five sections: News, Forum (Op-eds), Features, Arts & Culture, and Sports.
Your time commitment and contribution style are up to you, but students who would like to be more involved can also apply their skills across Photo, Online/Social Media, and Copy Editing responsibilities. Or shoot for a leadership position through regular contribution or train to be an Editor by becoming an Editorial Assistant. Spring meetings will be set in the coming weeks; contact Sofia for more info
Reporting over Opining
*Please remember, unless they are full of facts, data, and interviews, opinion stories/op-eds are not considered reported stories. They can be a useful portfolio example to showcase your voice and style, but you will need to prove you are able to perform the basic duties of a reporter to meet standards for a job in a newsroom.
Journalism Mentors: A media mentor-mentee program run by Adriana Lacy, engagement editor for Harvard's Nieman Foundation, for student and early-career journalists. Mentees can schedule virtual office hours with writers, producers, and editors from a huge range of publications and industries, including ESPN, New York Times Magazine, NPR, and The Atlantic. It's also a resource for internship, fellowship, and job listings — and it's free.
Starting Out: A free newsletter from Alice Wilder, a NC-based producer who has created podcasts for New York Magazine's The Cut, WNYC, and CNN. Each month, she sends out a newsletter packed with advice, insights, and strategies for anyone hoping to break into the audio journalism industry — with a special eye toward young students and recent grads.
The Lead: Poynter's free weekly newsletter for student journalists. Content includes (not limited to): internship and scholarship postings, job and internship advice, industry news, and cool stories and content from campus publications across the U.S.
Inside the Newsroom: A newsletter and database of journalism job opportunities and internships. The founder is data journalist Daniel Levitt, who also hosts regular workshops and sends out a weekly industry digest of news, advice, and datasets from journalists around the world.
Internship Deadline Calendar: Mandy Hofmockel, who also runs Journalism Jobs newsletter (worth subscribing to, but mostly post-grad roles), created a Google Calendar featuring several of the large publication internship deadlines. Sync to your Google Calendar to receive updates and alerts.
Contact Us
We in the journalism program would like to hear from you. Reach out to us at:
If you have a journalism event or opportunity that you'd like us to promote through this newsletter or our other channels, please email annanapppi@brandeis.edu. 
Best, 
Jen Crystal, Anna Nappi and Noah Zeitlin
The Journalism Program had a fantastic start to the Spring 2022 semester. Even with brand new faculty members and exciting new courses, there is still more to come. Check out our upcoming events, meet our new faculty, and peruse our curated list of journalism opportunities below!
_____
Upcoming Events
Conversation with Gina McCarthy
Gina McCarthy, the top national climate official in the federal government, will headline a Brandeis Journalism webinar in March focused on how to improve communications and coverage of climate change. As the government's first National Climate Advisor, McCarthy serves as President Biden's chief advisor on domestic climate policy and heads the White House office focused on mobilizing a whole-of-government approach to tackling the climate crisis and securing environmental justice.
She will be in conversation with Neil Swidey, a professor of the practice and the director of the Brandeis Journalism Program. Swidey, who is also editor-at-large of The Boston Globe Magazine, wrote an in-depth magazine cover story in 2018 about McCarthy.
McCarthy, a Boston native who served five governors in both Democratic and Republican administrations, served as the administrator of the Environmental Protection Agency under President Obama. A former professor at the Harvard T.H. Chan School of Public Health, she serves as chair of the board of directors of the Harvard Center for Climate, Health, and the Global Environment.
Where: Virtual
When: Tuesday, March 8, 3:30-4:30 p.m.
Register here for the Zoom link.
_____
My Name is Pauli Murray: Watch Party
In preparation for Betsy West joining Ann Silvio's Documentary Journalism: Reporting and Storytelling for Broadcast course on Monday, March 7th (3-4pm), the Brandeis community is invited to a screening of My Name Is Pauli Murray, a documentary West co-directed. The film tells the story of Murray's life. Murray, a lawyer and former Brandeis professor, was a life-long activist for racial and gender equality. Known for having friends in high places — including James Baldwin, Ruth Bader Ginsberg, Eleanor Roosevelt, Langston Hughes, and many more — Murray tended to exercise her influence behind the scenes. Now, through West's film, Murray's legacy is being rediscovered.
Where: Schwartz 112
When: Monday, February 28, 7-9 p.m.
Note: food will be provided following the screening.
This Brandeis forum will take place in conjunction with a conversation with Betsy West in Ann Silvio's course, Documentary Journalism: Reporting and Storytelling for Broadcast. Brandeis community members are welcomed to register by emailing the course assistant, Jillian Brosofsky at jbrosofsky@brandeis.edu.
Where: Virtual
When: Monday, March 7, 3-4 p.m.
Massachusetts Must Read Authors — Larry Tye ("Demagogue")
The Tewksbury Public library is hosting Larry Tye, who will be discussing his book, Demagogue: The Life and Long Shadow of Senator Joe McCarthy. Tye will be in conversation with Brandeis University's Eileen McNamara, a professor of journalism and a Pulitzer Prize winner.
Where: Virtual
When: Tuesday, February 22, 6:00-7:00 p.m.
Register here to receive the Zoom link.
_____
Greg Zuckerman: The Hunt for the Covid Vaccine
Join Wall Street Journal writer, bestselling author, and 1988 Brandeis grad Gregory Zuckerman for a discussion with the Brandeis Journalism Program about his new book, A Shot to Save the World: The Inside Story of the Life-or-Death Race for a COVID-19 Vaccine. Named one of the best books of 2021 by The Economist, The Financial Times and the New York Post, Zuckerman's book was published by Penguin Random House and optioned by HBO. His previous bestselling books include The Man Who Saved the Market.
Register here for the Zoom link.
Where: Virtual
When: Tuesday, April 5, 2:00 p.m.
This webinar will be moderated by Director of the Journalism Program Neil Swidey and Lecturer in Journalism Ann Silvio.
Welcoming New Faculty
This semester, the Journalism Program welcomed three wonderful new faculty members. Learn more about their professional backgrounds and the courses they teach below.

Catherine Elton
Catherine Elton is the Senior Editor of Boston Magazine, where she edits and writes long form features. Before coming to Boston, she spent two decades working as a freelance journalist for magazines, newspapers and radio. Her work has appeared in the New York Times, Glamour, Time, and Bloomberg Businessweek, among many others, and aired on NPR. 
She spent roughly half of her career working as a freelance foreign correspondent in Latin America, living in both Peru and Guatemala, and covering news and features from across the region.
What has surprised Elton most about her experience so far teaching journalism at Brandeis: "I am very impressed with the students in the class — their diverse and fascinating backgrounds, foreign language abilities, and intelligence. It is a really smart group of fascinating young adults."
Alongside Ramesh Ratnesar, Elton is co-teaching Jour 132B: Covering the World: International Reporting & Global Affairs. This course meets on Fridays from 9:00-11:50 a.m. You can reach Elton at catelton@brandeis.edu.
Jacob Feldman
Jacob Feldman is a reporter, creator, and producer with 10 years of experience telling stories for various audiences. He is currently a sports business reporter for Sportico. He previously was a staff writer at Sports Illustrated, where he wrote multiple cover stories while reporting on the NFL and the media industry. His work has also appeared in The Washington Post, The Boston Globe, The Miami Herald, and Popular Science.
Jacob is a graduate of Harvard University, where he won the Thomas Wood Award in Journalism. He is also a co-founder of The Sunday Long Read, a weekly email newsletter highlighting the web's best writing, as well as a producer for This Day in Esoteric Political History, a podcast in the Radiotopia network.
What has surprised Feldman most about his experience so far teaching journalism at Brandeis: "I've been very impressed by my students' ability and excitement to productively collaborate with, critique, and support classmates who they may have just met."
This semester Feldman is teaching JOUR 45A: Sports Journalism & Innovation. This course meets on Tuesdays and Thursdays from 3:30-4:50 p.m. You can reach Feldman at jacobfeldman@brandeis.edu.
Romesh Ratnesar
Romesh Ratnesar is a member of the editorial board of Bloomberg Opinion, where he helps to oversee the board's coverage of national security, foreign affairs, education and immigration. He is also a contributing editor at Washingtonian magazine and has written for The New York Times, The Washington Post, the New Republic, Slate and Air Mail, among other publications.
Ratnesar was previously deputy editor of Bloomberg Businessweek and spent more than a dozen years as a writer, editor and correspondent at Time, serving as the magazine's foreign editor and deputy managing editor. He has reported from numerous countries around the world, including Iraq, Afghanistan, Saudi Arabia, Lebanon, Egypt and Israel and the Palestinian territories. From 2015 to 2017, he served in the U.S. State Department as senior advisor and chief of staff to the Under Secretary for Public Affairs and Public Diplomacy. He is the author of Tear Down This Wall: A City, A President and the Speech that Ended the Cold War.
What has surprised Ratnesar most about his experience so far teaching journalism at Brandeis: "I would say that what's surprised me most is how well-informed the students in our class are about global affairs and how many are studying second and third languages — which is something I regret not doing myself as an undergraduate. They've also been incredibly patient with Catherine and me as we've adjusted to the demands of teaching a college course, which neither of us have done before!"
Ratnesar is co-teaching Jour 132B: Covering the World: International Reporting & Global Affairs with Cathering Elton. This course meets on Fridays from 9:00-11:50 a.m. You can reach Ratnesar at ratnesar@brandeis.edu.
GET PUBLISHED!
What do journalism internship applications for WGBH, Boston Magazine, the Boston Globe, CNN, and every other major news outlet have in common? They require examples of reported work.* More often than not, interns are required to pitch, research, report, and write their own stories while on the job — and proving that you can do so during the application process is absolutely critical.
Need clips? Pitch one of our two excellent campus publications, the Hoot and the Justice. Below are their pitch and submission guidelines. All writers are welcome and no previous experience is required.
The Hoot
Email eic@thebrandeishoot.com with story ideas, drafts, and/or concepts, and an editorial team member will forward you on to the appropriate section. Additionally, if you're strapped for ideas, News and Features have a regular flow of articles to assign.
Stories range from 400-1000 words and can live across five sections: News, Sports, Features, Opinion, and Arts. Additionally, the Hoot meets every Thursday in the BMC (Room 332 on the top floor of SCC) at 6 p.m., and interested writers are encouraged to stop by to meet the team. (The final production night of the semester took place 12/2, but will resume in January for the spring term.)
__________________________
FAll 2021 Journalism Newsletters
Fall 2021 Guest Speakers
Investigating Innovation with The Boston Globe
The Brandeis Journalism Program hosted the "Quick Strike" team behind the Boston Globe's series "Blind Spot" on Nov. 15. The reporting team won the 2021 Investigative Reporting Pulitzer Prize for uncovering systemic government failures that led to fatal consequences for drivers. They spoke to the Brandeis community along with the video producer and audience director who helped make the reader experience as complex and all-encompassing as the investigation itself. They discussed the importance of multimedia journalism and how investigative news can influence public opinion and government action.
"The form of journalism is different [than activism]. I am not yelling at people to be outraged, you're showing people the facts," explained reporter Evan Allen. "Ultimately, people do not like to be told what to do. It doesn't move people when you tell them what to think or how to feel or how to act. But when you present them with the facts that they need to draw their own conclusions, that's when you can move the dial a little bit. That's why I like journalism — the facts are loud and they hurt and they should."
—ANNA NAPPI
View the full recording of their panel discussion here under the "Featured Events" section. (Check out recordings of other recents talks on that same page.)

From Our Guests
Iris Adler on Creating the Future of Podcasts
The first time Iris Adler's boss at WBUR told her to go make a podcast, she replied simply – "what's a podcast?" In the decade since, Adler has mastered the craft. Adler, the former executive director for programming, podcasts and special projects at Boston NPR powerhouse WBUR, led the station's podcast division with distinction. In that capacity, she oversaw a number of acclaimed journalistic shows including Endless Thread (in collaboration with Reddit), and Modern Love (in collaboration with the New York Times). She spoke on Nov. 4 to Neil Swidey's Longform Journalism: Storytelling for Magazines and Podcasts course, emphasizing the creativity and awareness that helped her team make its mark in the podcast world. 
Adler admitted that the initial transition from radio to podcast was tentative. Her earliest productions were essentially regular public radio stories. Before long, though, she and her team began to explore and embrace the freedom of the new format. "The engineers became sound designers – that creative space previously didn't exist," she said. "They made it sound brilliant." Podcasts also pioneered a more natural, human narration style – "the insertion of self to serve the point." Eventually, the techniques her team helped popularize became common on traditional public radio as well.
Though the journalism industry has struggled in recent years, Adler is bullish on the role that podcasts will increasingly play. "They're here to stay," she said. "It's a wonderful platform." Last year, NPR's podcast division for the first time brought in more revenue than its broadcast shows, providing crucial funding to support the news organization's overall journalism. NPR podcasts are also attracting a much more diverse audience than its over-the-air shows. "The smart money is on NPR," she said, to lead the charge as podcasts help shape the future of journalism.
-ELLIS ZEHNDER
Catherine Elton on facing fears and taking risks
Catherine Elton, the senior editor for Boston Magazine and a former longtime foreign correspondent in Latin America, compared life as a freelance journalist to being an actress. "You go on an audition every day," she said, "and you have to accept a lot of rejection."
During her visit to Neil Swidey's Long-form Journalism course on Nov. 16, Elton spoke about the joys and challenges of covering other nations. She spent many years living in, and reporting from, Peru and Guatemala. She encouraged students interested in global affairs to consider moving to a new country and seeing it as a journalist, rather than as a tourist. But she also cautioned them against seeing only the negatives.
At Boston Magazine, Elton edits and writes long-form journalism on a wide range of subjects. She encouraged students to do their reporting in person whenever possible. If they can't do that, she advised them to pick up the phone and call rather than emailing or texting. "Use the 'phone function' on your phone."
Elton will be joining the Brandeis Journalism team this spring, teaching JOUR 132B Covering the World: International Reporting and Global Affairs. She will be team-teaching this course (which is cross-listed with IGS) with Romesh Ratnesar, who has reported extensively from Asia, Europe and the Middle East. A member of the editorial board of Bloomberg Opinion, he is also a former senior editor at Time magazine and State Department official during the Obama administration.
Astead Herdon on journalism designed "for everyone"
Astead Herdon, national political reporter for the New York Times and fill-in host for the Times' popular podcast The Daily, urged students interested in political reporting to write for real people, not insiders. In his visit to Neil Swidey's Long-form Journalism course on Oct. 19, Herndon said, "The reason I work at a newspaper, and not some bougie-ass magazine, is I want to write for everyone." He stressed that this approach is so much more meaningful than "assuming that 30 people in DC are the only ones who matter."
Before moving to the Times, Herndon started his career in Boston, as an intern with the Boston Globe. From there, he immediately transitioned to a full-time job on the Globe's Metro staff, covering cops and courts and a wide range of daily stories such as county fairs. Herndon credits his rapid rise in journalism both to saying yes to new opportunities and knowing when to stick around. He described how important it is in internships to know — and do — what you were hired for, rather than getting starry-eyed — but also to make time to pursue more ambitious projects that demonstrate your full talent. For him, this meant sticking to the beats he was assigned to at the Globe — crime stories and then the Boston City Council — but also volunteering on weekends for the beats he was more passionate about and paying attention at opportune moments. His career took off after Donald Trump's surprise win in 2016, when he was sent to the Globe's DC bureau to report on the transition. Herndon, who is also an analyst for CNN, moved to the New York Times in 2018 and has been covering politics nationally since then.
— GAVI KLEIN
Lovia Gyarkye on the art (and value) of good criticism
Lovia Gyarkye may be Arts and Culture critic at the Hollywood Reporter, but she approaches her job like a reporter. When visiting Josh Wolk's "Arts Journalism, Pop Culture, and Digital Innovation" class on Oct. 26, Gyarkye spoke about how her time as a reporter and fact-checker for the New Republic made her extremely conscious of learning everything about her subject before evaluating it. "A good review takes a lot of reporting and research," she explained, noting thorough background research helps make a critique "rock solid."
Like a growing vine, Gyarkye said she still continues to collect knowledge and grow as a critic, while exploring spaces that women of color have not always been welcome into. "As a dark skinned woman, I'll be ripped apart for any criticism I make," she said, adding that the prejudice that critics, who are women of color, receive is a symptom of a larger systemic issue. And that finding support systems to commiserate with is vital.
For aspiring critics, Gyarkye advised: Reading is fundamental -- and those interested in the field should read as much as possible from all forms of writing (non-fiction, fiction, poetry) to learn the different ways language can be molded to create a robust and vivid idea of the media being reviewed. She also believes the best criticism is very specific about the reasons they loved or hated what they reviewed.
"Criticism takes time, practice, and consideration," Gyarkye said. And in the age of social media and the internet, where everyone's a critic, she added, "Now is the time, more than ever, for good critics."
— TIBRIA BROWN
Mary Jordan and Kevin Sullivan on getting out into the world of journalism
Mary Jordan and Kevin Sullivan, Pulitzer Prize-winning Washington Post journalists, urged students interested in journalism to "go there" and get started.
In a visit to Fred Barbash's journalism internship course on Nov. 17, the married couple discussed their varied careers, from local reporting to foreign correspondent postings in Mexico City, Tokyo and London. "Figure out a place in the world that you're interested in, hopefully one that isn't flooded with a million other journalists," Sullivan said.
Although the couple has reported from around the world, Jordan encouraged students to consider working as a journalist to fill a need in one of this nation's many "news deserts" that lack quality outlets. There's lots of opportunity, she said, adding, "I'm excited for you."
Her husband echoed that. "This is still an incredibly interesting way to make a living," Sullivan said. "People who say journalism is dead are idiots."
Jay Feinstein:  The fine line between activism and journalism
Alumnus and associate producer of PRI's Living on Earth Jay Feinstein '17 spoke with journalism students at the Meet the Minor event on Sept. 30. Feinstein discussed his roots in environmental advocacy during his years at Brandeis — he was the founder of the campus rooftop garden — and how that translated to his career as a journalist. While activism and journalism have a storied history of contention, Feinstein stressed that students could ethically forge this path. "It's a tricky line between activism and journalism," he said. "But at Living On Earth, we don't do activism. We tell the truth about climate change."
Feinstein said audio journalism is enjoying "a renaissance" in part because "it's personal. You're talking right into somebody's ear." He urged students to engage with the medium, producing their own audio work. As a Brandeis undergrad, Feinstein was a Living on Earth intern. After graduating, he went to graduate school in business and started a corporate career but shifted gears to try to find more meaning in his life. He was able to become a producer for Living on Earth because of the professional connections he had developed and nurtured. He encouraged students to prioritize relationship-building as they move through their careers.
Gillian Flynn:  Everyone's a Critic
Gillian Flynn, a former journalist and the 
New York Times
 bestselling author of 
Gone Girl
, 
Sharp Objects
, and 
Dark Places
, spoke to Josh Wolk's Arts Journalism, Pop Culture, and Digital Innovation course on Oct. 12. While Flynn gained international fame for her award-winning novels (and their subsequent screen adaptations), she started as a writer and critic for 
Entertainment Weekly
 (where she worked with Wolk). Flynn advised students not to try to become "friends" with a source or subject during an interview — adding the pursuit could result in their failing to ask hard-hitting or daring questions.
Flynn also noted her time as a journalist helped prepare her for criticism once she transitioned to life as a novelist. She told students to remember: A bad review is just a single person's opinion and not representative of your readers as a whole. Still, Flynn added, reading critiques can be a valuable tool for reflection as a writer. "Often, I am able to find the balance at certain points," she said. "Maybe they don't agree with it, but I totally get that. But sometimes, I'm like, 'They're right!'" — Noah Zeitlin
Veronica Chao:  Why Now?
Veronica Chao, the Boston Globe's deputy managing editor, offered this advice to students hoping to pitch a story idea and get the green light to write it as a freelancer. "Ask yourself: Will readers care about this?" said Chao, who oversees Living Arts coverage as well as the Sunday Magazine. During her visit to Neil Swidey's Long-form Journalism class on Sept. 30, Chao said she did not always know she would work in media. After editorial roles with D.C. and Boston-based publications, the Globe recruited Chao, where she edited City Weekly before joining the Boston Globe Magazine.
She emphasized the importance of good timing and skill — two factors young reporters should leverage as they break into the industry. Pitching, Chao said, relies on timing. "It can be an exciting idea, but not timely," she said, describing why an editor might say no to an otherwise good pitch. "Being a journalist at this time, there is an unprecedented amount of news." Pitching is the chance to show you have the voice to tell a story distinctively, Chao said. "We get a sense of your style." — Autumn Bellan
Matthew Shaer:  Hook the Reader and Read Relentlessly
"Every section needs to end with a disclosure or a new piece of information," Matthew Shaer told students during Neil Swidey's Long-form Journalism class on Oct. 7. Shaer, a writer-at-large for the New York Times Magazine, explained that, for a long-form magazine story to engage the reader, each part "needs something that leaves people wanting to know what happens next." Or as he puts it: "It's all about buying yourself space to jam broccoli down someone's throat."
In contrast, Shaer, who is also the co-founder of podcast studio Campside Media, said that, with audio journalism, it's the delivery that makes the difference. "It does not matter what someone says, it matters how they say it," he explained. "That's the opposite of the truth for magazine writing." Currently, Shaer — who was an English Literature major at the University of Maine, discovering journalism as "a way into fiction writing" — is exploring a different form of storytelling. He's writing a book based on his 2019 New York Times Magazine story about the criminalization of poverty. — Elliot Bachrach
Daniel Estrin:  Champion Responsibility and Transparency
Daniel Estrin, NPR's international correspondent based in Jerusalem, urged Brandeis journalism students to bring curiosity and an open mind in their stories and search for answers. "You want to be welcome into every home whose door you knock on," Estrin told the students during his Sept. 14 visit to Neil Swidey's Long-form Journalism course. The students had studied several pieces in Estrin's award-winning body of work, including the "Hotel Corona" episode of the NPR podcast 
Rough Translation
.
Asked how he handles reporting on the sensitive and contested subject matter of the Middle East, Estrin said he feels a heightened sense of responsibility. "It's a feeling of trembling all the time. You want to honor the people," he said, adding, "you want to capture them." He admitted that sometimes when you immerse yourself deeply in the lives of the people you're covering, "you discover things about them that aren't so comfortable." Still, even when including those less flattering details, he prioritizes transparency, having any difficult conversations with his subjects before his pieces air, rather than after.
A 2006 graduate of Brandeis who studied both Hebrew and Arabic, Estrin urged students interested in international reporting to learn other languages. After graduation, he followed the advice of a journalist he had gotten to know during his senior-year internship on the Boston-produced National Public Radio show Here & Now. He hopped on a plane to the Middle East and began working to become a foreign correspondent. — Jared Panson
Dave Jorgenson:  Becoming the Next Big Thing
Dave Jorgenson, better known by millions as The Washington Post's "TikTok guy," gave Brandeis journalism students a glimpse of his approach to the wildly popular platform that makes news accessible to a younger audience -- and how he does that while working for one of the nation's most established news organizations. Speaking via Zoom to Fred Barbash's Contemporary Media course on Oct. 6, Jorgenson said he was producing "goofy" videos for the Post's official YouTube channel in the spring of 2019 when he convinced his managers to let him launch a stand-alone TikTok account. He focuses on a single, discrete element of a Post news story and brings it alive through the use of fast-paced comic skits, like dressing up as a cicada, to explain otherwise complicated concepts, like the cicada's life cycle. He attributes the popularity of his TikTok (which has more than 1 million followers) in part to his team's ability to keep up with TikTok trends such as viral sounds and hashtags. It also helps, he joked, that he was "so cool." After answering student questions, Jorgenson offered the advice to be a team player in any journalism newsroom setting because when people understand your capabilities, they trust you with creating the "next big thing." — Noah Zeitlin
Taffy & Claude Brodesser-Akner:  Silence Can Bring About Your Best Quotes
Journalists and married couple Taffy and Claude Brodesser-Akner visited via Zoom on Sept. 27 to share their wisdom with the students in Josh Wolk's Arts Journalism course. Taffy is an award-winning journalist and author, who has worked for GQ and The New York Times and is known for her celebrity profiles. Her husband, Claude, is a multimedia journalist, who has experience as a podcaster and politics writer.
They advised journalism students to prioritize listening during interviews, especially when asking tough questions. Sitting in silence and waiting for your interviewee to respond might feel awkward, they said, but it's worth it in the end. Taffy is known for maintaining a strong voice in her writing, but she noted the importance of restraint and not being gratuitous when showing personality in your prose. They both agreed that journalism is not a place for ego. — Anna Nappi
______________________________
SPRING 2021 Journalism Newsletters
January 2021 Journalism News
Spring 2021 Guest Speakers
Swati Sharma: Find Your Why
By Gavi Klein
"Try to figure out why you're doing what you're doing," Swati Sharma told the students in Neil Swidey's Reinventing Journalism for the 21st Century course on March 16. "If you figure that out, it'll guide you in all of the hurdles and decisions you have to make." This was the life-changing career advice that Sharma, the new editor-in-chief of Vox, discovered for herself years ago. That advice has shaped her career ever since. Sharma began her journey studying politics, not intending to go into journalism at all. But a couple of college internships changed that, she began to pursue work as a journalist in full force. She quickly climbed the ladder, moving from The Boston Globe to The Washington Post to The Atlantic, where she served as managing editor, before being named editor-in-chief of Vox, a leading network of explanatory journalism. Sharma described her "why" as the belief that ignorance is the cause for most of society's evils. Her work in journalism, accordingly, aims to shed light on issues many are ignorant of and thus reach a wide range of people in a powerful, lasting way.
Allissa Richardson: Never Stop Writing
By Noah Zeitlin
Dr. Allissa Richardson — author of Bearing Witness While Black: Smartphones, African Americans, and the New Protest #Journalism —gave her advice for forging a successful but balanced journalism career. During her talk with students in the Reinventing Journalism course on April 8, Richardson advised students to find purpose in their writing, and to lean into it even in the face of racial violence and other trauma. "Never stop writing," she said. It can be extremely therapeutic. "If you write it down," she said, "you only have to say it once." She also recommended checking in "on your strong friends." Even if they appear to be doing fine, they may well be hurting and in need of support. She said the burdens of trauma can be especially heavy for journalists of color, and she encouraged journalists to pay attention to their own mental health. Richardson, an assistant professor at the University of Southern California's Annenberg School for Communication and Journalism, is writing a new book called, Canceled: How Smartphones and Social Media Democratized Public Shaming.
Alvin Chang: Make It Understandable to Your Mom
By Dara Goldfein
"I was really interested in helping communicate how really complicated things work" Alvin Chang, The Guardian's senior data reporter, told students in the Reinventing Journalism course. Chang found his speciality in data visualization through a long, winding path in journalism, beginning with a job writing about hockey for ESPN. Although he didn't come into the job knowing much about hockey, he learned how to use data to distinguish his work. Through his stints in various newsrooms, a passion emerged: communicating complicated ideas simply. Chang, who previously worked at Vox producing viral explainer videos, constructs his work by imagining his audience. "I often think about my mom … what can I do to get her to understand things that are relatively complex?" Chang said. He said he wants to make information accessible, and he knows it can be.
Akilah Johnson: Find Your Superpower
By Nicolas St Cloud
Growing up, Akilah Johnson thought she wanted to study STEM but discovered relatively late her aptitude for writing. While her journey to becoming a respected journalist might seem natural, she explained to Professor Neil Swidey's Science Journalism and the Pandemic course, she has actually traveled a nonlinear path. Johnson is now a national reporter at The Washington Post, covering health disparities at the intersection of race, medicine, politics and immigration. Johnson said she hopes readers walk away from her articles feeling challenged and having learned something new. She advises future journalists to know their "superpower," and she recounted how she used her knowledge of hip-hop music and the Miami club scene to make herself invaluable to more experienced colleagues in her first newsroom job as a low-ranking editorial assistant. She encouraged students to avoid limiting themselves to one specific beat or title, urging them to explore diverse topics and uncover truths about under-explored issues. "Everyone should feel comfortable making a left turn in their path," she said, "because they will end up at the right place eventually."
Lisa Tuite: Dig Into Databases
By Claire Kiewra
For a group of journalism students, Lisa Tuite offers the ultimate insight into finding the facts that blossom into important news stories. Tuite worked at The Boston Globe library for nearly four decades, heading the department for 25 of those years. In her talk with Brandeis students in both of Neil Swidey's courses on Feb. 23, Tuite discussed the importance of research in journalism and how to implement different research tools. While a Google search may be a great jumping-off point to a story, Tuite recommends premium databases like Nexis Uni, which Brandeis students have free access to. She walked students through the process of conducting productive database searches, and she reminded them that, even in our digital age, there is still great value in real-world archives. She put her research prowess to work on many of the Globe's highest-profile projects over the years, most notably the Spotlight investigation into clergy sex abuse. And she discussed the surreal nature of seeing an actress play her in the Academy Award-winning movie Spotlight.
Ann Scales: Lean Into Listening
By Emerson White
In life and in the field of journalism, listening is essential to learning, Ann Scales told Brandeis journalism students in the Science Journalism and the Pandemic course on Feb. 18. Scales is a former Boston Globe editor and Washington correspondent who is now the Director of Media Relations for the Massachusetts Department of Public Health. She has served as the director for several years, but her role shifted tremendously in the wake of the Covid-19 pandemic as the messages she gave the public became more urgent than ever. Scales told students, whether you are a journalist or a scientist, you must make things comprehensible, and you must be interested in what people have to say. In all aspects of life, you will benefit from caring about other human beings and the stories they have to tell you. "You listen," she said, "and you tell the truth."
Gabrielle Schonder: The Importance of Truth
In March, Emmy-award winning news producer Gabrielle Schonder led a discussion with students in Ann Silvio's course Truth, Fact and Research in Journalism. Schonder discussed her recent Frontline documentary "American Carnage," the inside story of how Trump's presidency laid the groundwork for an insurrection at the US Capitol. Students also studied Schonder's raw interviews with political figures like Kellyanne Conway and Steve Bannon to understand her strategies for finding the truth in political interviews with public figures. The class considered the merits of Frontline's transparency project, an effort to provide viewers with interactive raw transcripts (such as Schonder's interview with Central Park Five defendant Yusef Salaam). Students engaged in a discussion of adversarial broadcast interviews with a focus on Schonder's groundbreaking report "Insiders," a 60 Minutes investigation of members of Congress who trade on insider information. The story was referenced by President Obama in his 2012 State of the Union speech and resulted in a bipartisan bill called The STOCK Act.
Amina Manzoor: The Real Swedish Experiment
By Roshni Ray
More than a year into the Covid-19 pandemic, countries around the world have implemented different measures to combat the spread of the virus. Swedish journalist Amina Manzoor spoke to students in the Science Journalism and the Pandemic class about Sweden's seemingly more relaxed response to the pandemic, referred to as "the Swedish Experiment." Manzoor discussed both the fallout from Sweden's approach and the distorted reporting about it. Mostly lost in the coverage, she pointed out, was the fact that Swedish public health authorities worked to protect older, more vulnerable residents. If the government's main goal truly had been to achieve herd immunity, she said, they wouldn't have enacted protections for the elderly. She also discussed how the spread of disinformation through a private Swedish Facebook group called the Mewas decreased public confidence in the government's public health advice. From her experience in science reporting and her expertise on pandemics, Manzoor stressed that "in every story, [one] has to explain what is uncertain...People want information." Manzoor, who is now a medical columnist for the Swedish newspaper Expressen, is working on a book that synthesizes her insights about the pandemic.
Anne Barnard: Be Diligent and Compassionate
In March, New York Times correspondent Anne Barnard visited the Truth, Fact and Research in Journalism course. Barnard led coverage of the war in Syria for six years as the Beirut bureau chief before moving onto coverage of the environment and the impact of climate change. At Brandeis, she discussed the best practices for accuracy as a foreign correspondent based on her decades of reporting from Russia, Iraq, Afghanistan, Lebanon and Syria. Students prepared by reading Barnard's work as well as stories by her colleague, the late Anthony Shadid, who was known for his compassionate and diligent reporting practices. Examples of her work include her articles, "From Syrian Rubble to German Concert Halls With a Piano, a Mission and Survivor's Guilt" and "Inside Syria's Secret Torture Prisons: How Bashar al-Assad Crushed Dissent."
Anne Kornblut: Lean on Your Curiosity
By Maddy DuLong
Whether working in old media or new media, Anne Korblut told students, let curiosity be your guide. Kornblut, the Vice President of Global Curation for Facebook, spoke to Neil Swidey's Reinventing Journalism class on March 23. After getting to know the students a bit and polling them about their media consumption, Kornblut described her journey, from a breaking news reporter at the New York Daily News covering tragedy and mayhem, to the deputy national editor for The Washington Post working on high-profile investigations, to her current position at Facebook. She emphasized the importance of local news as the lifeblood of communities, and she described her work at Facebook to help support small news outlets. She also discussed the challenges of trying to root out misinformation. Kornblut advised students interested in journalism to familiarize themselves with the business and technological sides of the profession. They don't have to become expert coders, she said, but they should try to learn enough about coding so they can talk intelligently with the techies they'll be working with. Because the media world is changing so rapidly, it will be essential for journalists to have the multifaceted skills to adapt.
Jacob Feldman: Find Yourself a Niche
By Ellis Zehnder
"Look for the gaps. Find the things your friends don't want you to talk about – then write about that." That was the advice of sports journalist, longform newsletter editor and podcaster Jacob Feldman, who spoke in April to the Reinventing Journalism class. Feldman began his journalism career as a fact-checker at Sports Illustrated, though he quickly moved into a full writing role. Then, when the magazine started a weekly NFL newsletter, Feldman leveraged his experience running newsletters in college into taking charge. Feldman, who covers the intersection of sports, tech and media for Sportico, says he's still a passionate sports fan. It's just that now it's mostly for sports he doesn't cover – for example, he recently fell deep into the world of curling. Much of the talk focused on Feldman's other role as editor and cofounder of the weekly newsletter the Sunday Long Read. That all came about when he was still a senior in college and connected with noted journalist Don Van Natta Jr. over Twitter, answering Van Natta's call for someone who had experience producing newsletters. Since then, the Sunday Long Read has become an important aggregator and curator of long-form journalism, but Feldman says that persuading people to want to read long form isn't his goal. Instead, he said he focuses on helping those who already want to read long pieces but are blocked by the barrier to entry. "The internet's a big place" he said, "you don't need to convince a million people." In the Sunday Long Read, he helped Van Natta find a gap and they filled it, and turned that into success. He encouraged students to find their own niche. "What do you wish you could read more of?" he asked. That's where you should start.
Patricia Wen: All Journalists Are Investigative Reporters
By Addison Antonoff
Patricia Wen, editor for the Boston Globe's Spotlight Team, joined Neil Swidey's Science Journalism and the Pandemic class in April to discuss how to cover complex medical stories with care, rigor and humanity. "You don't just write a story because it's titillating or fascinating or whatever, it's for the public good," Wen told the class. She and Swidey discussed a series they wrote together about what can happen when doctors working at the frontier of medicine disagree about a diagnosis. The story, about a teenager named Justina Pelletier, revealed how dramatically these medical disagreements can escalate, in this case leading to a custody battle pitting the girl's parents against Boston Children's Hospital and the state child welfare system. As an editor for the Spotlight Team, Wen offered much of her advice to students from the vantage point of investigative journalism. And yet, she said, "The truth is all journalists are investigative reporters." She stressed the importance of balancing aggressive curiosity with the forethought to check one's own biases. "At the end of the day, your goal is to tell the truth as best you can see it."
Kate Nocera: Delete All Your Tweets
By Jolie Newman
"My best advice to you is delete all your tweets," Kate Nocera, news desk editor for Axios and former Washington Bureau chief for Buzzfeed News, told students in the Reinventing Journalism course on April 1. Asked whether social media has had a positive or negative impact on journalism, Nocera said that while she initially thought that social media had a positive impact, years of working in the field convinced her of the latter. "Normally humans make mistakes, and if you make a mistake on the internet, it's forever and people won't let you forget," Nocera said. When Nocera spoke about journalism trends, she mentioned the power of the Trump phenomenon in attracting attention for journalists. With Trump gone, she said, journalism sites are seeing a dramatic decrease in traffic. "Journalists were riding high for four years," Nocera said. "That's not a joke when Donald Trump said 'I'm really good for you.' It was true; he was good for a lot of individual journalists, and he was good for the industry." But, she said, that's not the same as being good for our democracy.
Richard Young: Science is Dynamic
By Nikki Dagen
Science isn't absolute, but that doesn't mean it's untrustworthy. Dr. Richard Young discussed the challenges underlying such uncertainty with the Science Journalism and the Pandemic class on April 22. Young is a noted geneticist, a professor of biology at MIT, and a member of the Whitehead Institute. He has served as an advisor to the World Health Organization and National Institutes of Health. Young said that questions in science are continually being reframed to produce more complex answers, which has taught him to be wary of making definitive statements prematurely. He said there is often a "neglected point of view" or alternative hypothesis that can call previous conclusions into question. "One of the things you discover as you get older and more experienced is that things you passionately believed were true are called into question with more data -- more often than you wish," he said. This dynamism excites Young; it shows the scientific method at work.
JP Olsen: Focus on Your Ability and Sensibility
JP Olsen, most recently the Director of Original Programming at HBO, discussed innovation in journalism with the Reinventing Journalism class on April 22. With an eclectic career as an award-winning documentary filmmaker, reporter, composer and journalism instructor, Olsen advised students to first focus on their ability to tell a story well, using the tools at their disposal. But he stressed that journalists really distinguish themselves with their sensibility. He encouraged the students to hone their taste, reading widely, consuming a variety of sources, and being invested in the world. (Or as he put it: "Be part of the I Care Club.") Asked if people respond to documentaries differently from written news stories, Olsen pointed out that "visual mediums run hotter than print." A documentary showing the melting of the polar ice caps, he said, would typically be more effective than a written story, because you can show them melting. That said, he added, "print is the superior medium for nuanced thinking." That's why he is a fan, consumer and producer of both forms.
Blaine Harden: Be More Informed about Trauma
After years of reporting on the dystopian North Korea regime, journalist Blaine Harden published Escape from Camp 14. To his surprise, the book became a global sensation. It was the gripping story of Shin Dong-hyuk, the only person born in a North Korean prison camp to escape to the West. Shin shot to fame, and his testimony helped launch a United Nations inquiry of North Korea's crimes against humanity. Then, in 2015, Shin recanted parts of his story, admitting to Harden in a tense phone call that he'd lied. "As his biographer, it was a stomach-wrenching revelation," Harden wrote at the time. The whole ordeal changed him, Harden told students during an April visit to Ann Silvio's Truth, Fact, and Research in Journalism class -- both as a journalist and as a human being. What he came to understand is that the field of journalism needs a more informed perspective on the psychological impacts of profound trauma, and how best to report on the often-disjointed accounts of victims.
Anthony Fauci, Elisabeth Rosenthal and Atul Gawande: How Science Journalism Can Help Win the "Tug of War"
By Anna Nappi
Dr. Anthony Fauci, chief medical advisor to the President, stressed that knowledgeable reporting allows people to "self-correct" when they are going down the "wrong path," as it gives readers a new way of seeing the truth. He was joined by Dr. Atul Gawande and Dr. Elisabeth Rosenthal for a Brandeis virtual discussion in March moderated by the journalism program director, Neil Swidey. Dr. Gawande, a surgeon at Brigham & Women's Hospital, Harvard professor and New Yorker staff writer, spoke about all the good that science journalism has done during the pandemic but said he regretted that the field had been largely "impotent" in stopping the spread of misinformation and disinformation. He shared with the audience a multi-part test for how news consumers can detect pseudoscience. Dr. Rosenthal, the editor-in-chief of Kaiser Health News and a contributing opinion writer for The New York Times, described the dangers to the pandemic response (and our democracy) posed by news deserts — vast swaths of the country that now lack reputable local news outlets. She said Kaiser Health News is working to help bolster local news through its pandemic coverage partnerships. Dr. Fauci emotionally described the sting of seeing anti-science advocates use the government's shift in guidance on face masks as a way to discredit public guidance overall — he called it "one of the most painful things that I have gone through this past year." Fauci described the battle between science and anti-science this way: "It's kind of like a tug of war. Who's going to win that tug of war?" In addition to drawing a record audience, the webinar attracted a good deal of media coverage. For the full recording of the webinar, go to the Brandeis Journalism events page. For a sampling of media coverage see the Boston Globe as well as Brandeis Now and the Justice.
Fuenta Latina Talk
The Fuenta Latina Webinar addressed the entrepreneurial and journalistic aspect of Fuente Latina's mission to bring Israeli news coverage to a global Hispanic audience, and explored Leah Soibel's role as a Latina entrepreneur and the organization's women-centered journalism programs. Cosponsored by the Journalism Program, it also featured journalist, author and Emerson professor Susanne Althoff. The recording is available here. 
Podcasting Students Featured in Brandeis Video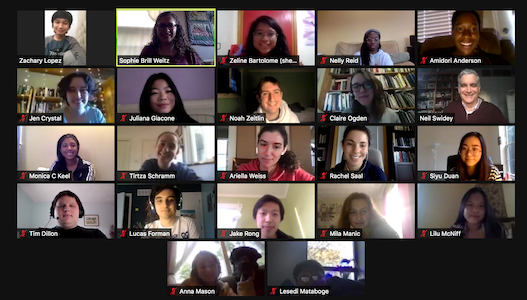 The students in the Longform Journalism/Podcasting course were recently featured in the Brandeis Behind the Mask video. This video examines how Brandeis has adapted to meet the challenges of COVID-19, with university videographer Tarah Llewellyn making visits to a handful of in-person courses. Pictured: Students participating via Zoom in Professor Swidey's JOUR 113a course.
 ______________________________________
Fall 2020 Journalism Newletters
November 2020 Journalism News
October 2020 Journalism News
September 2020 Journalism News
Fall 2020 Guest Speakers
New York Times writer, Pulitzer-winning culture critic, and podcast host Wesley Morris to spoke at Brandeis Nov. 18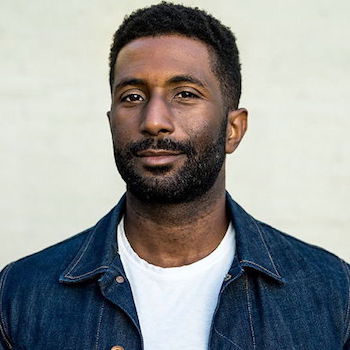 Wesley Morris, the Pulitzer-winning critic at large for the New York Times, contributor to the "1619 Project," and cohost of the podcast Still Processing, discussed a wide range of subjects with students at Brandeis on Wednesday, Nov. 18.  Topics included intersectionality, identity, and Black culture in America, as well as movies, music and other pop culture. Brandeis student panelists for this event were Monica Keel, Sophie Brill-Weitz, Kwesi Jones, and Lesedi Lerato Mataboge. Cosponsored by AAAS, the Dean of Arts and Sciences, MCS, CAST and AMST, this talk was free and open to the public. 
Campaign 2020: History in the Making
As the unforgettable 2020 presidential campaign lurched to its close, Brandeis journalism professors Eileen McNamara and Maura Jane Farrelly engaged in this topical discussion on Oct. 14. Since journalism is considered the first rough draft of history, McNamara and Farrelly attempted to offer their very rough draft of this historic race, while also reflecting on how it may be interpreted by future Americans.  You may find a recording of the event here.
Recap of Meet the Minors Night with Alex Goldstein:
Learning to think like a journalist, Alex Goldstein '06 told students during the Sept. 30 Meet the Minor Night, was crucial to prepare him for success as a political strategist. In the 14 years since he graduated from Brandeis with a journalism minor, Goldstein served for eight years in key leadership roles with former Massachusetts Governor Deval Patrick, founded political strategy firm 90 West, and served as the senior communications advisor and spokesman for Congresswoman Ayanna Pressley's historic and successful campaign for Massachusetts' 7th Congressional District. More recently, he created @FacesOfCOVID, an initiative using Twitter to catalogue and amplify the stories of the thousands of American lives lost to COVID-19.
Goldstein said his journalism courses at Brandeis, particularly those with Professor McNamara, taught him the skills for "empathetic storytelling," which have proved invaluable in his political career. They also helped shape his philosophy that the only sensible way to view public policy is through the lens of how it affects people.
To view a recording of this talk, visit the Journalism Department website.