My Journey to Brandeis
The university's new president reflects on the influences in his life and how his experiences as a lawyer, scholar, teacher and dean have prepared him for this moment.
by Fred Lawrence
When the board of trustees named me the eighth president of Brandeis, I referred to this job as a calling. What I meant is that this university speaks to so many different parts of my life — my professional life, my academic life, my religious life, my social-action life. The idea that there would be an institution that tied together the disparate aspects of my life still astonishes me. Of course, many of these connections are only evident in retrospect.
I come from a long line of teachers. My mother, Beatrice, was a teacher. She went to Brooklyn College, got a master's degree and worked as an English teacher in New York City. Ultimately, she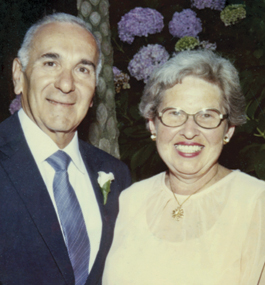 Fred Lawrence's father, Joseph (left), was an engineer on the Manhattan Project; his mother, Beatrice, taught English. Above, they are shown at Fred and Kathy's wedding in 1980. Formative influences, Fred's paternal grandparents were both New York City teachers.

became the chair of the English department at a large public high school on Long Island. She said she never thought about doing anything else.
My father's parents were both teachers. My grandfather was a high school chemistry and physics teacher in Brooklyn, and my grandmother was an elementary school teacher in New York's Chinatown. So teaching was always considered a noble cause in my family, and in a very large sense I feel I'm carrying on a family tradition at Brandeis.
My parents met during the Second World War. They were married in 1943 and settled into an apartment in Queens. My father, Joseph, was an engineer and had worked on several defense 
projects in the early years of the war. A few months after they were married, he received a draft notice. But before he reported he received a second letter with an appointment at the Woolworth Building in lower Manhattan. Secretly, some work on the Manhattan Project was going on there. He got the job, and, for the next year and a half, my mom had no idea what he was doing.
In 1951 my parents moved to Port Washington on Long Island with my older brothers, Philip and Ted. They were part of the great American exodus to the suburbs, and that's where they were living when I was born, in 1955.
Ours was a fairly typical Jewish household for the time. My parents were not particularly observant, but they were active in the Jewish community and they helped to found a Reform congregation in Port Washington. In high school I played French horn in the band and in the orchestra, and I sang in the chorus. I also played first base on the high school baseball team, but the first time I saw a real curve ball I knew I had reached my limit.
page 2 of 4
I was politically involved from an early age. Our congressman, Lester Wolff, was one of the first Democrats elected to Congress from Long Island. I volunteered for him during his campaign in the summer of 1968. I was only 13. I worked for him again in '70, '72 and '74. In 1972 I also spent some time on the McGovern campaign, because Wolff's campaign looked pretty solid and McGovern's was a little less so.
Those were interesting times politically. My parents were very early opponents of the Vietnam War, and my mother sent long, handwritten letters to Johnson and Nixon imploring them to change their policies. I have vivid memories of going on peace marches with her. For a lot of kids at the time, home was a battleground. But that wasn't the case in my family. Home was a respite from the battles, and I always felt close to my parents that way.
Deciding to go to Williams College would change my life in many ways. I had wanted to attend a small liberal arts school, and I thought Williams was the most beautiful place I'd ever seen. This was a chance to be somewhere very different, somewhere quiet, contemplative, in the country. And I wanted to be in a place where there was a strong focus on teaching. I loved the academics and the residential experience, and I had wonderful teachers in political science, political philosophy and economics, which were my focus areas, and also in English, art history and music.
To be sure, it was different to be in a place with so little Jewish culture. I'd grown up in New York and I'd really never been in a place that didn't have it. At Williams I got involved in the Jewish Association early on. I'd been in college for less than a month when the Yom Kippur War came, and that was an influential experience. It's easy to forget what it was like not being able to get up-to-date information. We didn't know what was going on; it was very scary.
But in most respects, my time at Williams was like that of most other undergraduates. I studied; I sang in the Williams College Choral Society; I played in the marching band. In my senior year I was one of the two student leaders of the Williams Moocow Marching Band, which was and still is a pretty irreverent scramble band in which students run to the next formation. I proudly wore the purple and gold colonial colonel's outfit.
page 3 of 4
My proudest moment came at commencement, when I received the William Bradford Turner Citizenship Prize. It's an award from a committee of faculty, students and administrators, and it's given to one student a year who is deemed to have contributed the most to the community. It is something I hold onto with great pride.
Williams taught me what it means to bring people into a community. We used to joke that one of the reasons that Williams was so successful with alumni participation was that it was a four-year pre-alumni program. You spent four years there thinking of yourself as part of this community. And I think that in many ways it has shaped how I've thought about the places I've been, and particularly those I've led, at George Washington University Law School and here at Brandeis. When I spoke at Brandeis Beginnings in August, I said to the new first years, "You're a student for four years. You're an alum for the rest of your life." That's straight from the Williams playbook.
As I began looking ahead during my senior year, I considered going to graduate school and was accepted by Princeton's Woodrow Wilson School. But what tipped it for me was that so many of the people involved in the things I cared about, whether it was the antiwar movement or the civil rights movement or issues of social change, were lawyers. Yale Law School seemed like the right launching pad to stretch me, and it did. It was a very challenging academic environment.
Coming out of Yale in 1980, I wasn't sure where my career might lead. An academic career was a possibility, but I knew I wanted to have the experience of practicing law. Even then I enjoyed the practical as well as the theoretical aspects of the law. So after spending a wonderful year as a clerk for Judge Amalya Kearse of the U.S. Court of Appeals for the Second Circuit in New York City, the same year that Kathy and I were married, I joined a small firm where I could learn to become a litigator.
After about 18 months, I applied to the U.S. attorney's office, in part to do public service, but also because I wanted to get the experience of running my own cases. The U.S. attorney who hired me was John Martin, but he soon went on to become a federal judge. He was succeeded by Rudy Giuliani. It may surprise some people to hear this, but Rudy was a terrific boss. He supported the people who worked for him and you knew he had your back. The esprit de corps in that office came from the fact that we all believed we were working on something important. We really felt we were serving the public, and politics didn't come into play. The client was the United States of America. It can sound corny, but we believed that.
Giuliani's decision to name me chief of the civil rights unit in 1986 allowed me to take on a number of important cases and explore areas of the law in a way few had done. One case centered on the test by which the city of New York promoted police officers to sergeant, a test that was not discriminatory in intent but was discriminatory in effect. There were housing discrimination cases involving a major housing project in New York that had been steering black and Hispanic clients away from certain buildings and toward others. And on the criminal side, we indicted a number of guards at the Rikers Island jail in New York City who had engaged in some pretty brutal acts following an inmate disturbance.
And it was that case, interestingly enough, that led to some of my earliest academic work on civil rights and bias crimes. I was working on the jury instructions and discovered that the standard instructions we used in the office weren't particularly clear on several points. That led me back into the cases they were based on, and it turned out the cases themselves weren't very clear. I figured someone must have written a law review article on this, but it turned out no one had. That grew into one of the first long articles I wrote; it appeared in the Tulane Law Review.
By fall 1987, after five years in the U.S. attorney's office, I felt it was time to make a change. I briefly contemplated going back into the practice of law, and, with two young children at the time — Miriam was four and Noah just a year and a half — there was some reason to consider that. But the idea of teaching was far more appealing. It was a chance to explore some of the intellectual puzzles and challenges that intrigued me.
Kathy and I considered a number of opportunities, but Boston University was the most appealing. I started in fall 1988 teaching civil procedure and later added criminal law and various courses on civil rights enforcement and crimes. BU was a great environment, and the city and community provided an ideal place to live and raise our children. The school also was a great fit for my intellectual and academic interests. I wrote "Punishing Hate," my book on bias-crime law, testified before Congress, lectured internationally on bias-crime law and had a Ford Foundation grant to study in the United Kingdom.
In 1996 I became associate dean for academic affairs, responsible for the day-to-day running of the school. I did that for three years. I was involved in giving some shape to the curriculum and had a major role in faculty hiring. Typically, one finishes such experiences in one of two ways. You say, "Well, that was that, that was service to the community, I never want to do that again." Or you actually find those challenges interesting. I found them very interesting. I loved the idea of being able to be part of something bigger than myself.
page 4 of 4
But it was important to do it when I wanted to do it, and in the right place. I think every deanship, and this is true of presidencies as well, is best understood as a project — a set of challenges, a set of opportunities, a set of goals — and they've got to be a good match with your interests and your skills. That's how I felt when the deanship of the GW Law School opened up in 2004. It was the opportunity to move up when I was ready, at a place that would be the right place for me. With about 2,000 law students, it was bigger than BU's law school and was a more complex school in many ways, with big international programs, a larger faculty and a model of selected excellence. A school of GW's caliber can be nothing less than quite good at everything and must have a certain number of areas that are world-class. And so, part of my job was to maintain those areas of strength and grow others. Another part was to expand internationally. And part was to increase the financial-aid budget to make us competitive with the schools we wanted to compete with. These were great challenges, and GW provided a wonderful staff to work with, in a wonderful city.
My secular or, if you will, professional journey has been matched over the years by a journey of faith. It was a slow evolution — hardly a thunderclap. One of my earliest spiritual influences was Martin Rosenberg, the rabbi at my parents' congregation. He taught us that, to make choices, one should be knowledgeable about text and engaged with one's religion and faith and tradition. With this, you made choices out of knowledge rather than ignorance. I didn't realize it then, but this was not a typical approach to Reform Judaism. But that's the Reform Judaism I grew up with, and it's how I approach my religion now. In order to find places that fit my view, I've moved around the spectrum. Over the course of my life, I've belonged to Reform, Conservative and Orthodox congregations. I'm very comfortable in different settings. It speaks to the idea that if one is actively engaged with one's tradition, one can find a home in a lot of different places.
Over the years I certainly had given some thought to becoming a college or university president. Again, as with GW, I knew it would have to be the right match. A couple of friends contacted me after Jehuda Reinharz announced that he was stepping down. I was happy at GW and believed there was a lot more I could do there. And my wife and I loved Washington. So I said at first that I didn't think it was for me, and I put it out of my mind. The next spring the search firm reached out, and, again, I told them that I wasn't interested. But they asked if I'd think about it. I told them of course, I'd think about it. I was about to leave on an overseas trip, and I began to think more about it. When I got back, I had lunch with Steve Kay, who was the chair of the search committee. It was a very helpful lunch obviously, and from then on the process became more involved. It gradually became clear how Brandeis epitomized so much of what I'd been trying to do with my life.
As I begin my presidency, I cannot overstate how fortunate I am. It is a rare opportunity and a great, great honor to help steward this extraordinary institution. I look forward to the challenges ahead and to the great progress we will make in this next journey, our journey together.