Stand-up Standouts
From rhyming and rapping to irony, insult and intellectual humor, Brandeis alumni are helping shape the laugh lines of comedy today.
by Andrew Clark
Now you know that judo is Japanese, and they got karate, too.
And Thailand has Muay Thai and China has kung fu.
And they do capoeira in Rio de Janeiro and Korea has the Taekwondo.
But did you know that Is-ra-el has a martial art also?
Well, it's called Krav Maga, Krav Maga.
It's not Greek like baklava.
It's Israeli, oooh, like falafel — Ahhh! Krav – Maaa – Gaaa.
So raps MC Mr. Napkins, aka Zach Sherwin '02, in a smooth bass voice that syncs perfectly to a jazzy background track in a recent music video. Pulled back into a tight ponytail, his trademark frizzy hair bobs up and down as he performs while sitting in the front car of an enormous roller coaster, palm trees swaying in the distant background. This isn't your typical hip-hop music video. But MC Mr. Napkins isn't your typical hip-hop artist.

Sidebar Story

Billy was a bully. And Victor was a victim.
And everyday on the way to class, Billy punched and kicked him.
And this was not junior high, this was Harvard Law …
Sherwin, a nerdy rapper in black frame glasses whose witty wordplay The Boston Globe called "quirky," is one of many alumni who have gone on to stand-up stardom. Indeed, some of the country's sharpest young talents are Brandeisians, including Sherwin's best friend, Myq Kaplan '00, also a comedian of the egghead ilk, from Livingston, N.J. A top five finalist on "Last Comic Standing" in 2010, Kaplan describes himself on his website this way: "A Jewy-ish atheistic vegan who spells the name 'Mike' weird (sorry or you're welcome), Myq enjoys words, social justice, Netflix and comic books. Also non-comic books, ping-pong and being great with women. And grammar and run-on sentence fragments. And of course, entertaining his demographic, which is anyone who might know the word 'demographic.'"
Other standout stand-ups who graduated from Brandeis in the last dozen years include up-and-coming stars Ari Teman '05 and Josh Gondelman '07. Teman, an A-list performer and host at comedy clubs and colleges around the country, has been described in the media as "strikingly intellectual" and "mischievous." Gondelman, who won first prize last year in Atlanta's Laughing Skull Comedy Festival, says of himself, "Josh Gondelman. He can talk smart without sounding smarmy. He can talk family without sounding familiar. And he can talk sex without being sexy."
Whether or not Brandeis provided any more of a comedic incubator than any other college campus would, no doubt, keep this quartet riffing for a long time. But what seems indisputable is their shared ability to be smart and funny, to tilt toward the intellectual side of humor without abandoning the element of naughtiness and self-deprecation essential to eliciting belly-busting laughs. Sounds quintessentially Brandeisian. For his part, Teman says college life provided him with lots of fodder for his act.
"One of my opening jokes is about a bachelor auction held at Brandeis to raise money for breast cancer. Nobody bid on me. I say, 'To restate that: Girls would not date me to cure cancer.'" He adds, "When I perform at colleges, I often start out with 'I remember when I was in college, well ... close ... Brandeis.' Wait, what magazine is this for? No wonder nobody bid on me."
If Teman found Brandeis to be a deep well of material, Kaplan discovered there weren't many people drinking from it. "Zach and I are a few people out of thousands who might be funny, so statistically speaking, it's debatable whether that many funny people come from Brandeis," quips Kaplan.
"I also know tons of Jews who aren't funny, so we apparently don't have a foolproof method at work. But maybe. Sorry, I don't actually know the answer, so I'm just being argumentative — which probably does have something to do with being raised in Jewish culture," Kaplan adds.

This Jew Went Into a Bar ...
Whether it's insult comedy, political satire or slapstick, Jews have played a leading role in the development of mainstream American humor — from vaudeville in the 1920s to the Borscht Belt of the 1950s to Comedy Central's Jon Stewart and Sarah Silverman today, says Joyce Antler, the Samuel B. Lane Professor of American Jewish History and Culture and Women's and Gender Studies.
The author of "You Never Call! You Never Write! A History of the Jewish Mother," Antler says, "Historically, as outsiders living between two different worlds, Jews could see the humor in the dissonances and incongruities of daily life."
"Lots of Jews are stand-up comedians because our religious tradition celebrates intellectual rigor, words and wordplay, stories and folklore, opinionated debate and humor — often as a coping mechanism," asserts MC Mr. Napkins aka Sherwin. "We have our share of brawny heroes, but many Jewish figures of legend, like Jacob or a young King David, win with their wits."
page 2 of 3
That the Jewish mother joke is iconic in American humor — as Antler points out, you don't even have to be Jewish to have a Jewish mother joke — is surely one indication of how humor that originated with Jewish comedians has become part of the broader comedy landscape.
Still, it's a different world from the days when Jews flocked to resorts like Grossinger's in the Catskill Mountains to relax, overeat and laugh at the jokes of Buddy Hackett, Sid Caesar and Jackie Mason. Comedy today is more diverse and accessible than ever before, says Antler, thanks to the variety of venues to learn and perform, from improv classes and comedy clubs to television and, most notably, YouTube, which has given comedy and comedians all over the planet instant, gratifying exposure.

Exercising the Funny Bone
Becoming a successful comic is no laughing matter. It requires great, perhaps even Herculean, discipline to keep the comedic muscles from going flabby. Teman's daily routine seems typical. He writes material as soon as he wakes up, continues writing 
during the day as ideas come his way, and at night performs at clubs in New York City and nationwide. And that covers just the funny side of the Teaneck, N.J., native's enterprise: He is also founder of the social volunteer network JCorps, which brings together 18-to-28-year-old Jewish singles to help out at food banks, hospitals and soup kitchens, a venture for which he received the Jewish Federations of North America's first Jewish Community Hero award. His other day jobs include writing and speaking, consulting and founding companies.
Gondelman's routine seems similarly intense. "I try to sit down with my notebook and just write like crazy as often as I can," says the preschool teacher by day. "Sometimes usable stuff just pops into my head, but if I write for an hour and it yields even 30 seconds of workable material, then that's 30 seconds I wouldn't otherwise have."
Gondelman's day job is certainly echoed in his act. "At my school, we're not allowed to play any games where some kids win and other kids lose. We play a lot of duck, duck, duck," jokes the Stoneham, Mass., native in one of his routines.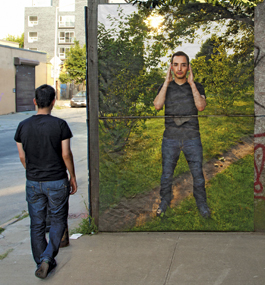 Myq Kaplan '00
Kaplan has gone digital, carrying a recorder around with him at all times so that he can dictate humorous ideas and then transfer them to his computer. Sherwin has developed a Streisandian repertoire of songs and music. Either because the "feed the beast" world of comedy demands it, or because these artists have an insatiable hunger for stage time, or both, these four strive for an audience almost 24/7. Kaplan says he clocks in more than 20 performances a week on occasion, and a recent visit to Teman's website shows gigs lined up at the Broadway Comedy Club, Comix and Dangerfield's, all in Manhattan.
Getting the Giggles
Kaplan and Sherwin, who have both signed with the prestigious Gersh Agency in Los Angeles (which also represents the likes of Drew Carey and Jamie Foxx), got their professional start at the venerable Comedy Studio, located above a Chinese restaurant in Cambridge, Mass. Sherwin, who grew up a long way from Cambridge in Springfield, Mo., and who considered law school, code breaking and the Navy before becoming a rapping comedian, recently performed in front of a standing-room-only audience at his old stomping ground.
MC Mr. Napkins' long hair flopped up and down against his back as Sherwin broke into clever, energetic rhymes, replete with surprisingly catchy choruses punctuated by cheers from the audience. The subject matter? License plates, geography lessons and toothpicks. During an encore performance, he riled up the crowd with his most famous wordplay riff "Sphygmomanometer," an ode to the exhaustively named machine that measures blood pressure.
page 3 of 3
"In the disco this goes out to the gizmos, people tapping their big toes for sphygmos — that's what I call them for short, you dig, bros?" Sherwin shouted into the microphone before spelling out the song's namesake forward, backward and ultimately in Morse code. Even the notoriously stoic Einstein look-alike sitting near the stage couldn't help but crack a smile.   
Two days later, the downright professorial-looking Kaplan was introduced by host Craig Ferguson on CBS's "Late Late Show."
"I have gone out with women of all different sizes and shapes, from skinny to rhombus," Kaplan quipped to a rapt studio audience, cramming in as many jokes as possible during his staccato, five-minute performance. "And from infinity down to negative infinity. That's when she's not even there."
On the Big Stages
In early 2010, a little over a year after signing with Gersh, Sherwin moved to L.A., the epicenter of the entertainment world, where, in between performing at college campuses and comedy clubs across the country and recording segments for E! Network, he released his debut album, "MC Mr. Napkins: The Album," on Comedy Central Records.
"Mussolini was a tyrant and a meanie, but he had two pet dogs named Charlie and Pitini," rhymes Sherwin at the close of 
"Mussolini Miscellany," a track from his album that delivers nearly four minutes of trivia about the Italian dictator.
It's a far cry from an Eminem record, which tends to have odes to the hard-knock life. But with an upbringing filled with Jewish youth group trips, Sherwin may not have the same street cred as someone who grew up in the ghettos of Detroit. After all, MC Mr. Napkins earned his moniker after free-styling at one such event.
"Once, at a youth convention in St. Louis, my buddies and I were outside ciphering and some guys came up and said, 'Hey, can we get down with you guys?' We all rapped for a while, and one of them said to me, 'Damn, when you rhyme you clean up like napkins!' My friends all laughed, and the nickname stuck," explains Sherwin. 
Like his rapping friend, Kaplan also came to comedy through music. Before he was on the stand-up circuit, Kaplan performed around Boston, singing and playing guitar. One day, he began 
testing his musical talents in a new venue: comedy clubs.
"I started to enjoy talking between my songs more than actually performing them," he says. "Then I just started getting into performing stand-up."
Stand-up wordplay is perhaps more like it.
"I was in this Chinese restaurant recently and I was thinking about how a small duck is called a duckling," begins Kaplan. "So I immediately canceled my order of dumplings."
Kaplan's hard work has paid off handsomely. In December 2009, Kaplan appeared on the "Tonight Show" with Conan O'Brien and about a year later his own half-hour TV special premiered as part of the "Comedy Central Presents" series. In May 2010, Kaplan's debut album, "Vegan Mind Meld," was released to rave reviews. Punchline Magazine declared, "Kaplan uses his word power for goodness, nay greatness."
But the most significant, even life-altering event to befall Kaplan in 2010 was his memorable appearance on NBC's "Last Comic Standing," the stand-up equivalent of "American Idol." After beating out thousands of hopefuls from across the country, Kaplan found himself in the finals of the show performing before a national audience of millions week after week before ultimately finishing fifth in the competition. Kaplan's career took off, garnering a wider fan base as well as a spot on the "Last Comic Standing" live tour, which recently finished performing in 60 cities.
Even his widely televised loss to competing funny man Felipe Esparza provided fodder for Kaplan's hilarity, according to classmate Matthew Salloway, who reported in the Class Notes column, "Myq was a good sport about the loss on Twitter. The following day, he tweeted, 'Hey, I missed Last Comic Standing last night ... did I win?'"

Andrew Clark is a Boston-based freelance writer, law student and stand-up comic who performs at clubs around the city.