Best Picture Nomination Is No Joke for Alumna
by Theresa Pease
When her phone rang on a cold January day, she thought it was a joke.
Debra Granik '85 took the call from a member of her company's distribution team, who told her that her second film had just been nominated for an Academy Award.
"You have to have humor in this business, and I thought, 'That's just the kind of thing he would think was funny,'" the independent filmmaker groaned.
But, kidding aside, not only did "Winter's Bone" score director Granik, 47, an Oscar nomination in the best picture category: In addition, little-known leading actress Jennifer Lawrence, 19, was up for best actress.

"We were definitely not thinking Oscar," Granik said in an interview just a few weeks before the Academy Award presentations on February 27.

Based on a Daniel Woodrell novel, "Winter's Bone" tells of 16-year-old Ree Dolly, who, with a mentally impaired mother, is left to provide for two younger siblings — whether that means chopping firewood, hunting squirrels for sustenance, or going off in search of her drug-dealing father, who has put the family's mean homestead up for collateral on a bond and seems about to leave them homeless by jumping bail. The bleak backwoods setting melds with simple Ozark mountain ways, evocative music and frightening characters to sustain a moving drama. One of those hard mountain men, Ree's uncle Tear Drop, is played by John Hawkes, the only headliner in the cast.

Just a year before that fateful phone call, 
"Winter's Bone" had taken the top prize at the 2010 Sundance Film Festival and a slew of honors at the Spirit Awards. But to see its name glittering near the top of the Oscar nomination list — along with movies like "The King's Speech" and "Black Swan" — "Winter's Bone" had to compete with hot Hollywood properties with budgets up to 
$80 million. Granik's film, shot in rural Missouri with a cast and crew made up almost fully of local residents, came in at only $2 million.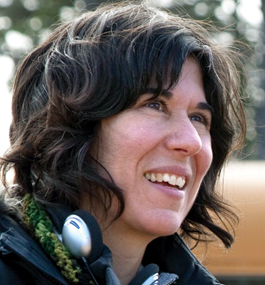 Debra Granik '85

Granik, who holds a master's in filmmaking from New York University, was first drawn to the art as an undergraduate at Brandeis.

"Brandeis was a great cauldron for wanting to do the right thing, and I was inspired by everyone I met and everything I read," Granik said. "At the same time, documentary filmmaking was coming of age. It was clear to me the camera could be an effective weapon of political action."

To test her interest in the field, Granik made a "video journal" of a man who pushed a grocery cart down South Street past the campus every morning, collecting empty soda cans to reclaim the deposits.

For her first independent project years later, Granik followed a similar pattern, taking almost anthropological video notes about a troubled family in upstate New York. The project morphed from a documentary into a fiction piece that, like "Winter's Bone," dealt with drugs, poverty and people 
living on the edge. A short version, "Snake Feed," won her a top prize at Sundance and became the basis for her first feature-length film, "Down to the Bone."
When Granik read the novel "Winter's Bone," she knew at once she wanted to turn it into a film.

"I was attracted to the girl, the protagonist," she said. "She made me think about how where we are born — our geography and our heritage — defines us and fuels us."

Granik said it was a luxury to work from a finished novel for the first time, explaining, "When someone has already spent years thinking about a structure and literary devices that make a story compelling and coherent, you're inheriting a blueprint. You supply the texture, the color, the photographic detailing, the images — you don't have to worry about whether the story works as a story. You are left with the more deliriously pleasurable part, which is filling in the painting."

As Brandeis Magazine moved toward its printing deadline, Granik and her colleagues were contemplating the odds of "Winter's Bone" winning the best movie Oscar. She calculated them to be "super-slim," noting, "If we did win, we think this would be the lowest-budget movie ever to do so."

And another important thing was under consideration: what to wear for her walk down that red carpet on Oscar night.

"I've never worn a fancy dress in my life," she laughed, "but my mom will help me with that!"