Alumni News
Class of '52, Anastas Honored with Alumni Achievement Awards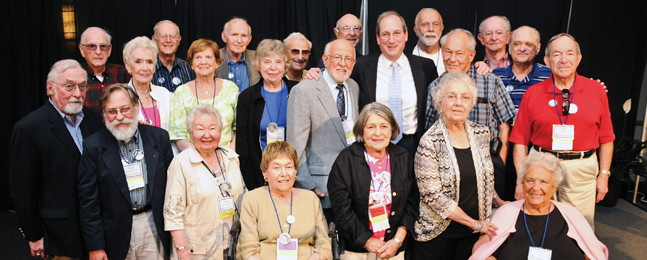 The Class of 1952 became the first class to win an Alumni Achievement Award.
The entire Class of 1952 and the man known as the "father of green chemistry" received 2012 Brandeis Alumni Achievement Awards during Reunion weekend on June 8-10.

President Fred Lawrence presented the awards to "the pioneers," the university's first graduating class, and to Paul Anastas, M.A.'87, Ph.D.'90, during an on-campus ceremony.

Given annually since 1988, the Alumni Achievement Award recognizes alumni who have made distinguished contributions to their profession or chosen field of endeavor. It represents the highest form of university recognition bestowed exclusively on alumni.

The Class of '52 is, fittingly, the first Brandeis graduating class to receive the Alumni Achievement Award. Members of the class not only went on to prominence in their professional lives, but played important roles in leading and supporting the university they helped bring to life in 1948.

Class members enjoyed successful careers in the arts, business, education, law, medicine, science and many other fields. Class of '52 alumni also served on the Brandeis Board of Trustees and took an active role in the Alumni Association, while generously supporting scholarships, fellowships, capital projects and the Alumni Annual Fund.

Anastas, whose master's and doctorate are in chemistry, is regarded as the founder of the green chemistry movement for his work in advancing the design and manufacture of environmentally friendly chemicals.

He recently returned to Yale as the Teresa and H. John Heinz III Professor in the Practice of Chemistry for the Environment after taking a leave of absence to serve as head of research at the U.S. Environmental Protection Agency (EPA). At the EPA, he played a critical role in decision making regarding the cleanup of the BP oil spill in the Gulf of Mexico, and in realigning the EPA's research enterprise around the concept of sustainability.

From 2004-06, Anastas served as director of the Green Chemistry Institute, in Washington, D.C. He was previously the assistant director for the environment at the White House Office of Science and Technology Policy, where he worked from 1999-2004. During an earlier stint at the EPA, he is credited with establishing the field of green chemistry as the chief of the Industrial Chemistry Branch and the director of the U.S. Green Chemistry Program.