Meet our new Music Faculty
This fall, we are thrilled to welcome Visiting Assistant Professors of Music Taylor Ackley and Bradford Garvey, who will bring their ethnomusicological expertise to our department for the 2021-2022 academic year. Here is a brief introduction to each of our newest faculty members: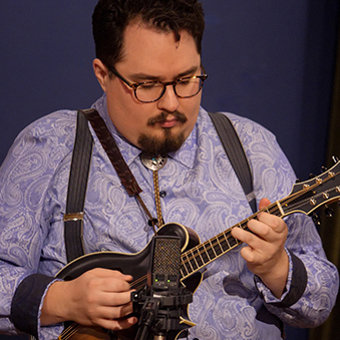 Taylor Ackley is first and foremost a folk musician. Born into a working class family with a remarkable heritage of traditional American music, his work grows directly out of the rich musical expression cultivated across the generations of pickers, singers, song writers and fiddlers that populate his family tree. His academic training began at Adelphi University. He continued his studies at Stony Brook University, where he earned a Master's Degree and a PhD in Composition as well as a Master's Degree in Ethnomusicology.
Taylor is a scholar, composer and performer of American Roots music. His research works to understand and analyze American Folk and Roots music as art grounded in the experiences of poor and working-class people. He has presented papers at a number of conferences and panels including the International Bluegrass Music Association and the Northwestern Chapter of the Society for Ethnomusicology and is also in demand as a guest lecturer at colleges and public institutions. He has recently given talks at Vassar College, California State University Stanislaus, and the University of Wisconsin-Stout. He is published by the MIT Press in Between the Tracks. As a composer, Taylor has been commissioned by a number of soloists, chamber ensembles, choirs and jazz bands. His music has been featured in festivals throughout the United States as well as Denmark and China.
Taylor is the founder and director of the Deep Roots Ensemble. A group which merges classical chamber music instrumentation and techniques with traditional American music performance practice into a refined and cohesive style. They have performed around the United States and have released two albums of Taylor's music, Songs from the Bitterroot (2018) and Hard Tellin' (2020) both through the 4Tay Records label.
Bradford Garvey received his Ph.D in Ethnomusicology from The Graduate Center, CUNY in 2019. His dissertation, Poems to Open Palms: Praise Performance and the State in the Sultanate of Oman, was based on nearly two years of fieldwork with Arab men's praise singing troupes in rural northern Oman and was supported by the Wenner-Gren Foundation for Anthropological Research. In 2020-2021, he was a Hunt Postdoctoral Fellow in the Wenner-Gren Foundation, drafting his dissertation into a monograph. His recent work can be found in the Yale Journal of Music & Religion and Asian Music.
Over the next year at Brandeis, Bradford will be teaching three courses for undergraduates: 1A Exploring Music, 3A Global Soundscapes, and one course cross-listed with American Studies. For graduate students, in the Fall he'll lead a seminar on Music and Patronage, which is a cross-cultural exploration of social relationships between musicians and elites. In the Spring, he plans to lead a seminar on Music and Language, examining the myriad ways humans sonically communicate.