A Tribute to Marty Boykan
On May 18, 2021, family, friends, colleagues and former students gathered on Zoom to celebrate Irving G. Fine Professor, emeritus Martin (Marty) Boykan, a world-renowned composer, inspirational teacher, published author and prodigious performer, who died peacefully at his home on March 6, 2021 at the age of 89.
Click on the following image to watch the event recording: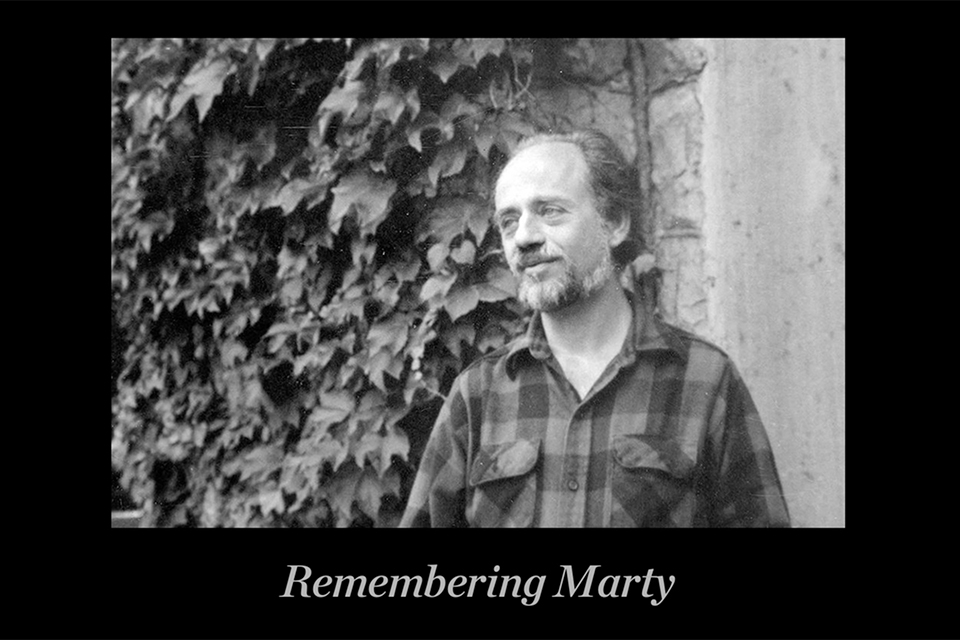 Additional Remembrances
Remarks from Marjorie Merryman
March 8, 2021
I was a student of Marty's, and first met him in 1972. My husband, Edward Cohen, had already known him for more than 10 years at that point, so our association spans almost 60 years.
All the musicians who are here today or listening over zoom will remember Marty's incredible gifts both as a musician and as a thinker and a writer about music. He was an emeritus professor of composition, theory and analysis at Brandeis University, having retired from active teaching only a few years ago, and his work touched hundreds of students over a career of more than 50 years.
Marty came to work at Brandeis in 1957 not as a composer initially, but as a pianist. All of us students knew that he could play anything, sight-read anything, and do that playing with a pencil in one hand and a cigarette in the other. But it wasn't just the pure musical ability that dazzled us. It was the insight, so confident and brilliant, that came from some deep and original intimacy with musical thought.  Any class with Marty was filled with revelations, large and small, that illuminated whatever music we might be looking at – especially the music of Schoenberg and Webern, but also the whole canon of classical music, and, memorably, the music we ourselves were composing. His understanding came directly from the score, and although he was certainly interested in theoretical ideas, and 12-tone theory in particular, he never taught from that standpoint. He never taught from textbooks or concerned himself with curricula. He just taught the music. As he once explained to me, he simply wanted to teach what he knew.
As a composer, Marty wrote about 45 works for everything from solo instruments to orchestra. His music showed consistent interest in chromatic development, mostly serial, and in polyphonic textures. It was lyrical and deeply personal. He worked at the piano, and worked and reworked again and again. On many occasions I got to hear what he was working on – he would play from a tattered score that had been written and erased and written over again, countless times. He played with incredible expression and delicacy, and always sang along (which was not always a help). I always felt that those private performances, where Marty controlled all the tiny details of tempo, dynamics and phrasing, were the best representations of his complex musical world. 
Marty's work as a composer was recognized with many honors, including fellowships from the Guggenheim, Fromm, Koussevitzky, and Rockefeller Foundations, the NEA, and many others. He was elected to membership in the American Academy of Arts and Letters.
Marty was also a very gifted writer, and he published two extraordinary volumes of essays. If you would like to get a sense of the breadth of his intellect and his interests, his book Silence and Slow Time would be a good place to start. It is filled with musical insight and analysis, but is also extremely personal in both its content and its viewpoint.
I have made these remarks to provide a memory of Marty for those of us who knew him well, and a sense of his stature for those who didn't. I'd like to close now with just a few personal memories: Marty was brilliant, stubborn and opinionated, but he was also very curious and searching. He was a true intellectual who was engaged in literature, languages, philosophy and art, and at the same time he enjoyed silly jokes and improbable stories and wind-up toys. He was fully open to the wonders of nature, and loved gardens, animals and children. He was a generous friend. For instance, when I was struggling to finish my doctoral thesis, he wrote me a hilarious letter on the subject of mail-order degrees, identifying himself as the "dean of life experience." He was an adoring husband to his wife Susan Schwalb, whose art he so deeply admired, and with whom he also collaborated artistically. It is impossible to forget his music and his great and serious mind, but it's also impossible to forget his full-body laugh when something filled him with delight.
Marty would have been 90 in April of this year. It was a good life and a long life, a life that touched many people and added beauty to the world.
A Villanelle by David Mills
May 18, 2021
Gotham's Harvest/Diatonic Raga
(for Marty Boykan)
Sown in different decades but both plucked from Gotham's harvest.
Yet we met in the foothills of a Blue Ridge,
an encounter leading to this kaddish, an ink-filled attempt at a diatonic raga
Dickenson, Whitman, you esteemed them with sixteenths, me with syllables, we, each the art we don:
your watery blue pupils and deep, abandoned laughter, your kindness a soul's handsel.
We were dibbled in separate decades but both gathered from Gotham's harvest.
You shared how the world started to worked on you by the time you got to Harvard,
how black friendships had drifted. With me, you commenced again.
My words a mourner's kaddish an ink-soaked inkling of a diatonic raga.
A chiffon spirit, but my words once brought you to a bother.
You insisting Senegalese polyphony and ragas weren't scales, those were western music's precincts.
Still, in Virginia, we were ceaselessly-helixed, affiliates of art's braided harvest.
Far from stunted oak and minerals that swirled like marble cake, I attended your chamber music concerts,
in the Gotham that shaped us, that would unwittingly begin to build this rickety bridge of syllables
these words: a kaddish an ink-soaked assay at a diatonic raga
Last spring a virus, and life a hellbent, impromptu forest.
A dozen months on, Susan wrote your chiffon disposition and sixteenths were stilled.
Still, you and I will be defiantly ripe vines cultivated and plucked from Gotham's harvest.
These words a mourner's kaddish, an ink-drenched offering, a sobbing raga.
Memories from James Dashow
May 18, 2021
One of Marty's characteristics that remains dominant in memory is his integrity.  He was rigorous and uncompromising toward his work, an attitude that endowed his music with a genuineness both rare and especially welcome.   You always had the feeling that his was the Real Thing.  And yet he was fully capable of appreciating serious work in compositions that were significantly different from his own.  That is a gift perhaps even more rare.
I recall either reading or more likely hearing him talk about how he had found his voice as a young composer, discovered his own style and, most important, understood what he wanted to say.  That voice was and is unique, unmistakable.  And over the years he developed that voice, stayed with it, refined it, explored fascinating musical landscapes with it, and produced a music that was subtle yet capable of capturing the listener even on a first hearing.  He became a true master.  
Two personal events come to mind:  the year Marty was in Rome on sabbatical he was working on his piece for 13 instruments.  On one of my visits to his apartment in the Monteverde residential neighborhood of the city he played on the piano as much of the piece as he had composed up to then.  It was magical, one of those experiences you never forget.  The pure sound of it was completely captivating, performed and interpreted by the man who'd written it.  He later gave me a copy of the completed score in that immediately recognizable scrawl of his, which I treasure to this day.  
The other event was the opportunity I had to request new works from selected composers for an RCA-Italiana recording series of new music.  I asked Marty to do a piece for a New York ensemble that was on tour in Europe and who would have recorded it once they got to Rome where the RCA studios are.  The piece arrived in time by regular mail (no email and pdf transmission in those days), followed some days later by a revision of a small detail on a particular page....followed a few days later by another revision of those few notes on that same page....followed a few days after that by yet ANOTHER revision of those same few notes.  It was his attention to such detail that rendered his music genuinely important:  this dedicated craftsmanship together with the high quality of his musical thought were his defining musical characteristics.
Well, we are lucky to have had him....for his music, his wisdom, and for many of us, his warm friendship.
Grazie, Maestro.