Allan Keiler Retirement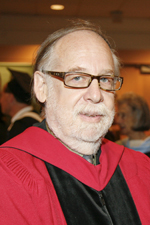 After 41 years at Brandeis, Professor Allan Keiler retired from the musicology program of the Brandeis Music Department. Beloved by students and colleagues, Allan has influenced hundreds of scholars during his magnificent tenure at Brandeis. While his gentle and assured presence will be missed by us all, Allan will continue to work with our students, guiding and mentoring them during their years at Brandeis.
Allan Keiler (Harvard PhD in Linguistics, with graduate study in music at U. of Michigan and U. of Chicago) arrived at Brandeis in 1975. His research has focused on theory and analysis and the history of theory and 19th century musicology, especially Franz Liszt. He is the author of "Marian Anderson: A Singer's Journey," "A Phonological Study of the Indo-European Laryngeals," and "A Reader in Historical and Comparative Linguistics." His book on Marian Anderson received praise from reviewers and scholars across the country and is considered the authoritative biography of this legendary singer. In 2010, Allan was awarded the Dean of Arts and Sciences Mentoring Award, and in 2014, he delivered the Julius Silberger Award for Interdisciplinary Work in Psychoanalysis Lecture. Allan offered a wide range of graduate courses at Brandeis including Schenkerian Analysis, Music in the Nineteenth Century, Music and Meaning, History and Literature of Western Music Theory, Psychoanalysis and Biography: The Psychoanalytic Study of the Artist, Problems in Cultural Historiography, and numerous undergraduate courses on topics in music history for music majors and non-majors.
Allan, we will miss you…