Summer Music Workshop 2018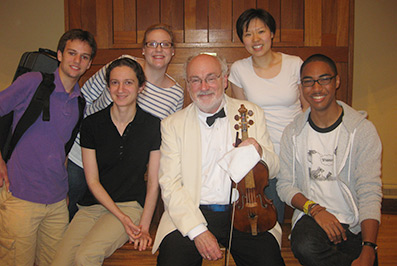 Unaccompanied Bach Workshop
June 10-15, 2018
The Aston Magna at Brandeis University Summer Music Workshop is a six-day intensive laboratory for violinists and violists—students, serious amateurs, and professionals. Activities include private coaching, private practicing in air-conditioned studios, complimentary communal lunches, informal performance in master classes, lecture demonstrations, open rehearsals of the instructor's concert, and participants' concerts at the week's end.
The instructor is Brandeis Professor Emeritus Daniel Stepner. The week-long course offers an intensive engagement with Bach's Partitas and Sonatas for Solo Violin. It is open to both modern and baroque players of intermediate through advanced levels, each player preparing at least two movements during the week.
All workshop activities take place in the Slosberg Music Center (Brandeis' air-conditioned music building), and are presented by Aston Magna.
Financial aid—including some full scholarships—is available. Please contact Daniel Stepner for more information.
Class limit: 6.