Summer Music Workshop 2019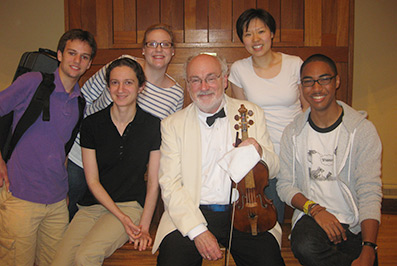 The 13th Annual Unaccompanied Bach Workshop for Violinists and Violists
June 16-21, 2019
Each year, six to eight students are selected for the Aston Magna Unaccompanied Bach Workshop, a six-day intensive for professionals and accomplished amateur musicians. The workshop is open to students, serious amateurs and/or professional musicians. Some financial aid is available.
The workshop schedule includes:
Private coaching
Master classes
Private practice time
Lectures and demonstrations
Informal performance
Open rehearsals
Workshops are open to players of either modern and/or period instruments; some period instruments are available for student use. 
All activities take place in the Slosberg Music Center, Brandeis University's air-conditioned music building. There is an informal Friday morning concert for the participants, who are also given free entry to the Aston Magna professional concerts on Thursday evenings in late June and July. 
The workshop is led by Daniel Stepner, a master of the baroque and modern violin, and artistic director of the Aston Magna Music Festival.
Workshop fee: $450. Financial aid available!
To apply for the workshop, please contact Daniel Stepner.
Daniel Stepner, Professor (Emeritus) of Brandeis University, was first violinist of the Lydian String Quartet from 1987-2016. He was also a Preceptor in Music at Harvard University for two decades, and Concertmaster of the Handel and Haydn Society for 24 years. He was a founding member of the Boston Museum Trio (at the Museum of Fine Arts) for 30 years, and has been Artistic Director of the Aston Magna Festival since 1991. He has recorded music of four centuries on period and modern instruments, including the Sonatas and Partitas of J.S Bach, the late quartets of Beethoven, and 20th century chamber or solo music of Ysaÿe (the Ten Preludes), Hindemith, Bartok, Ives (The Five Violin Sonatas), Harbison, Wyner, Perkinson, Persichetti, Child, Schuman, and many others. Mr. Stepner studied with Steven Staryk in Chicago, Nadia Boulanger in France, and Broadus Erle at Yale, where he earned a Doctor of Musical Arts degree.