Leonard Bernstein Fellowship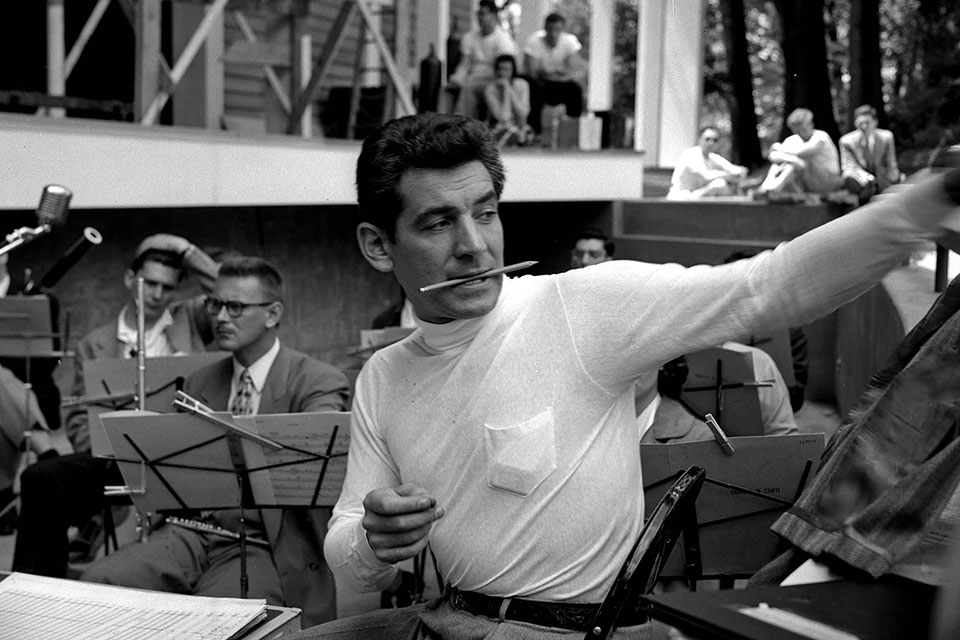 Photo Credit: Courtesy of the Robert D. Farber University Archives & Special Collections Department, Brandeis University
The Leonard Bernstein Fellowship (LBF), named for a founding member of the Brandeis University arts community, is a distinctive and highly selective chamber music program. The fellowship provides a small number of accomplished vocalists and instrumentalists the benefits of private lessons, chamber performance opportunities, large ensemble performance opportunities and a $20,500 renewable scholarship.
If you would like us to consider your musical accomplishments and skill as a component of your application, please submit a portfolio through SlideRoom via the Common Application. For submissions independent of the Common App, please create an account and begin your portfolio submission.
Benefits
Only a very small number of accomplished vocalists and instrumentalists are selected to take part in this highly competitive program. Leonard Bernstein Fellows receive the following benefits:
A scholarship in the amount of $20,500 per year, renewable for up to a maximum of eight semesters.
Chamber ensembles. All Leonard Bernstein Fellows (LBF's) perform in LBF chamber and vocal ensembles, working intensively toward a culminating performance at the end of each semester. Chamber ensembles are coached by members of the performance faculty and members of the Lydian String Quartet.
Private lessons. Fellows receive private instrumental and vocal lessons, free of charge, with Music Department faculty and instructors.
Performance opportunities. Performance is the essential component of the Leonard Bernstein Fellowship. Fellows will have special opportunities to showcase their creative work in the acoustically superb 200-seat Slosberg Recital Hall and in community outreach events. In addition to chamber music performance, Fellows will gain large ensemble experience. Vocal Fellows will participate in the Music Department vocal ensembles and will be assigned solos. Instrumental Fellows will participate in any of the Music Department ensembles, including the Brandeis-Wellesley Orchestra, Wind Ensemble, Jazz Ensemble, Improv Collective, Early Music Ensemble, Chamber Music Ensembles, Fafali: Music and Dance of Ghana, University Chorus, and Chamber Singers.
Music Department offerings. The Brandeis Music Department provides a full range of courses in music history, music theory, composition, and performance, and it offers unique opportunities in electronic music composition, jazz ensemble, improvisation, and world music.  It also offers many opportunities for students to interact with distinguished visiting musicians and scholars.
Requirements
The Brandeis Music Department features a distinguished faculty of world-renowned composers and award-winning scholars, instrumentalists, vocalists, and conductors. To ensure awardees benefit fully from this rich musical environment, all Leonard Bernstein Fellows are required to declare a minor in music by completing the following Music Department courses:
One year of Music Theory (MUS 101a & b or 103a & b, with accompanying labs MUS 102a & b or 104a& B)
Two semesters of Music History (to be chosen from among MUS 131, 133 and 135)
Performance Requirement:

Instrumentalists: Four semesters of performance in a Music Department ensemble (in addition to LBF chamber ensemble performance and private lessons)
Vocalists: Eight semesters of performance in a Music Department ensemble (in addition to LBF chamber ensemble performance and private lessons)
 Many Leonard Bernstein Fellows choose to major in music instead.