Recent Events
2019-2020
56th Rawidowicz Memorial Lecture
November 13, 2019
On Wednesday, November 13, 2019, the Tauber Institute will host Professor Michael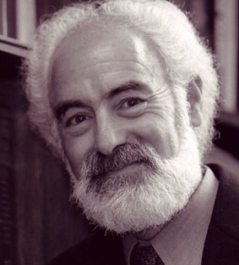 (Buzzy) 
Fishbane,Ph.D. '71, to deliver the 56th Annual Simon Rawidowicz Lecture. Professor Fishbane is the Nathan Cummings Distinguished Service Professor of Jewish Studies at the University of Chicago. The event will be held in Rapaporte Treasure Hall at 7:30 pm.
Stoll Chair Lecture by Alexander Kaye, "Galut: Exile and Existence in Modernity"
November 12, 2019
3-5pm
Rapaporte Treaature Hall, Goldfarb Library, Brandeis University
Alexander Kaye presents his lecture on "Galute: Exile and Existance in Modernity."
Hebrew Language and Arts Week
October 28, 2019
The Hebrew Language and Arts Week will be held the week of October 28, 2019 and will offer four days of  lectures and performances by prominent international artists, musicians, politicians, and a chef.  More information will be available as the date draws near.  Most events will be conducted in Hebrew.  All events are free and open to the public.  
Sponsors include the Schusterman Center for Israel Studies, International Center for Ethics, Justice and Public Life,  The Department of Near Eastern and Judaic Studies.  The event is organized and hosted by the Hebrew Language Program at Brandeis University.
Fall NEJS Open House
October 28, 2019
12:30pm
Lown 315
Featuring a Milk Street Kosher lunch with NEJS faculty. We'll have the list of fall NEJS courses to share.  All undergraduate students are welcome.
Movie Night: Flimflam
October 24, 2019
Flimflam:  An Egyptian romantic comedy in Arabic!
A fun-loving bachelor goes on a romantic getaway, but winds up pretending to be married to a complete stranger to take advantage of a booking mix-up.
Thursday, October 24, 2019
6:45 p.m. (Movie starts at 7 p.m.)
Pearlman Hall, Room 113
Snacks and beverages will be provided.

Come enjoy the fun!
Mark R. Cohen on "Maimonides and the Merchants"
October 4, 2019
On Friday, October 4, 2019, the Tauber Institute will host Mark R. Cohen '64 for a presentation on his book 
Maimonides and the Merchants: Jewish Law and Society in the Medieval World
. Professor Cohen is the Khedouri A. Zilkha Professor Emeritus of Jewish Civilization in the Near East at Princeton University and will be giving the presentation in an open session of Professor Jonathan Decter's class "Religions of Abraham: Judaism, Christianity, and Islam," NEJS 3A. The event is free and open to the public and will be held in Lown 315, 9:30 - 10:50 am.