Undergraduate Departmental Representatives
The Undergraduate Departmental Representatives serve as a resource and representative for fellow majors and minors and potential majors and minors, and bring student concerns and/or ideas to the program faculty. They also provide feedback to the program chair, undergraduate advising head and faculty regarding scheduling problems, course offerings, etc. and help organize events for majors, minors, and other interested students.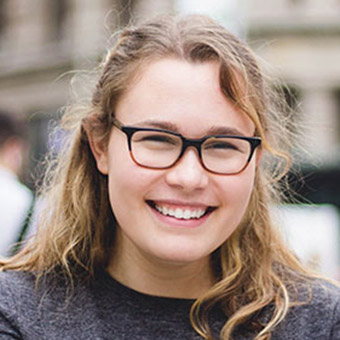 Talia Goodman
Student Office Assistant
NEJS Undergraduate Departmental Representative
Talia is returning as NEJS UDR for the 2019-20 academic year. You can find her involved in Jewish life on campus, teaching Hebrew School at Temple Beth Elohim in Wellesley, and playing piano late into the night when all the real music students on campus have left Slosberg. Talia spent a year studying in Israel before she started at Brandeis, has Australian citizenship, and has visited both countries many times. She loves talking about both countries and is happy to give travel or study abroad tips. She is majoring in Politics and NEJS and is writing a senior thesis in NEJS about Jewish Political / Zionist thought. She is eager and excited for Rachel to join her as UDR this year to continue fostering a sense of community amongst NEJS students and NEJS faculty. Please reach out to her about any and all questions or concerns. We're looking forward to another great year!
Sarah Pechet
Arabic Undergraduate Departmental Representative
Sarah is excited to serve as the Arabic Undergraduate Departmental Representative for the 2019 Fall semester. She is a junior majoring in International and Global Studies and Economics, and has minors in Arabic and in Islamic and Middle Eastern Studies. Her interest in Arabic stems from a desire to learn about the Israeli/Palestinian Conflict from all angles and perspectives, and from her interest in the Middle East as a whole. Sarah hopes to serve in the State Department one day and is thrilled to be studying abroad in Jordan in the spring!
In her free time, Sarah is captain of the Brandeis Women's Rugby Team and enjoys volunteering in the Office of Admissions as an Ambassador and Chatter. Back home in Los Angeles, she loves training in martial arts and is an instructor of Krav Maga!
Yuchen Tan
Hebrew Undergraduate Departmental Representative
Yuchen is the Hebrew UDR for the 2019-20 academic year. She is a junior majoring in NEJS and Economics, with a variety of interests: in Hebrew, economies of the Middle East, Judaism, and Jewish history and its traditions. She loves children (nice-who-do-not-bite-you-type children). In her spare time, Yuchen loves watching and performing Chinese folk/ancient performing arts, such as cross-talk comedy and Beijing opera. She has been performing at the Lantern Festival Galas hosted by BC3 for the past two years. 
She is happy to help fellow students who have zero background in Hebrew language before coming to Brandeis, letting people know that the Hebrew program at Brandeis is open to everyone who has a curiosity and eager to learn. Feel free to contact her if you have any ideas, concerns or anything you would like to chat about. She is eager to help Hebrew students combine personal, academic and career interests.