Campus Life and Community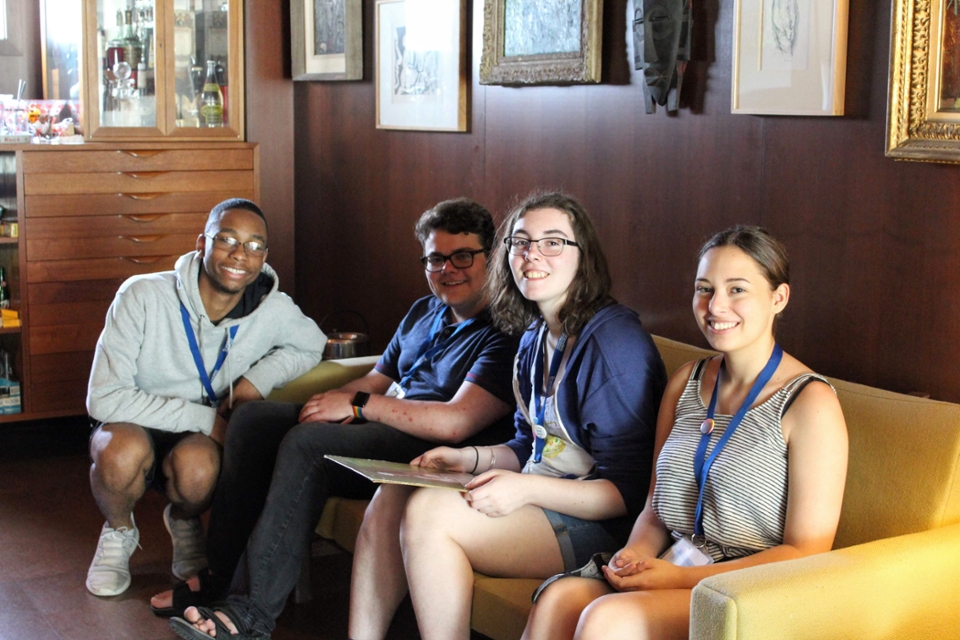 Welcome to our community!
At Brandeis Precollege Programs, you will have the invaluable opportunity to meet people from different backgrounds, different cultures, and different practices, and to learn about — and from — one another.
Combine your academic and creative passions, discover fresh forms of self-expression, and develop close friendships with peers who are serious about their future. At Brandeis Precollege, you'll get to:
Experience life on a college campus.
Study in a program that reveres learning and rigorous academic work of the highest standards.
Join new friends for meals in the Brandeis dining hall.
Take advantage of access to the university's athletic facilities, library, student center, and beautiful 235-acre campus.
Engage with the Brandeis tradition of academic and artistic achievement, robust debate, diversity and justice.
Embark on a great adventure this summer with your peers in a vibrant, diverse and dynamic community. Hone your leadership skills, develop and strengthen your voice, and pursue your passions!
Toggle

Brandeis Precollege Schedule Snapshot
Your days at Brandeis Precollege are filled with course time, field trips, and project work. Here is a rough outline of what you can expect, regardless of your program of choice:
Mornings: rigorous academic offerings in Brandeis lectures halls and classrooms.
Afternoons and evenings: panel discussions, labs (if applicable), site visits, and guest speakers.
Friday evenings and Saturdays: engage in and help lead Brandeis' committed community of faith leaders.
Weekends: taking trips over the weekends to well-known Boston attractions, like Harvard Square and Boston's Back Bay (for programs longer than one week).
Meals: experiencing Brandeis' Sherman Dining Hall

, which is well-known for its ability to ensure healthy and delicious meals for students with a variety of food requirements, including Jewish dietary laws; food allergies or sensitivities to gluten, nuts, dairy and wheat; and vegetarianism or veganism.

Residential experience: living in Brandeis' welcoming, comfortable residence halls.
Creating your capstone project: working with enthusiastic teachers' assistants and outstanding Brandeis research resources, such as our world-class archives, library services, and computing labs.
Toggle

About Waltham
Brandeis University is located in Waltham, MA, which was recently named by Money Magazine as the best place to live in Massachusetts! One of the oldest cities in America, Waltham is located on the Charles River just 10 miles from central Boston, an exciting hub of innovation and technology. 
Brandeis Precollege Programs offer high school students an outstanding residential experience at a top-tier university within this exciting city. You can dine from a diverse selection of restaurants, easily access the tech-rich greater Boston area, and experience what life is like as a college student living in such a vibrant place. 
Toggle

About Brandeis
Brandeis University, a mid-sized, private university in vibrant, suburban Waltham, Massachusetts just outside of Boston, has an extraordinary story. Just after World War II, at a time when top tier U.S. universities were openly exclusionary, the Jewish community established Brandeis as a non-sectarian university, meaning that it has always welcomed and supported exceptional faculty and students of all backgrounds and beliefs.
Today, Brandeis is animated at its core by a set of values rooted in Jewish history and experience. We revere learning and rigorous academic work of the highest standards. We emphasize critical thinking, encouraging you to question openly and accept nothing without study and reflection. We seek together to apply our talents to make the world a better place. Brandeis is committed to assembling on its campus the most inclusive set of background, experiences, cultures, and religions possible. Indeed, it is one of the few universities in America that has inclusivity as one of its founding principles. At the same time, Brandeis is proud of its Jewish values, a source of ongoing vitality that distinguish is from other important American research universities.
Ranked, since its early history, among the very top institutions around the world, Brandeis offers students direct access to small classes with faculty who, from your very first year, become transformative mentors. For nearly two decades, Brandeis has offered the very best high school students the opportunity to benefit from this extraordinary academic and social atmosphere. At our precollege summer programs, you receive college-level instruction of the highest academic caliber. Through these programs, Brandeis staff and faculty offer an intellectually rigorous experience that will equip you with the skills, knowledge, and motivation to take on leadership roles in your area of interest.