Student Spotlight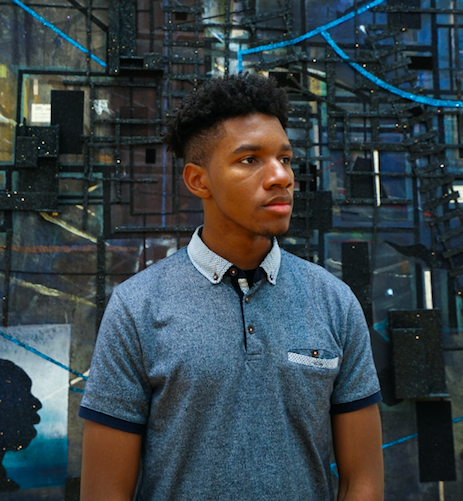 Kwesi Jones '21
Atlanta, GA
Major: African & African American Studies, and Film & Television
Extracurriculars: Kwesi is the Co-President of the Brandeis Black Student Organization, Undergraduate Department Representative (UDR) of the AAAS Department; member of improv comedy troupe Bad Grammer, member of Poetic Justice, Brandeis' only slam poetry team.
In his spare time he likes to draw, paint, perform comedy and write screenplays.
Get to know Kwesi Jones! 
Kwesi, How does you lead in the Brandeis community? 
I believe that the primary quality of a leader is that of service to others. I have taken it to be my life's mission to learn as much as I can so that I may be in a position to help those around me rise triumphant from personal or systematic hardships. At Brandeis, I found that the greatest way that I am able to do that is through fostering community amongst my peers, as community is at the heart of all real mobilization and change. My involvement in clubs  has allowed me to work directly with my peers and foster the community needed to survive this sometimes-alienating college experience and prepare for life after Brandeis. As the Undergraduate Department Representative (UDR) of the African and African-American Studies (AAAS) Department, I am afforded the opportunity to work with both students and department faculty to see how the department can better serve the community.
What has been been your greatest achievement since coming to Brandeis? 
Since my first year, I have let my intellectual and creative wings unfurl and spread over the vast skies of the Brandeis campus. My passions have driven me to seek and accomplish goals that I have long had for myself. Because of this, I am proud to say that I have achieved a great deal of things which I would have never previously thought possible. One of my greatest achievements took place last February during the AAAS Department's 50th anniversary. I directed and produced my first short documentary historicizing the legacy of the 1969 and 2015 Brandeis Ford Hall movements. The film was premiered in front of hundreds of people at the event, many of which who were participants of both the 1969 and 2015 movements and some of whom were icons such as Angela Davis and Hortense Spillers. This was an amazing opportunity for me because not only did I create one of my first pieces of cinematic work, but it also served as an important archival piece, setting in stone the important history of Black protests on Brandeis campus and the work of those students who paved the way for me to be here. Brandies' purported motto is "Truth, even unto its innermost parts." The truth of these invaluable protests were often subject to institutional amnesia, hiding their history from Brandeis students. I am glad that I got to help uncover the veil and reveal the truth that Brandeis claims to hold so dear.
How have the departments within Student Affairs helped you achieve your academic goals?
The departments within Student Affairs are of great service to me in achieving my academic and career goals. I am a firm believer that one's ability to achieve any goal is indicative of their mental health and aptitude. For me to stay focused and disciplined, I try to ensure that I am tending to my mental health; the Brandeis Counseling Center has allowed me to peel back the layers of my psyche and interrogate mental roadblocks that may stand in the way of my progress. The Hiatt Career Center has helped me develop my professional persona. The Dean of Students Office makes me feel supported in my academic endeavors and provides pathways for success.
What is your favorite hangout spot in the Waltham, Boston area?
My first love being film, the movie theater has always been my favorite hangout spot wherever I go. I have several fond memories in the Landmark Embassy theater on Moody Street. There is a seat with my name engraved in it there.
 What are your hopes and aspirations for life after Brandeis? 
When I think of my future and what it holds, I often think of the quote, "Be stubborn with your dream but be flexible with how you get there." With this in mind, I have tried to build my skill set so that I have multiple avenues to reach my dream. My ultimate aspiration after Brandeis is to be a screenwriter and filmmaker. I believe in the transformative power of cinema to create empathy, foster community and embolden changemakers around the world. I wish to harness and develop my voice as an artist so that I may shine an appreciative light on those who are often veiled by the shadows of oppression.