Jewish Philosophical Politics in Germany, 1789–1848
Sven-Erik Rose
June 2014
Brandeis University Press
2014 • 384 pp. 6 1/8 x 9 1/4"

$39.95 Paperback, 978-1-61168-579-4
$85.00 Hardcover, 978-1-61168-578-7
$37.99 Ebook, 978-1-61168-580-0
Winner of The Association for Jewish Studies' Jordan Schnitzer Book Award
Reviews:
"Book Review," Hannah V. Eldridge, Monatschefte
"Book Review," Daniel B. Schwartz, AJS Review
Jewish Philosophical Politics in Germany, 1789–1848

Sven-Erik Rose

A provocative look at how Jewish intellectuals thought about Jewish religion and existence within a German philosophical tradition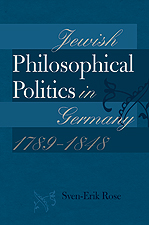 In this book Rose illuminates the extraordinary creativity of Jewish intellectuals as they reevaluated Judaism with the tools of a German philosophical tradition fast emerging as central to modern intellectual life. While previous work emphasizes the "subversive" dimensions of German-Jewish thought or the "inner antisemitism" of the German philosophical tradition, Rose shows convincingly the tremendous resources German philosophy offered contemporary Jews for thinking about the place of Jews in the wider polity. Offering a fundamental reevaluation of seminal figures and key texts, Rose emphasizes the productive encounter between Jewish intellectuals and German philosophy. He brings to light both the complexity and the ambivalence of reflecting on Jewish identity and politics from within a German tradition that invested tremendous faith in the political efficacy of philosophical thought itself.
"Rose offers a fundamental reevaluation of seminal figures and key texts, and he does so by blending careful and rigorous close reading with an equally conscientious attention to historical and philosophical context.  Indeed, in terms of the rigor of its arguments and the ease and elegance with which Rose moves between interpretations of texts by Jewish intellectuals and equally trenchant analysis of texts by their interlocutors in the German philosophical tradition, this book is truly without peers." – Jonathan Hess, University of North Carolina at Chapel Hill
"Rose's rethinking of the intellectual origins and legacy of Wissenschaft des Judentums and his sympathetic and incisive elucidation of early nineteenth-century German Jewish Kantianism, Hegelianism and Spinozism deserve only praise."

–

Daniel Schwartz, George Washington University
SVEN-ERIK ROSE is associate professor of German, University of California, Davis.
This book can be purchased directly through the University Press of New England.