Book Information
The Boom in Contemporary Israeli Fiction
1997
202 pp.
Paper, 0-87541-830-X
Cloth, 0-87541-820-2
The Boom in Contemporary Israeli Fiction

Alan Mintz, editor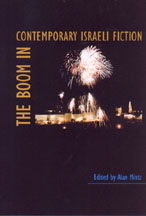 "This excellent collection examines a cultural phenomenon noted by many readers of international literature: contemporary Israeli fiction has achieved a recognition never gained by earlier modernist Hebrew authors; and the thematic and stylistic characteristics of the new writing are far more inclusive than the work of previous generations.
"In his clear, instructive introduction, Mintz summarizes the history of modern Hebrew fiction, charting its evolution from a male-dominated mode . . . to present-day ideological heterogeneity . . . [Contains] five rich, thoughtful essays, written by leading critical authorities Robert Alter, Anne Golomb Hoffman, Yael S. Feldman, Nancy E. Berg and Gilead Morahg."
— Choice
This book can be purchased directly through the University Press of New England.