Book Information
From Text to Context: The Turn to History in Modern Judaism
2003
424 pp. 2 tables. 6" x 9"
Paper, 1-58465-335-3 
From Text to Context: The Turn to History in Modern Judaism

Ismar Schorsch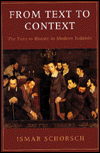 Essays examining the emergence of Jewish scholarship during the period 1818 to 1919, concentrating on the Wissenschaft des Judentums movement.
"Wissenschaft reflected all the dilemmas that faced German Jews in the age of emancipation, and the sensitive reconstruction of the tensions within Jewish scholarly practice in 19th-century Germany is one of the great strengths of Schorsch's book . . . this is a learned, insightful and diverting study of the troubled encounter with history that accompanied the Jewish transition to modernity."
— Times Literary Supplement
This book can be purchased directly through the University Press of New England.