Book Information
World in the Balance: Behind the Scenes of World War II
1981
185 pp.
Paper, 0-87451-217-4 
World in the Balance: Behind the Scenes of World War II

Gerhard L. Weinberg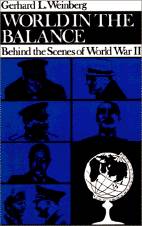 One of the deans of World War II scholars examines both the archives and published literature on the war, and offers sharp challenges to prevailing views.
"A series of essays representing the pinnacle of the historian's craft: a solid and sweeping survey."
— German Studies Review
This book can be purchased directly through the University Press of New England.