Digital Program
Spring Awakening
Book and Lyrics by Steven Sater, Music by Duncan Sheik
Based on the play by Frank Wedekind
Directed & Choreographed by Pascale Florestal
Music Direction Katie Bickford
Mainstage Theater, Spingold Theater Center
November 11-13 & November 18-20, 2022 
Friday-Saturday 8 p.m. and Saturday & Sunday 2 p.m. 
Content Advisory: This show contains instances of sexual assault, sexual situations, violence, explicit language and suicide. There is also use of haze throughout the production. 
Cast
---
Artistic Team
---
Artistic Assistants
---
Electricians
Avery Hunt
Cassie Lebeau
Aidan Gilderson
Yijia Yu
Judy Li
Jaden Farquhar
Elianna Gerut
Arryn Clanaugh
Harvey Sugiuchi
Stephen Petrilli
Lawrence Ware
---
Student Production Crew, Costume Shop
Liam Delaney
Sabrina Goldsmith
LaNiyah Grovell
Ofri Levinson
AJ Pesaro
Anna Sewald
Logan Shanks
---
Shop Carpenters
Aaryn Clanaugh
Sophia Fedus
Elianna Gerut
Harvey Sugiuchi
Kory Wibberly
Yijia Yu
---
Student Run Crew
Lucie Blau
Benny Edelman
Tupelo Evans
Judy Li
AJ Pesaro
Juebin Roh
Abby Tang
---
Spring Awakening Pit
Katie Bickford: Music Director, keys
Milo Rosengard: Assistant Music Director, bass
Olga Kouznetsova: Violin
Roselie Samter: Viola
Anna Seda: Cello
Chris Rubén Winters: Guitar
Ezzie Stone: Drums & percussion
---
Cast Bios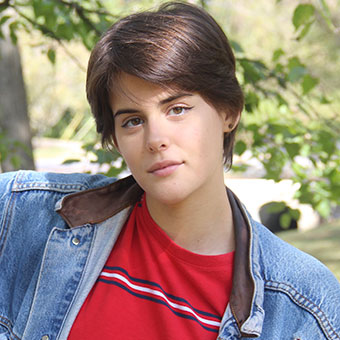 Wendla
Noemi 'Nico' Miller '24
Pronouns: they, them
Nico is absolutely delighted to be playing the role of Wendla in this semester's production of Spring Awakening! They are Junior at Brandeis majoring in English and Theater, and are originally from Nashville, Tennessee. Nico has been an active member in Brandeis' theater community throughout their time here, including the Department of Theater Arts 2022 production of Orlando (ensemble), several Undergraduate Theater Collective productions such as Team Starkid's Firebringer (Grunt), the 24-Hour Musical Camp Rock (Kevin Jonas), and Hold Thy Peace's Macbeth (Banquo). At MLK Magnet High School, Nico participated in numerous musicals and performances, including Hairspray (Corny Collins), Once on This Island (Papa Ge), and Lin-Manuel Miranda's In the Heights (Abuela Claudia). Nico would like to thank their friends and family for coming to support them, and for the endless love and community they provide. They hope you enjoy the show!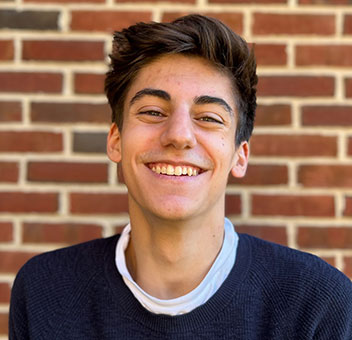 Melchior
Gianni Storti '26
Pronouns: he, him
Gianni is a first-year student, and is beyond excited to be participating in his first show at Brandeis. He plans on majoring in psychology with a minor in theater arts. Since middle school, he has participated in a number of musicals, as both an actor and director. Outside of theater, he loves beatboxing, going out for brunch, and watching animated movies. Gianni would like to extend a big thank you to the entire cast and production team of Spring Awakening for making his first production at Brandeis so amazing!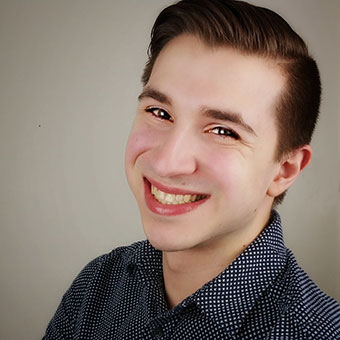 Moritz
Nicholas Kanan '23
Pronouns: he, him
Nicholas is a senior at Brandeis University. He is honored to be participating in Spring Awakening (his favorite show), and making his departmental debut. He has previously been seen on the Brandeis Stage in Hold Thy Peace's production of Macbeth (King Duncan), in the original musical Our Day Will Come (Samuel Ward), and in Freeplay's Cabaret (Emcee). Outside of Brandeis, he made frequent appearances in productions with the SUNY Orange Apprentice Players, including Almost, Maine by John Cariani (Dave), Spring Awakening by Frank Wedekind (Melchior Gabor), and more! He would like to thank his family and friends for their support, his amazing castmates, all members of the production staff, and the Brandeis Theater Department, for giving him the opportunity to play a role he has always dreamed of. Enjoy the show!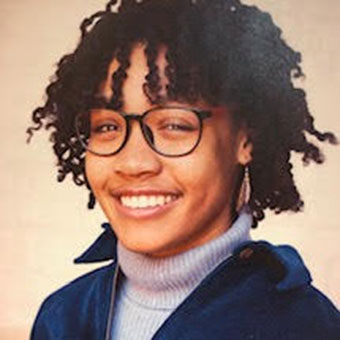 Martha
LaNiyah S.K. Grovell '26
Pronouns: she, her
LaNiyah is ECSTATIC to be a part of her first department show at Brandeis — Spring Awakening!! A freshman from Georgia, she is proud to have been the first-place state-wide winner as well as the second-place nation-wide winner of the Next Narrative Monologue Competition. Alongside this, LaNiyah has been performing in musicals and plays at various venues in Atlanta, including the Tony Award Winning Alliance Theatre. Some of her favorite roles include Matron Mama Morton in Chicago, Motormouth Maybelle in Hairspray, and being a part of the ensemble cast of The Palefsky Collision Project. Her appreciation & dedication to theatre comes from her #1 fan (and mother) Shauna C. Grovell. With plans to major in theatre, LaNiyah is excited to continue to pursue her passion in the arts!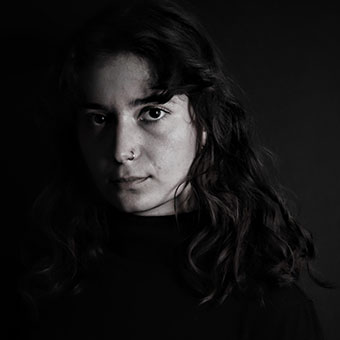 Ilse
Jessica Umanoff '23
Pronouns: she, they
Jessica is a senior at Brandeis University, double majoring in theater arts and sociology.  Jessica has performed in multiple venues in New York City, the greater New York Area, Europe, and Massachusetts. Off Broadway: Dark Heart: An Original Musical, 59E59 St. Theaters, NYC and St. Augustine's Church in the 2016 Edinburgh Fringe Festival.  Regional: Power Play, Artists' Theater of Boston, Boston Center for the Arts. Other credits include: The Laramie Project (multiple roles),  Little Red and the Wolf (Original American Cast, narrator), Alone/Together (Britney), Pippin (the peasant, ensemble). Jess is incredibly grateful to share Ilse's story and be part of such an important piece.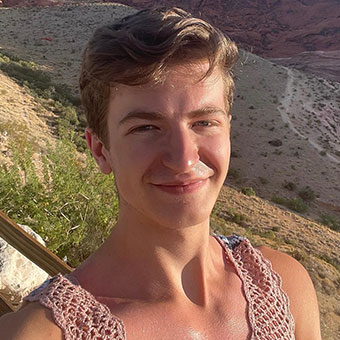 Hanschen
Liam Delaney '25
Pronouns: he, him
This is Liam's first show at Brandeis and he is thrilled to be a part of it. At Brandeis, he plans to double major in theater arts and music. Theater has always been a large part of Liam's life, so he is thankful for the many opportunities that Brandeis offers and looks forward to taking advantage of them. Outside of theater, Liam enjoys reading, playing instruments, thrifting, and spending time with friends.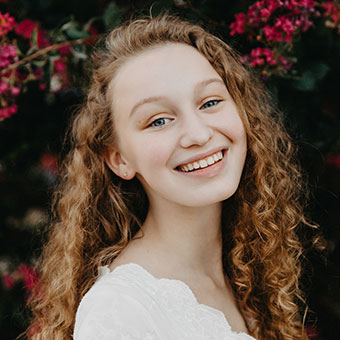 Ernst
Reese Miller '25
Pronouns: she, they
Reese is a sophomore from Chattanooga, TN studying sociology, film, and legal studies. Reese is an avid fan of the Atlanta Braves and a member of Proscenium a cappella.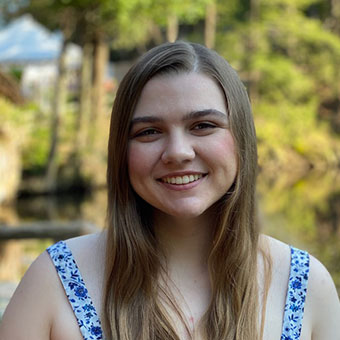 Thea
Alyssa Allen '24
Pronouns: she, her
Alyssa is a Junior at Brandeis studying education studies, psychology, theater arts and legal studies. Alyssa is also a member of Up The Octave, one of the acapella groups on campus. She is the Vice President of The Undergraduate Theater Collective (The UTC) and has been seen in productions around campus with both Fireside Theater Company and the UTC such as: Rumors (Cookie), Our Day Will Come (Molly) and as one of the assistant directors of Firebringer: The Musical. Alyssa would like to thank the whole cast and crew for their hard work and for being so great to work with. She hopes you enjoy this performance!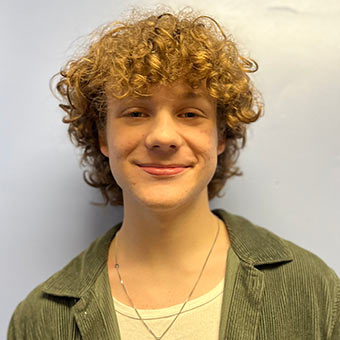 Georg
Cam Steinberg '26
Pronouns: he, him
Cam is a student in his first year at Brandeis, and is incredibly excited to be performing in his first show on campus! He plans on picking up majors in Computer Science and Business, and a minor in Music. Music, and by extension Musical Theater, has always been an important part of his life, and he has been participating in shows since the beginning of his high school years. Outside of theater, he loves playing guitar, drinking coffee, and playing volleyball with friends! Cam is beyond excited to share this show with audiences, and would like to extend a massive thank you to the cast and production team of Spring Awakening for making his first Brandeis show such an incredible experience!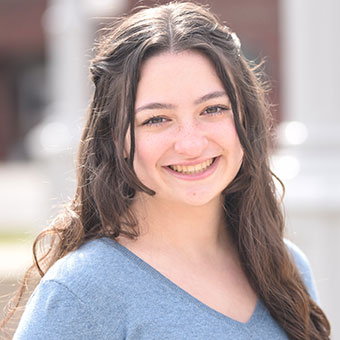 Anna
Laya Fridman '25
Pronouns: she, her
Laya is a sophomore majoring in Theater Arts and is delighted to be playing Anna in Spring Awakening! Laya serves as one of the UDR's in the theater department, on the eboard of Fireside Theater Company, and as a member of Proscenium musical theater acapella. Notable credits include Sasha in Orlando, Emma in Our Day Will Come, and Hermia in A Midsummer Night Dream.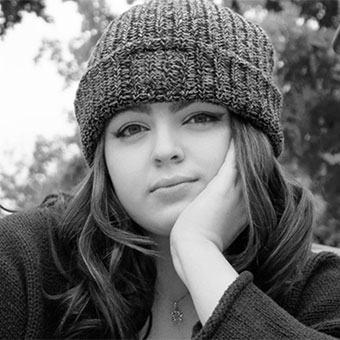 Otto
Anika Hahn '25
Pronouns: they, them
Anika is thrilled to be playing Otto in Spring Awakening. This is their second show with the Brandeis Department of Theater Arts, having been a cast member and dance captain of the Department's dance/movement piece In The Empty. They have also done several shows through on-campus clubs including Our Day Will Come (a new work) and A Midsummer Night's Dream. They are a dancer/actor/singer from Minnesota and are grateful for the support of their friends and family.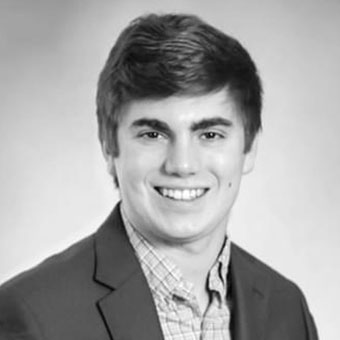 Adult Man
Brooks Bellinger '24
Pronouns: he, him
Brooks is a sophomore at Brandeis, planning to major in music performance. This is his first show with the Brandeis department of theater arts. He is originally from Oregon and was in The Wizard of Oz and High School Musical throughout high school. He is thankful for the love and support from his friends, family, and the cast and crew of the show.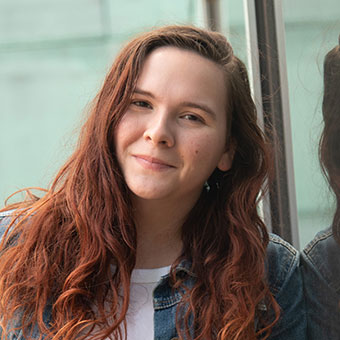 Adult Woman
Cierra Boutin '24
Pronouns: she, her
Cierra is a current junior hailing for the alligator land of Gainesville, FL. She is majoring in Anthropology with minors in Legal Studies and Hispanic Studies. On campus she is also involved in Brandeis' hip hop team Kaos as the executive director and as the producer of the Undergraduate Theater Collective. She loves the message of this show and hopes that the audience finds themselves in not only the kids but the adults too. Because in the end we all, at times, become blind men.
Other Bios
Katie Bickford (they/them), Music Director
Katie is delighted to be making their Brandeis debut. Previous credits include Sweeney Todd, Legally Blonde, The Music Man (Andover High School), Children of Eden (Voices of Hope; Music Director); The Colored Museum (Percussion Consultant). Education: B.M. Music Education, Ithaca College; M.M. Music Education (Autism Concentration), Boston Conservatory at Berklee College of Music. Katie works full time as a music educator in Lawrence Public Schools and plays keyboard and sings in Jean-Michelle @jeanmichelleofficial. 143PDF. Art changes people; people change the world.
Maggie Cashdan '24 (she/her), Assistant Stage Manager
Maggie Cashdan is a Junior majoring in Biology and Health: Science, Society, and Policy who is from Los Angeles. This is Maggie's first theater production at Brandeis, and she is so excited to be a part of such a great team. She has always had a passion for the musical theater community and is thankful to be a part of this amazing show.
Pascale Florestal (she/hers), Director & Choreographer
Pascale Florestal is an Elliot Norton Nominated Director, Educator, Dramaturg, Writer and Collaborator based in Boston, MA. Recent directing Credits: The Colored Museum at The Umbrella Performing Arts Center and Once On This Island with SpeakEasy Stage. Pascale is the Education Director and Associate Producer for Front Porch Arts Collective and an Assistant Professor of Theater at Boston Conservatory at Berklee. Pascale serves as the Associate Director for The Broadway National Tour of Jagged Little Pill.
Aja M, Jackson, Lighting Designer
This will be Aja's third show with Brandeis. OFF-BROADWAY: A Commercial Jingle for Regina Comet. REGIONAL: Hartford Stage: Lost in Yonkers. Everyman Theater: Behold, A Negress. American Repertory Theater: Hear Word. The Public Theater Under-The Radar Festival: Hear Word. John W. Engeman Theatre: On Your Feet. Pennsylvania Shakespeare Festival: Fences. North Carolina Black Rep: Freedom Summer. Kitchen Theatre Company: Catch as Catch Can. Speakeasy Stage: Once on This Island. Lyric Stage Company of Boston: The Cake, Breath and Imagination. Actor's Shakespeare Project: Nat Turner in Jerusalem, The Complete Works of William Shakespeare Abridged. Moonbox Productions: Passing Strange. Boston Early Music Festival: Pimpinone and Ino. [DANCE]: Modern Connections: Hot water over Raised Fists. HoldTight: What Keeps You Going?, Why Believe?, What Does it Feel Like to Grow Up?, What Does it Feel Like to Fall in Love? [TEACHING]: Boston University, National Theatre Institute. Proud member of USA 829. IG: @ajamjackson | www.ajajacksonlighting.com
Olive Gallmeyer MA'23 (they/them), Dramaturg
Olive Gallmeyer MA '23 (they/them) Dramaturg, is a first-year Master's student in Women's & Gender
Studies whose scholarly interests revolve around the intersections of queer theory and performance studies. They graduated from University of Richmond this past spring, where they studied American Studies, WGS, and Theater, and was a member of the Eta Cast of Alpha Psi Omega National Theatre Honor Society. They have nearly fifteen years of theater experience specializing in stage management, dramaturgy, and theater for social change. Previous dramaturgy credits include Perfect Arrangement, Standing Together Six Feet Apart, and Blood at the Root at UR, and Rent and Fun Home at Live Arts Theatre.
Sean Patrick Gibbons (he/him), Intimacy Director
Sean Patrick Gibbons is an Intimacy Director, Theatre Educator, and Actor based in Boston, MA. He is a proud member of the inaugural certification cohort of Intimacy Directors and Coordinators trained and mentored under Claire Warden and Cha Ramos. Select ID Credits: Wellesley College, Scranton Shakespeare Festival, University of Scranton, International Theatre and Dance Project, among others. He is a fierce advocate for creating consent-forward creative spaces for artists to work in. You can learn more at www.seanpatrickgibbons.com.
Payton Gunner '24 (she/her). Assistant Stage Manager
Payton Gunner is a junior and an Atlanta Posse Scholar at Brandeis University.  She works as a theater assistant in the student center on campus and majors in Theater Arts with a concentration in Stage Management. This is her fifth production on campus, having previously stage managed for a senior thesis named Disconnecting the Dots, a student-written production entitled, Our Day Will Come, the department show Orlando, and others. She continues her passion as the assistant stage manager on this production of Spring Awakening. Payton is ecstatic to be participating in the department's first musical production since her time at Brandeis.
Evelyn Inker '23 (she/her), Assistant Director
Evelyn Inker is a senior at Brandeis University, double majoring in Theater Arts and Communication & Media Studies. She is overjoyed and honored to be working on Spring Awakening as the Assistant Director of the production. Though Evelyn's background in theater has largely been based in acting onstage, working closely with Pascale has inspired her to pursue directing. Next Spring, Evelyn will be premiering an original show at the Brandeis University Senior, Studio Festival and she hopes you all come see it! Evelyn wants to give a special shoutout to the cast of Spring Awakening for all the vulnerability and openness they brought into building this beautiful show. May it leave you a bit kinder, a little less blue, and a lot more purple.
Amanda O'Donnell (she/her), Fight Choreographer
A self-described jack-of-all-trades, Amanda has worked as a playwright, director, actor, teaching artist, and fight choreographer all over New England. She recently received her MFA in theatre education from Emerson College where she focused on stage combat education, culminating in her thesis "A Girl Worth Fighting For: Stage Combat and the Adolescent Female Sense of Self". This is her first show at Brandeis, and she is excited to join such a talented group of students and professionals to bring this deeply topical story to the stage.
Baron E. Pugh (he/him), Scenic Design
Baron E. Pugh (he/him) Scenic Design, is pleased to be back at Brandeis University after designing Orlando this past Spring, as well as We are Proud to Present... Other credits include: Barrington Stage Company: ABCD; Berkshire Theatre Group: B.R.O.K.E.N code B.I.R.D switching. SpeakEasy Stage: Heroes of the Fourth Turning, Passover, Choir Boy, School Girls; Lyric Stage Company of Boston: The Light, Breath and Imagination, The Wiz. The Huntington Theatre: The Bluest Eye (Associate Designer). Trinity Rep: Tiny Beautiful Things, Radio Golf. TheatreSquared: Detroit '67, The Elaborate Entrance of Chad Deity, School Girls. Pennsylvania Shakespeare Festival: Fences, How I
Learned What I Learned. Baron received his MFA in Scenic Design from Boston University and is a proud member of United Scenic Artists Local 829. For upcoming productions, please visit
BaronPughDesign.com
.
Sarah Schneider (she/her), Production Stage Manager
Sarah Schneider is a Boston-based stage manager, child supervisor, and Guerilla Opera's Artistic Projects and Production Manager. She has worked with Commonwealth
Shakespeare Company, Boston Ballet, Huntington Theatre Company, Boston Playwrights' Theatre, Wheelock Family Theatre, Company One, the Boston University Opera Institute, and more. Outside of the theatre, Sarah works at Mayyim Hayyim Living Waters Community Mikveh. Sarah is a graduate of Boston University where she earned her BFA in Stage Management. @sarahschneids
Brooke Stanton (she/her), Costume Design
Brooke Stanton is a costumer who has worked in theatre, film, and television. During her five years with George Lucas' ILM, she built creatures for the Star Wars Special Edition Trilogy and The Phantom Menace. She has toured internationally and nationally designing for Peter Sellars. Other clients include Disney, Columbia Pictures, CBS, American Repertory Theatre, American Conservatory Theatre, Aspen Music Festival, Berkshire Opera Festival, Boston Symphony Youth Orchestra, Commonwealth Shakespeare, S.F. Shakespeare, New England Conservatory, and Odyssey Opera. She costumed three films with Robin Williams after studying Costume Design at NYU and Textiles at California College of the Arts. www.brookestanton.com.
Joe Stallone (he/him), Prop Designer/Set Dressing Design
Joe Stallone (he/him) Prop Designer/Set Dressing Design. This is Joe's second production at Brandeis. The first one, The Tempest, in March 2020, was shut down early due to the onslaught of covid-19. A Boston based theater artist, Joe holds B.A. degrees in Theater and Dramatic Literature from Boston College and takes on a variety of roles as a theater artist: director, dramaturg, props & set dressing design, costume design, and dialect coach. He has worked with Central Square Theater, New Rep, Greater Boston Stage, SpeakEasy Stage, Actors Shakespeare Project, Gloucester Stage, AFD Theater, TCAN Players, Boston College, The Umbrella, and others. Joe was the props/set dressing designer for the world premiere of Albatross with Ben Evett. During the pandemic, Joe created a series of online, live-streamed theater events for AFD Theater in Arlington. Joe's regional real estate brokerage,
J Stallone Realty Group
, supports theatre and the arts through its "Refer-a-Friend" arts contribution program.
Kieran Whitney '23 (he/him), Assistant Choreographer
Kieran Whitney is very proud of the cast of Spring Awakening! Kieran is a senior from Concord, NH double-majoring in Theater Arts and English with a minor in Education Studies. Some credits include Clorinda/Ensemble (Orlando) Ensemble (In the Empty), Ensemble (The Laramie Project), with Brandeis' Theater Arts Dept.; Howie (Speech & Debate), with Brandeis' 2019 Senior Theses; Orpheus (Eurydice), with Hold Thy Before Brandeis, Kieran studied ballet with the Eastern Ballet Institute. Kieran is an Undergraduate Departmental Representative (UDR) for Brandeis' Theater Arts Department, and loves to chat about the program - reach out to him! Kieran would like to thank the Spring Awakening cast team for their creativity and dedication.
Andrew Duncan Will (he/him/his), Sound Designer
Andrew Duncan Will returns to Brandeis after designing "Cabaret" in 2013. Andrew has recently designed productions for Lyric Stage, SpeakEasy Stage Company, Greater Boston Stage Company, Bad Habit Productions, Wheelock Family Theater, Flotsam Productions, Gloucester Stage, Puppet Showplace Theater, Hasty Pudding, New Rep, Fresh Ink, Boston Public Works, Commonwealth Shakespeare, A.R.T. Institute, and Company One. Andrew received an MFA in Sound Design from Boston University.
General Information