We are Proud to Present a Presentation about the Herero of Namibia, Formerly Known as Southwest Africa, From the German Sudwestafrika, Between the Years 1884-1915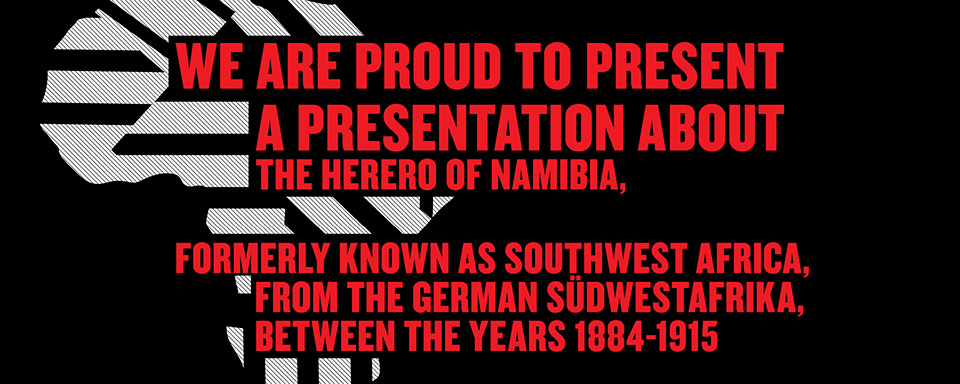 November 22-24, 2019 | Laurie Theater
A group of actors gather to tell the little-known story of the first genocide of the 20th century. We Are Proud to Present … takes place largely in a rehearsal room that descends from collaborative to absurd as a group of idealistic actors—three black and three white—attempt to recreate the extinction of the Herero people at the hands of their German colonizers. Along the way, they test the limits of empathy as their own stories, subjectivities, assumptions and prejudices catalyze their theatrical process. Eventually the full force of a horrific past crashes into the good intentions of the present, and what seemed a faraway place and time comes all too close to home.
Article in the NYtimes about the author:
https://www.nytimes.com/2019/04/25/theater/black-playwrights-theater.html
Performance Schedule
Friday, November 22 at 8 p.m.
Saturday, November 23 at 2 p.m.
Saturday, November 23 at 8 p.m.
Sunday, November 24 at 2 p.m.
Prices
General Public: $20
Brandeis Community*: $15
Seniors (55+): $15
Students: $5
Student Rush: Free
*Brandeis Community includes current faculty and staff, emeriti, alumni, BNC, BOLLI, and HSL; limit two discount tickets per ID.
Student prices are available to Brandeis and non-Brandeis students. Brandeis students: limit two tickets per ID. Non-Brandeis students: limit one per ID.
Discounts are also available for groups and Circle of Friends members.
Buy Tickets Now
Purchase tickets online, by phone at 781-736-3400, and in person at Brandeis Tickets.