Professor and author receives prestigious medieval studies award
WALTHAM, Mass. -- Charles McClendon, professor and chair of the department of fine arts, has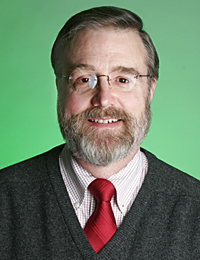 received the Haskins Medal for his book "The Origins of Medieval Architecture" (Yale University Press, 2005). The award was presented on April 4 in Vancouver, Canada during the annual meeting of the Medieval Academy of America.

According to the academy's website, the medal was first awarded in 1940 and a new winner is selected each spring to honor a distinguished book in the field of medieval studies. The award is named after Charles Homer Haskins, a medieval historian and the founder and second president of the Medieval Academy. The solid-gold medal, designed by Graham Carey in 1939, is engraved with the recipient's name on the edge.

"The Origins of Medieval Architecture" offers a broad study of the important innovations in church building in western Europe from the sixth to the 10th centuries that contributed to later, better-known achievements during the Romanesque and Gothic periods. The book was also awarded the 2007 Otto Grundler Prize for the best book in medieval studies at the 42nd International Congress on Medieval Studies.

McClendon taught at the University of California at Berkeley and Yale University before coming to Brandeis in 1988, where he has served as fine arts department chair since 1999. He has received awards and fellowships from, among others, the Samuel H. Kress Foundation, the National Endowment for the Humanities, the American Council of Learned Societies and the John Simon Guggenheim Memorial Foundation.

His research and publications focus on the close connection between art and architecture in the centuries from the decline of the Roman Empire to early modern times. He has directed excavations in Italy and the results were featured in his book, "The Imperial Abbey of Farfa: Architectural Currents of the Early Middle Ages" (Yale University Press, 1988).

He received his bachelor's degree from Indiana University and his master's and doctorate from the Institute of Fine Arts at New York University.


Return to the BrandeisNOW homepage