Artistic Expression Beyond the Classroom
Like other fine arts department members, Alfredo Gisholt practices his craft, exhibiting paintings from Maine to Mexico.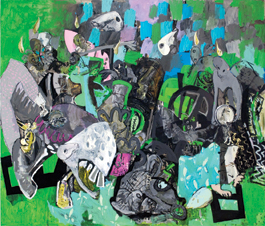 Barrancos de esaleras, 2010.
Oil on canvas, 84" x 72".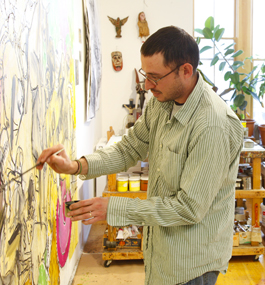 Assistant Professor of Fine Arts Alfredo Gisholt
Everyone knows professors have careers that extend beyond the classroom: Even in the summer, scientists carry on cutting-edge work, historians delve into murky archives, and economists analyze data that help us understand how the world of finance works. In the School of Creative Arts, extracurricular work often takes the form of expression, as actors act, directors direct, sculptors sculpt, and musicians compose, perform and conduct.
A case in point is Assistant Professor of Fine Arts Alfredo Gisholt, a Mexican-born painter and printmaker who has been teaching at Brandeis since 2001. In mid-2010, Gisholt's work was featured in solo exhibitions at two venues, one at the University of Maine in Bangor and the other in Mexico City.
In the Down East showing, Gisholt displayed a series of paintings that draw connections to Goya, Matisse and Picasso. Titled "Ceremonies of Mud," the exhibition featured what the artist calls "eccentric casts of characters who converge in ritualistic processionals and parades" that occasionally erupt into violence. 
In Mexico City, Gisholt presented a selection of paintings, gouaches and prints made between 2007 and 2010. The work, which opened the new Recinto Project Room in June, draws on both a figurative and abstract vocabulary and employs strong shapes (including Christian iconography) to express what is described as the artist's passion about the "aesthetic power of painting" and his curiosity about "transcendental situations that allow human beings to feel alive."
comments powered by

Disqus