Beckman Scholars Tackle Proteins and Pathogens in Leading Research Labs
Jessica Hutcheson '11 and Phillip Braunstein '12 wanted to be working scientists when they grew up. Thanks to a foundation's generosity and Brandeis' inclusion of undergrads in its cutting-edge research, they didn't have to wait that long.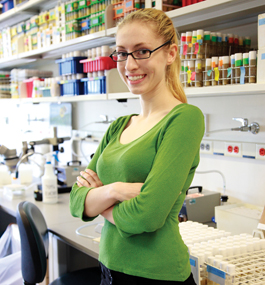 Jessica I. Hutcheson '11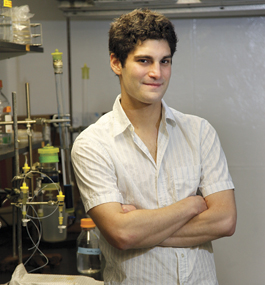 Phillip Braunstein '12
What are the molecular mechanisms that underlie learning and memory? How can we defeat a deadly waterborne pathogen that sickens and kills and has biowarfare potential? Two Brandeis undergraduates are researching these heady questions, thanks to a grant from the Arnold and Mabel Beckman Foundation. In all, the Beckman Foundation awarded Brandeis $96,500 to fund scientific research by five undergraduates over the next three years.
The university was one of only nine institutions nationwide to be thus honored — an achievement some believe reflects the remarkable research opportunities available to Brandeis undergraduates, who often work side by side with graduate students, postdoctoral fellows, and faculty members doing cutting-edge science.
The award provides each selected student with a stipend and research and travel expenses for two summers and one academic year. The first two scholars spent the summer learning the intricate behavior of proteins and pathogens. Jessica I. Hutcheson '11, a double major in neuroscience and biochemistry, studied fruit flies in neuroscientist Leslie Griffith's lab to elucidate the interplay of two membrane proteins that contribute to learning and memory.
Biochemistry major Phillip Braunstein '12 is using his Beckman award to explore ways to inhibit development of a nasty intestinal parasite known as Cryptosporidium parvum that can kill those with compromised immune systems. The parasite is a leading cause of diarrhea and malnutrition and the most common infection in immunocompromised people such as AIDS patients. It could potentially be deployed as a waterborne biowarfare agent.
The parasite lives only inside host mammals and cannot be cultivated in the laboratory, a major obstacle to research. For this reason, Braunstein is working on attacking it by manipulating an enzyme that the parasite uses to make its DNA. His work is part of biologist Liz Hedstrom's anti-parasitic drug discovery program.
"I'm going to try to mess up the way this parasite makes its DNA," Braunstein says. "If you can stop the enzyme from working, the parasite can't make its DNA, and if it can't make DNA it will die out."
"It's an amazing prize — a validation," Hutcheson says. "Not only am I doing the project I want to do, but someone else thinks it's a good project to be doing."
comments powered by

Disqus