He's Got the Look
Production designer Steve Saklad '78 imagines and assembles the many elements of a movie's visual language.
by Susan Piland
"It would be so much easier if it were 1961."
Steve Saklad '78 is driving around the perimeter of Route 128, scouting locations for his next film, "Labor Day," starring Kate Winslet and Josh Brolin, directed by Jason Reitman. Shot entirely in Massachusetts this summer, the romantic drama is set in 1987. Oddly enough, the movie's not-quite-vintage time period has made it a challenge to design, much more so than if it took place in, say, the early 1960s. First of all, "everyone thinks they know what 1987 looks like," Saklad says good-naturedly. "And there's not much 1987 stuff on eBay. So it's incredibly difficult to re-create a grocery store or a department store, to get the banal to come to life again."

Saklad is the man in charge of finding the era-appropriate can of peas — times about a gazillion. He's a production designer, the movie-set linchpin who works closely with the director and the director of photography to create a rich, nuanced visual story that moves, as Saklad says, "like a musical score."

To make the visuals sing, Saklad initially goes through the script like a detective, looking for clues to the characters' backgrounds and personalities, imagining the environments they'd create for themselves, or find themselves reduced to. After he vets his early ideas with the director, it's research time. "I usually ransack the photo bookstores and secondhand stores to nail the feel of the project," the 56-year-old Los Angeles resident says. "I'm old-school, and prefer to get my inspiration from pages in a genuine book than the Internet."

Next, he creates giant collages, a 20-inch-by-30-inch mood board for each scene or character in the script. Saklad assembles ideas for textures, architectural elements, wallpaper patterns, color palettes, lighting options. ("Labor Day" required 62 mood boards.)

"You think about the most subtle things," says Saklad. "How shiny the surfaces are. How cushy the surfaces are. Here's a point in the story where things are discordant. Here's a point where things should look harmonious."

Finally, Saklad starts to sketch, creating "a clean, tangible distillation of all that research and prep work," he says. "The more thorough the prep, the quicker the sketch making goes."

Once shooting starts, Saklad is on set every day, making countless design decisions. He supervises a busy team of visual artists as they select locations, build and decorate sets, and source or make props — realizing the many major and minor details that bring the world he's envisioned onto the big screen.

"Labor Day," scheduled for release next year, is Saklad's fourth film with Reitman, following "Thank You for Smoking," "Juno" and "Up in the Air," three movies with strikingly different looks. "One of the great privileges of my career has been creating locations in my head and then watching them come to life in Steve's hands, more beautiful than I could have imagined," Reitman says.
Saklad's long résumé also includes working as production designer on "Drag Me to Hell," and art director on "Spider-Man 2" and "Message in a Bottle." He did the production design on last year's vaudeville-inspired "The Muppets," which gave him a welcome chance to revisit his early roots as a theater set designer. Majoring in theater arts at Brandeis was a great career move, Saklad says: "I was trained as a liberal-arts investigator, a questioner of the universe. I was also incredibly well trained technically by [faculty members] Howard Bay and Bob Moody — color theory, script analysis. I did so much work at my craft there." What's the hardest thing about his job? "Making the budget you're given stretch," he says. The most fulfilling? "Creating a world that didn't exist before. Going from an empty soundstage to a Muppet Theater that has all those ghosts and history in it, created from scratch." Here, in his own words, Saklad discusses a few examples of his cinematic conjuring.
page 2 of 4
" Up in the Air" (2009)
1. "Corporate downsizer Ryan Bingham (played by George Clooney) lives in an endless, sterile cycle of conference rooms, expense-account hotels — and airports. The roll-aboard suitcase accompanies him throughout the film — he's made streamlined packing into a science."

2. "We actually built this set at Concourse A in Lambert Field, in St. Louis. Like the rest of Ryan's world, it's devoid of human touches. The surfaces are stainless steel: cold, hard, shiny."

3. "The steel supports and the frame of the destination board were part of the St. Louis set, but they held a green screen. The animated LED destination board was computer-generated and added later, in postproduction."
page 3 of 4
" The Muppets" (2011)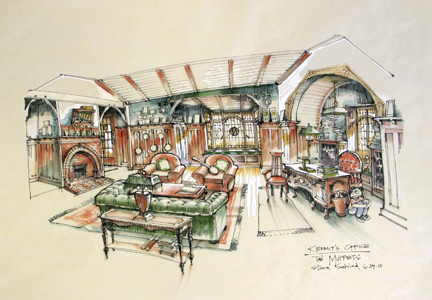 Sketch of Kermit's Office courtesy of Steve Sakland
1. "Kermit comes to life as a real character only if the audience takes his surroundings absolutely seriously. Compared to my original sketch, the final design got a lot more layered."

2. "The worse-for-wear Tudor Revival interior was inspired by Charlie Chaplin's studio building (now the home of the Jim Henson Company). The dusty space is a barrel-vaulted museum
to the Muppets' past glories, represented by mementos like the framed news clips, the director's megaphone and the Emmy."

3. "It's also a working office, albeit a gone-to-seed one, crammed with stacks of rejected scripts, Rolodexes, and pieces of antiquated technology, thanks to the work of my brilliant set decorator, Tracey Doyle."

4. "The stained oak and the ivy-twined William Morris wallpaper? They remind Kermit of his childhood swamp."
page 4 of 4
" Juno" (2007)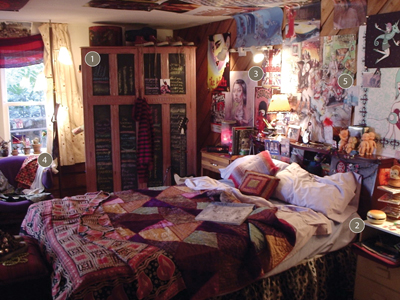 Photo of Juno's bedroom courtesy of Steve Sakland
1. "Juno's subconscious is on display in this safe womb of burgundy and burnished woods (contrasting with the icy palette used for the home of the Lorings, who plan to adopt her baby). The heightened language of Diablo Cody's script required equally heightened design choices: strong colors, dense textures, a more vivid visual world than we're used to seeing."
2. "The famous hamburger phone, imported at great expense from China. Diablo specified this prop in her very first script."
3. "Walls of diagonal cedar planking show the décor's subtle 1970s influence. No computers or cell phones mar the timeless period look."
4. "A window-ledge collection of dead cacti, sent each birthday by Juno's absentee mother."
5. "Layers of posters, band flyers, fabric finds and personal photos travel up the wall and onto the ceiling, each one reflecting some image Juno has of herself or her surroundings. All praise to Jason [Reitman], who gave these walls long, loving tracking shots in the film's final edit."
comments powered by

Disqus