Graduate and Professional Student Appreciation Week
Graduate and Professional Student Appreciation Week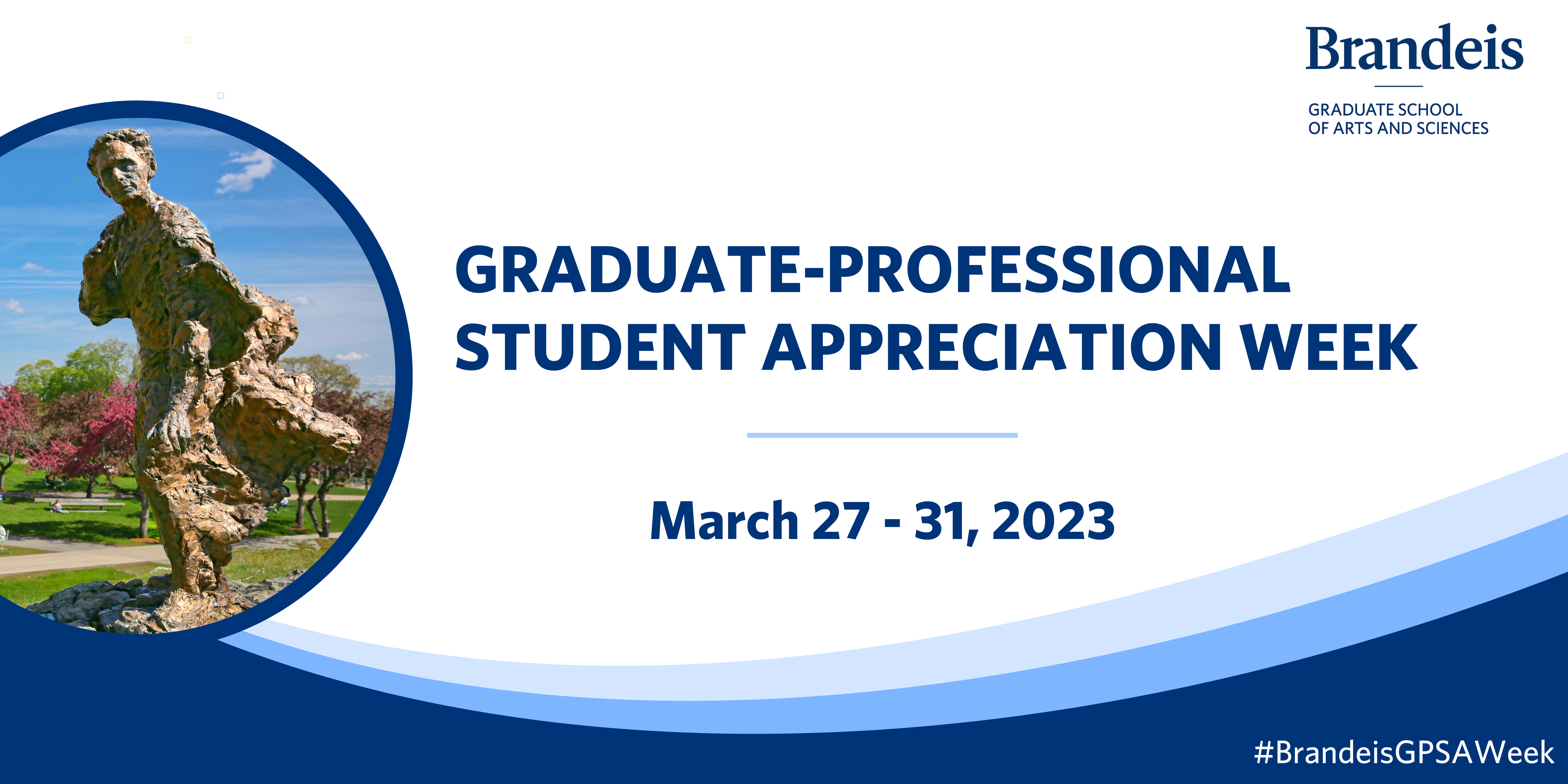 The GSAS is excited to celebrate Brandeis University's first annual Graduate-Professional Student Appreciation Week (GPSA Week) March 27-31, 2023! National Graduate-Professional Student Appreciation Week was created in 1993 by three students who "wanted to find a way to physically manifest support and appreciation of the contributions, impact and value of graduate students." While national GPSA Week is traditionally the first week of April, we will celebrate a week early to accommodate the religious holidays and student break that fall within this period.
To highlight and thank graduate and professional students for their many contributions to teaching, research and the Brandeis community, the Grad Engagement group (comprised of members of GSAS, Heller, International Business School and the Office of Graduate Affairs) is planning a series of activities. Offerings include a graduate student town hall, free Faculty Club meal tickets (first come, first served), wellness classes and much more! Details will be shared with faculty, staff and students in the upcoming weeks on the OGA's website.
In addition to events that the Grad Engagement group is planning, GSAS will offer the following activities and events:
Daily Gift Card Giveaways
GSAS will give away a gift certificate every day of the week! Names will be randomly drawn and students will be notified by email if their name is drawn. No entry is required, as all graduate students will be automatically entered.
Monday – Hannaford
Tuesday – Brandeis Bookstore
Wednesday – AK's Waltham
Thursday – Uber Gift Card
Friday – Grubhub Gift Card
Virtual Gratitude Wall
You don't need to be reminded that being a graduate student comes with a lot of challenges. There are many things to be grateful for as well! Let's take a break from the never-ending deadlines and to-do lists to focus on what brought you joy, or at least kept you sane, over the past year.
Please take a minute to share something you are grateful for by using this form. It could be an advisor, family or friends, a furry friend, having a cozy study space, or even that particular flavor of ice cream that gets you through the all-nighters. Submissions will be posted to GSAS's social media account throughout Graduate Student Appreciation Week.
Coffee Break with the GSAS Deans
Need to recharge? Have a question or issue you want to discuss? Join Dean Wendy Cadge, and Assistant Deans Alyssa Canelli, Becky Prigge and Jaclyn Farina for a coffee break on Monday, March 27, from 2-3:30pm, Shapiro Science Center, 1st Level Library, Room 1-03.
Stop by to chat and grab coffee, tea and assorted snacks to get you through the rest of your Monday. We will also hand out GSAS and Brandeis branded swag (while supplies last).
3MT Preliminaries
GSAS will host its second annual Three-Minute Thesis (3MT) competition this spring! The 3MT is a global competition, designed to showcase graduate student research in three minutes using one slide with the idea of appealing to a general audience. This competition is open to all graduate students who are working on a thesis/dissertation for the sciences, social sciences, and humanities/arts.
Come cheer the contestants on at a preliminary round, or the final!
Dates:
3MT Competition Preliminary Round #1: March 28, 4-6 PM in Gzang123 (Gerstenzang Science Library)
3MT Competition Preliminary Round #2: March 30, 4-6 PM in Gzang123 (Gerstenzang Science Library)
3MT Competition Final Round: April 4, 4-6 PM in the Carl J. Shapiro Theater (SCC)
Want to know more about the competition? Read how
Emiliano Gutierrez Popoca
(PhD, English) won our Three Minute Thesis competition last year, went on to win the regional competition, and finished by competing nationally.