Alumni News
Bringing Hope to Haiti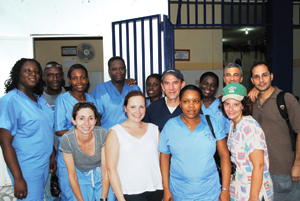 Volunteers with the Brandeis mission worked closely with medical professionals from Haiti. Among the workers were Lisa Fishman '91, Michele Mandel '93, Wendy Boucher-Holman, Michael Forman '76, Steven "Shani" Freilich '84 and Mark Horowitz '79, P'13.
United by their concern for the people of Haiti and their allegiance to Brandeis, five alumni volunteered for a medical mission to the earthquake-ravaged island nation last month.
The mission was organized by Nate Rosenblum '10, a co-director with the student-led Brandeis Haiti Relief Effort (BHRE), and coordinated by Hope for Haiti.
"It was a fabulous experience for all of us," says Mark 
Horowitz '79, P'13, who has a family practice in New York. "It was a tremendous opportunity to take care of people who really need medical care."
The group — four physicians, a dentist, and a dental assistant who is not a Brandeis alumna — split their time between the city of Les Cayes, a seaport four hours south of Port-au-Prince, and two villages in the mountains.
Horowitz treated patients with ailments that included malaria, intestinal parasites, malnutrition, uncontrolled hypertension and diabetes, and advanced cancer. "There is no such thing as a CAT scan in Haiti," he says. "We had to practice medicine without the technology that we have today."
Horowitz says the group grew close during the six-day mission and some participants plan to return to Haiti. "When we returned to Miami to make our connections home, we took one look at each other and did a group hug, and more than one tear flowed," Horowitz says.
BHRE, which was established by students in the days after the earthquake, raised more than $30,000 through a variety of events and other initiatives during spring semester.