Impact
Joy and Generosity Mark 2011 Reunions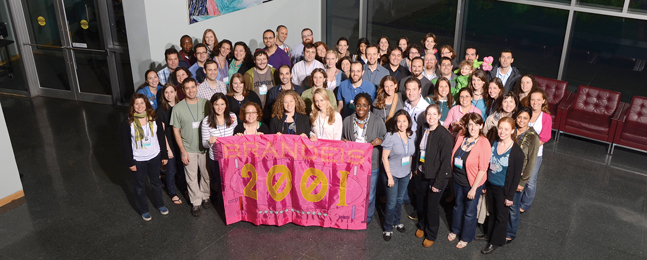 The Class of 2001 raised $139,000, the most ever for a 10th Reunion gift. Adam '01 and Samantha (Gross) Zirkin '01 served as Reunion committee co-chairs.
Reunion 2011 was a time to renew old acquaintances, reminisce, explore the campus — and also support Brandeis. Giving by the 11 Reunion classes reached nearly $4.6 million, a 53 percent increase from last year and one of the best totals in school history. More than 1,000 alumni and their families attended Reunion.
The Class of 2001 established a record for 10th Reunion giving, raising more than $139,000. The Class of 1961 secured more than $2 million, the second-best total ever for a 50th Reunion. A record 61 percent of the Class of 1956 contributed to the 55th Reunion gift.
"It's exciting to see that, for many alumni, making a gift in honor of Reunion has become as much of a Reunion tradition as the Ralph Norman Barbecue and a tour of the Castle," says Mark Ableman, assistant vice president of development. "We thank all of the Reunion committee members for their hard work in encouraging fellow alumni to attend Reunion and contribute to their class Reunion gift." Reunion committee chairs included Fellow Marge Grodner Housen '56; Trustee Steve Reiner '61; Fellow Bruce Litwer '61; Joe Perkins '66; Susan Eisenberg Jay '71; Larry Nemer '76; Elizabeth Etra Jick '81, P'09, P'12; Trustee Danny Elkaim '81; Vic Ney '81, P'11; Amy Kolko-Chartock '86; Jan Cardin '86; Jeremy Pressman '91; Stu Slotnick '91; Michael Gerstein '96; Adam '01 and Samantha (Gross) Zirkin '01; and Alex Goldstein '06.
Reunion 2012 will be held June 8 –10 for the classes of '52, '57, '62, '67, '72, '77, '82, '87, '92, '97, '02 and '07. If you are interested in serving on your class Reunion committee, email reunion@alumni.brandeis.edu.