An Optimistic Fare-Thee-Well at 60th Commencement
Commencement speaker David Brooks — a New York Times op-ed columnist who has been hailed as a cultural commentator in the tradition of Mark Twain, H.L. Mencken and Tom Wolfe — sent the Class of 2011 off into the world May 22 with goodhumor, serious challenges and upbeat assurances that, although life was about to change dramatically, graduates were leaving Brandeis with the necessary tools for building happy lives.
About 8,000 students, parents, faculty and friends filled GosmanSports and Convocation Center for the ceremony, where Brooks told the newly minted grads, "Over the past few years, we've learned a lot about happiness. We've learned that the relationship between money and happiness is weak. Once you hit the middle class, getting richer doesn't make you that much happier. … The daily activity that contributes most to happiness is having dinner with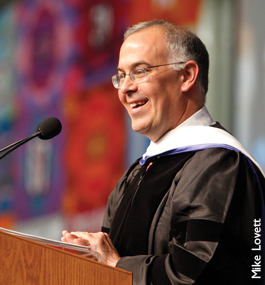 David Brooks
friends. The daily activity that detracts most from happiness is commuting."
On a more serious note, the keynote speaker added, "It's a mistake to ask yourself, 'What career do I want to have?' It's better to ask, 'What problem is life summoning me to tackle?' The value of your life will derive from how fully you tie yourself down to your problem. … Do you have the courage to throw yourself into the commitment hunt?"
President Frederick M. Lawrence, presiding over his first Brandeis commencement, acknowledged that "we face an economy and a world that have been greatly shaken" over the course of the graduates' time at Brandeis, but asserted, "You have every reason to be optimistic as you face the future."
He stressed that Brandeis had trained its new alumni to communicate, to analyze problems and to turn information into knowledge — skills that will serve them well in the as-yet-unimagined future. To the pleasure of his listeners, he told an anecdote about basketball great Julius Erving, whom he called "a modern philosopher of sorts."
A college coach, after watching "Dr. J" execute a string of incredible moves, reportedly summoned the young star over and said, "Son, never [take your feet off the floor] without knowing where you're going to come down." To this, Erving is said to have replied, "Sir, I can't play basketball that way."
"Nor," Lawrence told the new alumni, "can you live life that way. You have learned that well at Brandeis."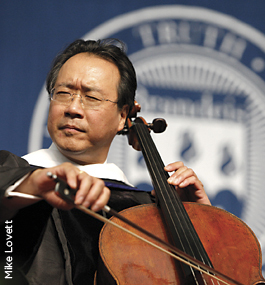 Yo Yo Ma
Brandeis awarded 776 bachelor's degrees, 783 master's degrees, 88 doctoral degrees and 23 graduate certificates. Honorary degrees were conferred on New York Times op-ed columnist Brooks; Thomas Buergenthal, a Holocaust survivor who went on to become one of the foremost jurists and scholars in the field of international human rights; Nancy Gertner, one of the nation's premier criminal defense attorneys and civil rights advocates; Yo-Yo Ma, a world-renowned cellist celebrated for his more than 75 albums; Errol Morris, a MacArthur, Guggenheim and Academy Award-winning filmmaker, and Jehuda Reinharz, Ph.D.'72, historian, current president of the Mandel Foundation, and president emeritus of Brandeis.
For full Commencement weekend coverage, go to www.brandeis.edu/commencement/ index.html.