Alumni News
Wien International Scholarship Program Celebrates 55 Years
Alumni from around the world returned to campus last October to mark the 55th anniversary of the Wien International Scholarship Program (WISP).
Current Wien Scholars joined more than 100 WISP graduates and members of the Wien family to pay tribute to Lawrence A. and Mae Wien, who established the program in 1958 to further international understanding and enrich Brandeis' cultural and intellectual life.
In his welcoming remarks at the anniversary dinner, President Frederick Lawrence commended the Wien family and President Abram Sachar for their vision in establishing the program. Noting that 21 percent of today's Brandeis students are international, hailing from nearly 130 countries, Lawrence credited the Wiens with enhancing the cultural experience of all Brandeis students.
"We are in the business of changing lives, and that is a sacred business," Lawrence said. "That is especially true about the Wien International Scholarship Program."
Keynote speaker Olaf Olafsson '85, a native of Iceland who is a Brandeis trustee and executive vice president of international and corporate strategy at Time Warner, expressed his gratitude to Brandeis and the Wiens for enabling him to study at the university. Olafsson, who majored in physics at Brandeis, accepted a job in the media and entertainment field after meeting Michael Schulhof, PhD'70, then an executive at Sony.
The two-day event included panel discussions featuring Wien scholars and alumni, and a farewell brunch on Sunday morning. Special guests included Lawrence and Mae Wien's daughters, Isabel Malkin and Dinny Morse, as well as their husbands, Peter Malkin and Lester Morse, all of whom continue to generously support WISP.
The event was organized by Wien Alumni Network Steering Committee members Deborah Berebichez '96, Nadir Daudi '10, Maciek Gadamski '92, Benjamin Gorelick '11, Mohit Gourisaria '09, Tejas Kumar '10, Sridatta Mukherjee '09, Shranutha Reddy '09, Karen Vasudavan '94, Taeko Yamamoto '91 and Jerry Zha '09.
Panelists included moderator Juan Corradi '65, MA'67, PhD'73; Mansur Hasib '80; Berebichez; and Gorelick.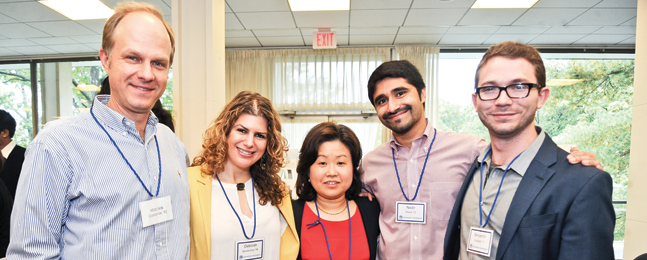 Wien alumni Maciek Gadamski '92, Deborah Berebichez '96, Taeko Yamamoto '91, Nadir Daudi '10 and Benjamin Gorelick '11.