Signatures of Time and Place
Inspired by a "slow-wood" philosophy, an environmental historian built a timber-frame house that celebrates its roots in the land and the forest.
by Brian Donahue '82, MA'93, PhD'95
During my last sabbatical, our family built a house from trees.
I am writing a book about the history, ecology and conservation of the Eastern deciduous forest. But in the morning, faced with the choice of firing up my laptop or my chain saw, I tend to be drawn to the saw. Working in the woods ought to sharpen my writing about them. Anyway, building a house isn't something you get the chance to do all that often.
Some years ago, our family bought a farm in central Massachusetts, in a small valley not far from the Connecticut River. We co-own about 170 acres, including 60 acres of pasture and hay upon which we raise beef cattle. Setting aside beaver pond, meadow and swamp, that leaves about 100 acres in timber. Like most New England farms, our farm is mostly woods. And since we run from the riverbank to the ridge top, our woodland is wonderfully diverse, and includes most of the trees that grow in the region.
Our partners bought the existing farmhouse. We bought a lot next door. (The rest of the farm was placed under an agricultural-preservation restriction to prevent development.) This left us with the challenge of building our house. Luckily, our farm partner Tom Chalmers is also an architect.
We employed a slow-wood philosophy. Building a house is like cooking a meal, just a little … slower. By now, everyone has heard about the slow-food movement, which arose in opposition to fast food. Fast food is mass-produced and quickly gratifies our gross appetite for flesh, carbs, fat, sugar and salt. Slow food, by contrast, features diverse ingredients with dense nutrients, is carefully prepared, and is enjoyed at leisure with family and friends.
Slow food also ties to our cultural heritage of regional and ethnic cuisines, and to distinctive traditions of transformation: Think hearth bread, aged cheeses, craft brews, vintage wines with terroir — signatures of time and place. Finally, the best slow food is local — it connects to sustainable care of the crops and livestock that fit the landscape surrounding the table. Eat your view, as the expression goes.
But what about the kitchen table that bears the meal, and the house that bears the table? The same slow principles can apply to the wood that builds them.
We built a traditional timber-frame house because it is sturdy and permanent, but mostly because it celebrates wood. In conventional stick-frame construction, the structure disappears. A timber frame is exposed, and becomes the main decorative element. You see inside what you saw outside.
In our case, the floors, doors, cabinets and stairs also have their roots in our woodlot, and in a slow, careful approach to managing these woods. Finally, our house is heated primarily by burning wood in a massive, super-efficient masonry stove, completing the process of deceleration: slow food, slower wood, slowest stone.
We selected woods for our house given what sustainable harvesting of the woods made available. We built using low-grade materials removed during the course of improvement cutting. You can build a top-grade dwelling out of low-grade timber.
I am not here to say that all houses should be built entirely from local materials, no more than I would advocate that everyone should eat nothing but local homegrown food. This way of building fit our skills, passions and circumstances.
Our house is not that large — about 2,500 square feet — and in the end cost us about what a similarly sized stick-built house would have cost. What we saved by using our own materials and doing some of the work ourselves we lost in the labor-intensive custom-built approach and the few luxuries we indulged in, such as the full-blown masonry stove. The stove's financial payback, appropriately enough, will be measured in geological epochs. Its emotional payback has come a bit sooner.
This timber-frame house is only one small example of the slow-wood philosophy. By itself, it could be seen as a romantic indulgence, excusable but without wider significance.
page 2 of 3
Yet it stands for the larger possibility of reuniting our environmental instincts with a responsible use of local forests. Right now, according to a recent New England Forestry Foundation report, heavily forested New England is producing less timber and other forest products than it consumes. If we wanted to, we could be sustainably harvesting far more than we consume, and sequestering more carbon in the buildings we inhabit.
Now that new technologies allow wood to do the work of steel and concrete, our region needs to stand in its kitchen and cast a slow eye on its farmland and its forests. We need to take the time to reconnect the sources of our lives to the landscape we inhabit, and to involve our children not only in growing food, but in harvesting trees and building houses.
Brian Donahue, associate professor of American environmental studies at Brandeis, has been a farmer for the past 40 years. He is co-author of "A New England Food Vision," a 2014 report published by Food Solutions New England, viewable at www.foodsolutionsne.org/new-england-food-vision. He also co-authored "Wildlands and Woodlands: A Vision for the New England Landscape," at www.wildlandsandwoodlands.org.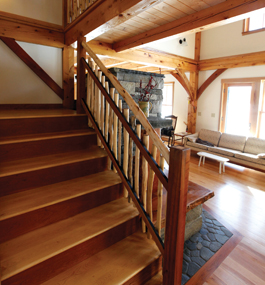 LITTLE TREES: "The stairs are the centerpiece of the house," Donahue says, "together with the adjoining masonry heater, which sits with its back to the stairs at the base of the two-story living room, the only nod to useless space. The stairs lead to the upstairs hallway, which forms a crosswalk above the heater, open to the stairs on one side and the living room on the other — all in all, a major opportunity for balusters and handrails. In early summer, when young trees are growing fast, the bark can be slipped right off, leaving a smooth, naked pole. I began peeling poles as I was cutting woods for roads and fence rows, and stored them in the barn — sugar maple, elm, beech, hornbeam and hickory. The round balusters and railings soften the house's relentlessly straight beams and boards. Although the curved braces give many of the posts the arching form of a tree, the peeled poles are the real thing — not just sawn from trees, but little trees themselves, lending a youthful energy to the home. The stairway takes the house back to regeneration, and to its roots in the forest." (Photo by Mike Lovett)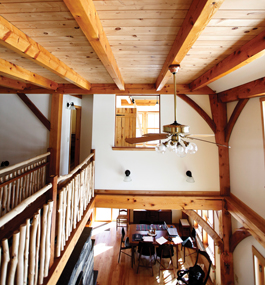 KNOTTY YET NICE: "We built our frame of hemlock — the slowest wood in the forest. I would not have predicted this defining choice. Our woodlot is dominated by magnificent oak and pine — trees I love and have built with before. But oak and pine are valuable, whereas hemlock is slow-growing and full of knots — good for rough construction but worth next to nothing on the stump. That the tree arguably best for our frame also had the least sale value made for an irresistible combination. Our logger cut more than 100,000 board feet of low-grade timber and several hundred cords of firewood to concentrate the growth of the stand in the remaining trees — leave the best, cut the rest. We kept the hemlock for the house. Sawing the frame timbers from the largest logs generated boards for the subflooring and all the doors. So old, slow hemlock turned out to be quite a handsome fellow after all." (Photo by Mike Lovett)
page 3 of 3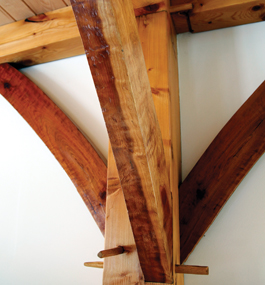 CHERRY ON TOP: "Fast-growing black cherry is the second wood in the frame. If hemlock is beef brisket, then cherry is T-bone steak. It is one of the most valuable hardwoods in the Eastern forest. We did not cut our best cherry; we cut the worst cherry. Our timber framer sawed short pieces of these crooked trees into 3-inch-thick slabs, from which he made frame braces that followed the natural curve of the wood. Some of the braces were book-matched pairs — identical faces that came from either side of the same saw cut but curve in opposite directions. Cherry goes beautifully with hemlock, so, once cherry had its foot in the door, we used boards sawed from the straighter parts of our curvy trees for features such as floor banding, windowsills, stair risers and porch posts. In fact, whenever we had to do something a little sketchy to make things fit, we just inserted a piece of cherry — which gave us the name Cherry Block House." (Photo by Mike Lovett)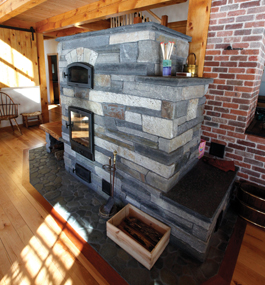 FIRE AND STONE: "The masonry heater takes the house back beneath its roots to the stone. We have always heated primarily with wood-burning iron stoves. But the cleanest and most efficient way to burn wood, and certainly the most elegant and comfortable, is in a masonry heater. Large, intense burns in the cavernous firebox ensure complete combustion and superheat a labyrinthine core of firebrick, which captures every last degree of heat before allowing the exhaust to crawl over to the chimney and escape. The core then heats the surrounding stone facing, which in turn heats the house — quietly radiating at a pleasant 110-120 degrees for days on end. You can sit on it, while inches away the fire rages inside. Our mason faced the heater with Connecticut granite and Ashfield stone, a local blue-black mica schist with silvery veining. We laid the hearth with similar flat stones collected from our river. Every fire in the masonry heater is an occasion, taking renewable solar energy and transforming it to what feels like eternal geothermal energy. Slow heat, moving from sun, to wood, to stone, and then to us." (Photo by Mike Lovett)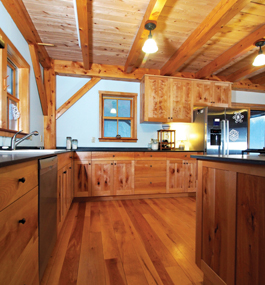 OWL EYES: "After hemlock, black birch is the most prominent wood in the house. An under-appreciated hardwood, black birch is moving up in the region's forests. If cherry is steak and hemlock is brisket, then birch must be lamb chops — delicious but largely ignored. It often grows together with hemlock and is emerging as a dominant species in places where the woolly adelgid is destroying hemlock. Unpalatable to deer, it is thriving in the understory of many oak woods. We harvested mature birch that was falling behind the larger oaks, had it sawed and kilned, sold most of the priciest boards, and saved the rest for our floor, giving us solid character for next to nothing. The leftover birch boards provided window and door trim, and baseboards. The kitchen and bathroom cabinets feature book-matched birch panels with dark red knots — making our kitchen look as though a dozen skeptical owls are peering out from their burrows under the counters and sink. Intended for flooring, black birch climbed the walls to occupy most of the house." (Photo by Tom Chalmers)