Impact
Change Agents Step Up for the Catalyst Fund
Two prominent alumni members of the university's Board ofTrustees have made significant gifts to help ensure a Brandeis education remains accessible and affordable.
Board chair Perry Traquina '78 and his wife, Robin, and vice chair Jonathan Davis '75, and his wife, Margot, designated their gifts to the Catalyst Fund, a $100 million fundraising initiative launched last year.
The Catalyst Fund is raising money for scholarships (for undergraduate students) and fellowships (for graduate students) so Brandeis can continue to offer talented students a world-class education at a reasonable cost, maintain its historic commitment to educating the best students without regard to financial need and attract a diverse student population.
"As the beneficiary of a scholarship myself, I understand the power of a Brandeis education to change the arc of a young person's life," says Traquina, the retired chair and CEO of Wellington Management. "Supporting our students and maintaining our commitment to accessibility and affordability are the university's top priorities."
Through the years, the Traquinas have supported dozens of Brandeis students through endowed scholarships they established, and they generously support the Alumni Annual Fund.
The Davises have also given to a number of key Brandeis initiatives, including scholarships, construction of the Village residence hall, and the Alumni Annual Fund, and they endowed the Harold and Bernice Davis Chair on Aging and Neurodegenerative Disease to honor Jon's parents.
"The Catalyst Fund allows Brandeis to maintain its foundational commitment to admitting the most promising students, regardless of their individual financial situations," says Davis, founder and chief executive of the Davis Companies, and co-chair of the Board of Trustees' institutional advancement committee. "It's in Brandeis' interest to make certain the diversity of the student body is reflective of the wider world around us."
During the 2013-14 academic year, Brandeis awarded nearly $60 million in grants and scholarships to undergraduate students. Nearly two out of every three students at the university receive financial aid.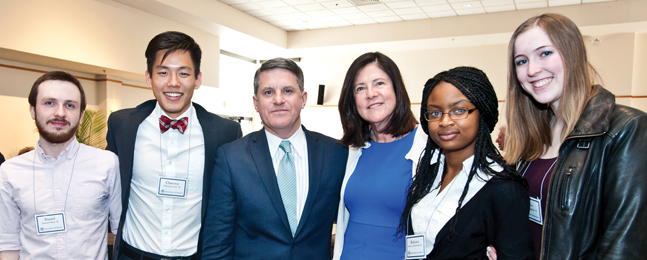 Perry '78 and Robin Traquina (third and fourth from left).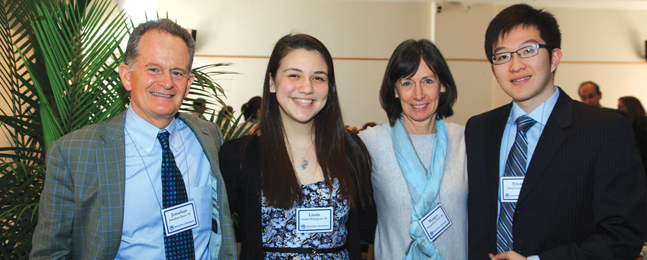 Jonathan '75 (left) and Margot Davis (third from left).