On the Bookshelf
Alumni books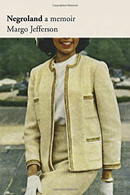 Pantheon, $25


A personal history filled with emotion, clarity and strength. Jefferson, whose book reviews and cultural criticism for The New York Times won a Pulitzer Prize in 1995, grew up ensconced in Chicago's African American upper middle class (her father was head of pediatrics at the oldest black hospital in the U.S.). Yet the protections constructed by her family's money and status created their own problems and, of course, were no match for the slings and arrows of racism and sexism. "Negroland" is both a beautifully written memoir and a profound meditation on race.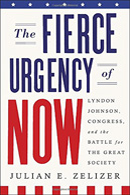 Penguin, $29.95
Having established his bona fides as an ace arm-twister in the U.S. Congress, Lyndon Johnson leaned hard on his powers of persuasion as president, too. During his first three years in the Oval Office, he pushed through a massive wave of liberal legislation, something John Kennedy had been unable to do. But the Great Society's success didn't hinge entirely on LBJ's force of will, as Zelizer, professor of history and public affairs at Princeton, reveals. The second New Deal had many fathers and a backdrop of serendipitous events. A fascinating account of how American politics took a giant step left in the mid-1960s.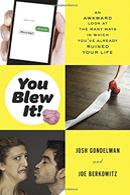 Plume, $14
Let's cut to the chase: "You Blew It!" is really funny. Gondelman, nominated this year for an Emmy as a writer on "Last Week Tonight With John Oliver," plumbs the absurdities that crop up with family, friends, work and love. That's fertile ground since, as the authors observe, life "consists of onslaughts of unpleasantness punctuated by brief periods of relief, like a Pixies song." The book carefully — and hilariously — dissects the OMG moments with which we are all too painfully familiar.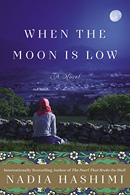 Morrow, $25.99


Hashimi's second novel (the first, "The Pearl That Broke Its Shell," was the subject of a feature in Brandeis Magazine's Spring 2015 issue) continues her exploration of the perils of modern Afghanistan. Here, a mother and her three children escape the Taliban by fleeing into Europe. During their long journey, the eldest child gets separated from the others in Greece. As he and his mother try desperately to reunite and make their way to relatives in London, Hashimi exposes the hopes and vulnerability of 21st-century war refugees.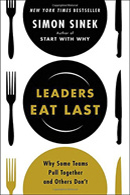 Portfolio, $27.95
Sinek is a TED Talk superstar for good reason. His ideas on leadership and organizations give hope to frustrated workers — and make soulless managers sweat — by touting simple rules for achieving business success, such as emphasizing empathy and trust, and defining your company's "why." This book adds another truth to the mix: An organization meets and exceeds goals only when its employees believe they are safe and valued.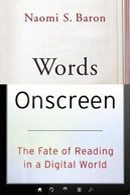 Oxford University Press, $24.95


When you e-read, are you just e-learning — understanding and retaining less than you would if you had a bound book in your hands? Baron, a linguistics professor at American University, digs into the effect Kindles, iPads and other electronic devices are having on the written word. How we read, write and think are all being reshaped by the proliferation of pixels, she says, for good and for ill.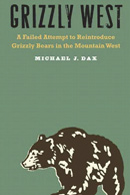 University of Nebraska Press, $37.50


Environmentalists successfully oversaw the reintroduction of gray wolves into Yellowstone and central Idaho during the 1990s, overcoming significant two-legged resistance along the way. Later, negotiations for a similar reintroduction of grizzly bears into Idaho and Montana began. Yet this plan, painstakingly assembled, fell apart. Dax takes readers through the political, cultural and social brambles that blocked the grizzlies, and paints a compelling picture of the chasm that still divides the Old and the New West.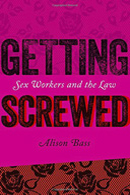 ForeEdge, $29.95


To make a case for decriminalizing the sex trade, Bass, who teaches journalism at West Virginia University, combines the personal stories of contemporary sex workers with a historical account of shifting American attitudes on paying for sex. Ironically, Bass says, "laws criminalizing prostitution not only are largely ineffective in curbing the sex trade but also create an atmosphere that encourages the exploitation of sex workers and violence against all women."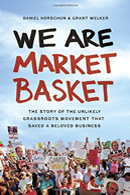 AMACOM, $24.95


New Englanders followed the infighting among the Demoulas family, owners of the Market Basket grocery-store chain, as avidly as they might watch the bad blood go down on "Empire." In the real-life story, the deus ex machina was a stunner: Market Basket workers overwhelmingly supported one Demoulas cousin over another and, through their protests, restored him to the CEO role. Korschun, associate professor of marketing at Drexel, captures all the business and legal maneuvering, and all the drama.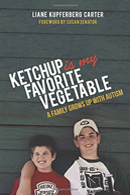 Jessica Kingsley Publishers, $18.95


A contributor to the New York Times blog Motherlode, Carter writes movingly about her younger son, who has autism and epilepsy. But this memoir isn't just about Mickey, now an adult. It's about the entire family. And it isn't just about the problems you face when you live with a child with special needs. It's about the celebrations, too. As Carter says, autism teaches a family what matters most: humility, resilience, acceptance.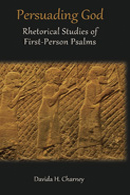 Sheffield Phoenix Press, $70


Your arms may be too short to box with God, but you can always see how far you can get with coaxing. Charney, professor of rhetoric and writing at the University of Texas at Austin, analyzes the psalms with a first-person speaker (roughly a third of them) to trace how these exquisitely wrought arguments pester, praise and try to wrest specific results from a divine listener. A perceptive consideration of the role rhetoric plays in the Bible.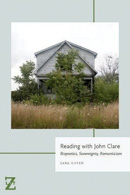 Fordham University Press, $26
"I am — yet what I am, none cares or knows" is the first line of a poem written by John Clare, a 19th-century self-described "peasant poet" and, during the final decades of his life, a resident of the Northampton (England) General Lunatic Asylum. More than 150 years later, Guyer, professor of English at the University of Wisconsin-Madison, gives Clare the attention he deserves, looking anew at the concept of Romanticism through a close reading of his poetry.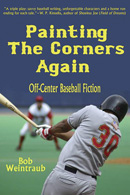 Yucca Publishing, $24.95


Weintraub's second volume of short stories about the great American pastime is another walk-off winner for this lawyer-turned-fiction writer. His situations and characters don't just take us behind the scenes at the ballpark; they deepen our insights about life. Weintraub is also the author of "My Honorable Brother," a thriller about the mob, politics and gambling in Rhode Island, recently released by Yucca Publishing.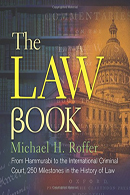 Sterling, $29.95
"Man, when perfected, is the best of animals," wrote Aristotle, "but when separated from law and justice, he is the worst of all." To survey that perfecting force, "The Law Book" picks 250 pivotal legal documents and cases — ranging from the Code of Hammurabi to the fight for marriage equality — and argues for each selection's significance in the history of law. Roffer is associate librarian and professor of legal research at New York Law School.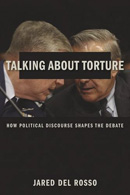 Columbia University Press, $50
Del Rosso, assistant professor of sociology and criminology at the University of Denver, studies how the publication of the Abu Ghraib photographs affected political rhetoric in the U.S., especially the way public officials talk about American torture practices. This inquiry, the author writes, "reveals the contours of contemporary American discourses of violence, the ways that certain expressions of cruelty become palatable to a democracy while others become indigestible."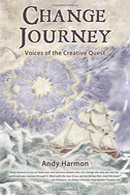 Actors Mind Press, $9.99
A roadmap for business executives, writers, actors and anyone else seeking to adapt and grow in the face of change. Harmon — theater director, playwright and acting teacher — shares what he has learned about finding fulfillment and discovering one's true path, inspired in large part by mythologist Joseph Campbell's study of hero narratives. "All of us experience disruption in our lives," Harmon writes. "All of us are challenged to make something out of it."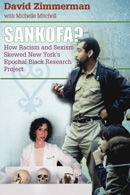 Probe Press, $15.99
In 1991, as the federal government prepared to erect a new office building in Manhattan, bones and coffin remnants were unearthed at the site, which turned out to be an 18th-century graveyard for black men, women and children. Federal officials offered to pay for scientific analyses of the remains, and experts looked forward to a treasure trove of information about the early African-American experience. Though millions of dollars were spent, scant data emerged. Zimmerman, for many years the Ladies' Home Journal medical columnist, explains why so little came from such a big find.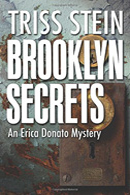 Poisoned Pen Press, $26.95


Novelist Stein unspools her latest Erica Donato mystery, as Erica, a PhD student and single mom in Brooklyn, uses her historian's acumen to get to the bottom of a recent string of Brownsville assaults, in addition to a few others dating back to the 1930s. When a traditionally Jewish neighborhood morphed into a primarily African-American one, Erica finds, the code of the streets stayed the same: harsh.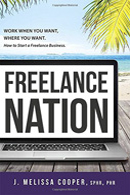 Advantage Media Group, $14.99


Consider this book a blueprint for the future. According to one study by a big software firm, in a scant five years nearly 30 percent of the American workforce will hold some kind of freelance job. Cooper, founding partner of the search firm HirePerfect, offers pertinent advice to current or about-to-be freelancers, including information on launching a business, building an e-presence, and handling taxes and legal issues.