Extant Sources
by Ramie Targoff
When I set out to write a biography of a 16th-century Italian woman known for her beautiful sonnets, a formidable culture gap got in the way. The more I researched Vittoria Colonna, the more she stayed cloaked in mystery. I was a 21st-century American writer grappling with a distant past whose traces were only partially visible. But what a fascinating past it was.
Six years ago, I was finishing up a book about Renaissance love poetry when a colleague recommended I read Vittoria's sonnets. I had never heard of her, but I trusted his judgment enough to look for the collection of poems she wrote after her husband's death in 1525. I couldn't find a good modern edition — the poems, which were out of print in Italian, had never appeared in a complete English translation — but Harvard's Houghton Library owned several Italian editions from the mid-16th century. I spent a few days in the library's reading room, working my way through the roughly 120 sonnets, taken aback by the emotional intensity and frankness of Vittoria's voice. I wanted to know more about her. There was surprisingly little information available.
An entry in a recent Italian encyclopedia and a rather dry German biography from the 1880s (I read its Italian translation) gave me the basic contours of Vittoria's life. She was born in 1490 into one of the most powerful families in Rome. She married the Spanish nobleman Ferrante d'Avalos, Marquis of Pescara, a high-level commander in the army of Charles V, the Holy Roman Emperor. The collection of sonnets mourning her husband's death, which appeared in print in 1538, made her the first woman in Italy to have a book of her poetry published. She later wrote another 100 or so sonnets, these addressing spiritual themes, which she gave as a gift to Michelangelo, one of her closest friends. She spent time with various popes, the Queen of Navarre, and the great writers Baldassare Castiglione and Pietro Bembo. She became very involved in reformist circles and, after her death in 1547, was accused by the Inquisition of being a Protestant heretic. Vittoria, it seemed, was one of the most interesting women of the Renaissance.
Over the course of a year in Italy and several subsequent summers, I spent as much time as possible tracking her down. This involved two different kinds of work. On the one hand, I visited the libraries where letters and documents related to Vittoria's life were kept. These materials were typically unpublished, needing to be transcribed from their original copies before I could translate them. In a remote monastery library, for example, in the town of Subiaco (an hour or so from Rome), I sat undisturbed — and unmonitored — surrounded by piles of unsorted papers from the Colonna family archive, ranging from receipts for small payments made by Vittoria to her magnificent nuptial contract.
On the other hand, I traveled to all the places Vittoria had lived, from the Spanish castle that belonged to her husband's family on the island of Ischia to the ducal palace of Ferrara. For more than a decade after she was widowed, she lived as a lay guest in several nunneries. So in summer 2015, I went to a Trappist nunnery in the small town of Vitorchiano, outside Viterbo, to understand what her daily life was like during these years. I found the convent through a young nun in Rome, who had a good feel for what the closest 21st-century match would be to the convents Vittoria lived in five centuries ago and who generously arranged for the sisters in Vitorchiano to take me in.
I arrived very eager to talk to the nuns and learn about their lives. To my surprise and dismay, I discovered I had come to a silent order.
The only people I had access to were my fellow visitors in the guesthouse, who were a motley crew, worthy of Fellini: two scantily dressed and heavily pierced teenage girls from Palestrina, sent by their mother to spend time with their aunt, one of the nuns, presumably to encourage them to get their act together; an African priest who had a congregation in Cinecittà, the Holly­wood of Italy, who was officiating at Mass while the convent's Belgian priest went on his annual vacation; an aspiring nun from Bologna, a quiet, bespectacled librarian in her 30s; and a very old man — he must have been around 90 — who interrupted our awkward mealtime conversations by repeating with glee, "Tante belle donne, tante belle donne." I wasn't sure if the beautiful women he was referring to were the nuns in the cloister or the four of us at the table. I decided not to ask.
My contact with the nuns was limited to attending their liturgical services. As a Jewish woman, I found the prayers largely foreign, although they did include a good number of psalms. But since Vittoria always made a point of attending all the canonical hours — eight services spread out over the course of a day, from early morning until late evening — I thought I should do the same. After a very poor first night's sleep (the temperature in my room never got much below 100 degrees Fahrenheit), I attended Lauds, the first service of the morning, at 4. By 9 a.m., I had been to three services and Mass, with only a short break for breakfast and rest. Even during the services, however, I was not really with the nuns. The other guests and I sat in a side chapel to the left of the central nave, where the nuns were, a low wall partially blocking our view of them.
I'd planned to stay at Vitorchiano for three or four days. By the end of the second day, the combination of physical discomfort, social awkwardness and religious alienation had become more than I could bear. After apologizing for my early departure to the nun in charge of the guesthouse — she alone was allowed to speak to us — I made a quick escape. As I drove away from the convent toward the heathen pleasures of Rome, I felt a giddy sense of relief. Although I could easily adapt to Vittoria's Renaissance palaces and castles, I had met my match in the convent. How could Vittoria have chosen this life over the rich options she had at her disposal?
I realized that, however much I felt I understood Vittoria, there were certain aspects of her life and certain choices she made that completely eluded me. This is an important lesson for any biographer to learn. Whenever I was tempted to project my own sensibility onto hers or to explain something that I fundamentally didn't understand, I refrained. For even after translating hundreds of Vittoria's sonnets and letters, and trying as fully as possible to reconstruct the circumstances of her life, I found that she remained, in important ways, her own inscrutable self.
Ramie Targoff is a professor of English. Her book "Renaissance Woman: The Life of Vittoria Colonna" was published in April by Farrar, Straus and Giroux.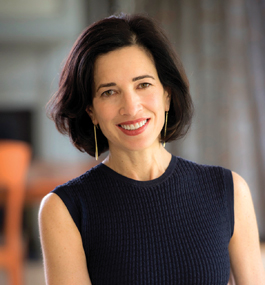 Ramie Targoff