Rose Celebrates 50th Anniversary
Many university museums get their start by littles: an oil painting of the founder hanging in a corner of the president's office, a few donated landscapes or still lifes stacked unseen in a storage room until, at some point, a sagacious administrator notices a critical mass of interesting objects crying to be curated and displayed.
That's not the Brandeis story. From its founding in 1948, Brandeis held art dear to its heart and integral to its culture. A 1951 bequest of nearly 200 paintings by Boston art patron Louis Schapiro was characteristic of the community's artistic aspirations for the university, and by 1952 hundreds of works by Stuart Davis, Milton Avery, Willem de Kooning and other pioneering artists had been gathered.
Brandeis' first president, Abram Sachar, held establishing a university museum as a key goal from the very outset, and in 1958 he saw his wish fulfilled when a trustee and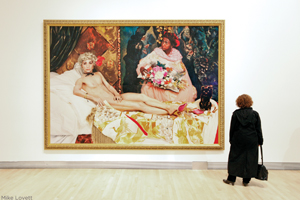 "Futago," Japanese artist Yasumasa Morimura's 1989–90
self-portrait in the guise of Manet's notorious Olympia,
is on display in the Rose Art Museum's Lois Foster Wing.
his spouse pledged funds to construct a museum on campus.
The Bertha and Edward Rose Art Museum
was dedicated in June 1961, with Samuel Hunter, former curator of painting at the Museum of Modern Art in New York City, as its first director.
A year later, Brandeis secured a contribution of $30,000 from New York art collector Leon Mnuchin and his wife, Harriet Gevirtz- Mnuchin, for the purpose of buying works by cutting-edge contemporary artists. Other donors added to what became known as the Gevirtz-Mnuchin Purchase Fund, which ultimately totaled $45,500. With Mnuchin's help, Hunter went on "a buying spree" that brought into the museum 21 new paintings by the likes of Andy Warhol, Robert Rauschenberg, Jasper Johns, Roy Lichtenstein, Larry Rivers and others. Today, art savants regard those works as the core of a collection distinguished for its art historical and educational value.
In October, in celebration of the Rose's 50th anniversary, the museum's new Gerald S. and Sandra Fineberg Gallery opened with "Art at the Origin," an exhibition of works created during the early 1960s, many acquired for the museum directly from the artists' New York studios. They reflect the heyday of abstract expressionism and the explosion of pop art, capturing what founding director Hunter has called "a point of subtle but significant transition."
Accompanying that exhibition is another show, "Collecting Stories," that explicates the acquisition of significant art treasures by the Rose in the decades that followed. Visitors to the Lois Foster Gallery will view Robert Motherwell's "Elegy to the Spanish Republic No. 58" (acquired 1964), David Parrish's "Yamaha" (acquired 1993) and Nam June Paik's "Charlotte Moorman II" (acquired 2005) along with other key items that demonstrate fascinating tales of how art came into the collection.
Both shows continue through May 20, 2012, in the newly renovated museum, refurbished this summer through a generous gift from Gerald S. and Sandra Fineberg.
comments powered by

Disqus