Abigail Arnold, PhD'20, English: Department Administrator, Graduate School of Arts and Sciences Brandeis University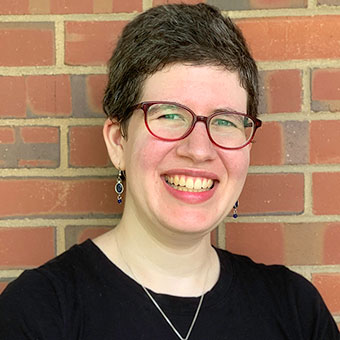 Can you describe your career path and how it has led to your current work?
During my time earning my PhD in English at Brandeis, I did a lot of teaching and tutoring—which I loved—and also worked alongside other graduate students to coordinate events such as a department conference and a Boston-area symposium for English graduate students. This made me decide that I wanted to pursue a career that would allow me more opportunities for collaboration with others, rather than focusing on independent research. I graduated in the spring of 2020, straight into a pandemic, which was challenging to say the least. I started my own part-time English and writing tutoring business, as well as working as a part-time fact checker for a magazine, but I was interested in a full-time job that would allow me to work more with a team. I was immediately interested in my current role at GSAS because I knew the school intimately and because the role would allow me to work alongside others to support graduate students and help them have positive experiences, which I am passionate about. This semester, I have also gotten the chance to teach a course that I developed as a PhD student for a department prize. It's great to know that teaching can still be a part of my professional experience, even though I didn't pursue a full-time faculty job. 
What services and/or resources did you use while at Brandeis for your career search?
I worked extensively with GSAS's professional development office. They were super helpful to me in learning how to read job ads, develop my resume, and practice interviewing skills. Ulka Anjaria, my DGS in English was also very helpful and always open to discussing varied career tracks, which I really appreciated! 
What skills from your Brandeis degree have you found most valuable in your current work?
The PhD in English gave me a lot of training in writing and communication, which is very helpful in my current role; I must communicate with many different audiences and make my message clear. Coordinating events for the department allowed me to develop the ability to work with many different university stakeholders, which I do every day as the GSAS department administrator. Time management and multitasking are also very important skills for both the PhD and this job! I'm also happy to be able to use my student experience in this role to gain insight into what graduate students need and to be able to use my teaching skills this semester.
What advice do you have for current students as they embark on their job search?
I would definitely advise students to start thinking about different jobs they might be interested in and what they would need to be competitive for them early—I waited until fairly late in my program and wish I had begun earlier. I would also advise them to engage with experiences outside of their own coursework and research, from teaching to department leadership roles. These will help them build varied skills that can be valuable in many different roles.