Brenda Lemos Waterman PhD'19, Molecular and Cell Biology: Senior Associate Consultant, Clarion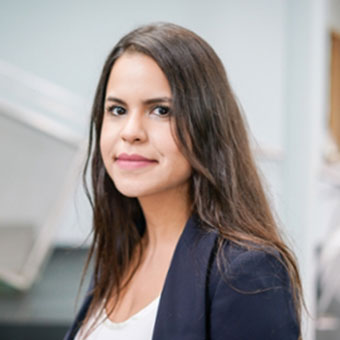 Can you describe your career path and how it has led to your current work?
After obtaining my B.S. in Biochemistry, I was fortunate to be offered an internship at a biotech start-up through the Massachusetts Life Science internship challenge. After that summer, I was offered a full-time position where I ended up working for the next three years. I never had dreams of pursuing a doctorate, but the impetus stemmed from the people I worked with. I was also very inspired by the company's CEO, a woman who herself had a PhD and no formal business training, but handled a room of investors with ease. Coming to Brandeis, I had no dreams of academia, instead I wondered how I would position myself in industry, optimally in a role that would intersect business and science.
What services and/or resources did you use while at Brandeis for your career search?
While at Brandeis, I attended career seminars that were offered and any networking event that was advertised. I utilized the Career Center for feedback on my resume and to practice general interview questions. Ultimately, I learned and applied for the position I am currently in through an email that was circulated, by Jena Pitman-Leung, an administrator at the time that was a champion for career development. Additionally, a very valuable experience was pitching GreenLabs LLC with my partner, David, in the SPROUT competition sponsored by the Office of Technology Licensing. SPROUT provided the initial funding for GreenLabs Recycling and enabled us to enroll in the NSF I-CORPs Fellowship program, providing valuable fundamentals of entrepreneurship. GreenLabs Recycling is currently operating in over a dozen institutions in the Boston/Cambridge area.
What skills from your Brandeis degree have you found most valuable in your current work?
The skills from my PhD that are most valuable in my current work are analytical/critical thinking, communication skills, and the ability to quickly digest scientific information. All the skills that you have developed in your academic journey will make you an attractive and qualified candidate. A unique aspect of the graduate program at Brandeis, specifically the MCB program, is that it requires students to present a fair amount. Though at first this may not seem like a good thing, it is an incredibly valuable opportunity.
What advice do you have for current students as they embark on their job search?
The advice I would give to students as they embark on their job search is that it is never too early to start looking at jobs. Looking at available positions not only informs what different opportunities are available, but it also gives you an idea about the skills/qualifications listed for each role—which will allow you to better position yourself when you are ready to apply.