Jacob Wirth PhD'19, Biochemistry and Biophysics: Scientist, DoubleRainbow Biosciences Inc.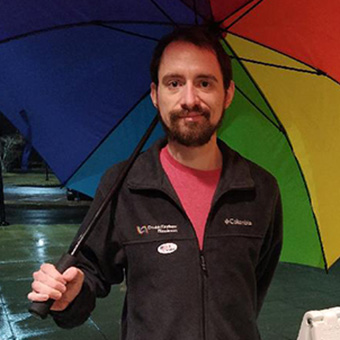 Can you describe your career path and how it has led to your current work?
I started with a biochemistry undergraduate degree because I was proficient in biology and chemistry. I went to graduate school because I was proficient in tests, courses, and learning. I did my graduate work in the lab of my last rotation because by the end of the year, that research wowed me the most and felt "right". My path basically thus followed what felt "right" at the time without much thought for what 5 years down the line would look like. Halfway through grad school, I realized I had to figure out what felt "right" as far as jobs went. I had watched my PI, Doug Theobald from the Biochemistry department, for years and realized that academia didn't suit my style and that I wanted to be an industry scientist so that I could push technology and human ingenuity forward. It helped that my PI had research that combined wet benchwork with computational work, so I felt like I had definite expertise in some things but a little bit of extra experience in other fields too. This really came in handy once I started interviewing for jobs; I was able to talk about a little bit of everything and chameleon my way into different roles. Brandeis's biochemistry program also prepared me for many different kinds of life science research because I was constantly working with other students, professors, and departments while doing my research. My current job came from a relationship I made near the end of my PhD degree. I needed an "outside" impartial thesis committee member for my defense and my boss gave me a list of people he thought were field experts that might be interested and I ended up connecting with one. I contacted him and asked about opportunities he knew of as I had interviewed at X, Y, and Z. He said, "Oh those are great companies. Why don't you come and interview with us too?" I got along with the small team at a startup he co-founded and I fell into a role that was perfect for my research.
What services and/or resources did you use while at Brandeis for your career search?
My peers were extremely helpful because many alumni live in the Boston area. Calling them up and asking to get a coffee or a sandwich works like a charm and it shows that people really want to help. For example, the HackMyPhD program, a program where alumni show up and talk to current students, was very helpful; I can't stress enough how the alumni were not only helpful with information but it was really nice to have evidence to show how Brandeis alum helped students find careers. Resources such as mock interview questions, resume critiques, LinkedIn advice, provided at the Brandeis GSAS Center for Career and Professional Development was also helpful. I would have been lost if I hadn't sprung and gone to ask for help; I think without their guidance, I certainly would've been worse off during interviews.
What skills from your Brandeis degree have you found most valuable in your current work?
Experiment design, assay development, and a critical (skeptical) eye have all been incredibly useful so far. Some of the method's experience has also been directly helpful. Outside of that, there are parts of general graduate school experience that have helped. For example, Brandeis instilling the ability to grab a board and give a "chalk talk" to explain something complex in 3 or 4 minutes is something I need to do regularly in my current work. Because everyone has a wildly different background, breaking down complex things into chewable chunks for people outside your field is a common occurrence in biotech.
What advice do you have for current students as they embark on their job search?
Figure out what you're looking for. Or, in my case, figure out what you're NOT looking for and just be open to everything else. It's a job. Sure, it might be the start of a grand career, but that's far in the future. You have to actually get the job first! Don't let planning be the enemy of the current moment. Cast a wide net and practice your phone skills because a wide net means a large swath of different people asking you questions; make it so that the hard part is coming up with the answer, not having the conversation! Learn to be comfortable with speaking. Brandeis does a good job in trying to make that happen but it really is something you have to practice for yourself. Be Yourself! If you spend the interview trying hard to be something else or what you THINK they want, you won't be able to actually show off what you can actually do which is why they called you in the first place.