Maria Genco PhD'17, Neuroscience: Senior Business Insights Analyst at Decision Resources Group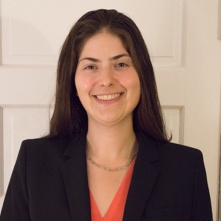 What services and/or resources did you use while at Brandeis for your career search?
The GSAS CCPD team was incredibly helpful throughout my job search process, from asking questions or giving guidance on the broad question of 'what should do with my life after I graduate?' through the application process with advice on resume formatting and content to interviewing techniques and finally how to negotiate an offer. While it's intimidating to make an appointment, and something that always seems more appropriate to do 'tomorrow,' building a relationship over time meant that I could get more specific advice on my job search. In addition, I had one more person looking out for positions that were specifically of interest to me.
It was also useful to go to the lectures organized by various student organizations and training grants. These lectures gave me a better idea of what might be available outside of a career at the bench or as a professor. The new Committee for Career Development for the Sciences began just as I was leaving and was also a valuable resource for me. 
What advice would you give other students as they begin their job search?
Talk to people! Otherwise known as 'networking,' it isn't just handing out business cards at a Biotech Tuesday event. It's having coffee with a student or postdoc who just got a new job. Or, signing up to meet with a speaker for lunch after they give a career seminar. Be open to talking to people about what they do and be willing to help someone who wants you to connect them to someone you know. Even if you aren't sure you'll like a topic, talk to someone about it both because you might be surprised and also they might know someone who you are really interested in talking to and they can connect you. But NEVER ask for a job. Learning from your peers is also a fantastic way to learn about careers. Peer mentor groups can be a support network that also expands your actual network and puts pressure on you to avoid waiting until 'tomorrow' or 'next week' or 'after my NRSA is in' to actually start the career process.
Do something interesting outside of academia. To be a person that people want to talk to, you need to be able to talk about something other than your science. Writing a thesis or having a paper shows initiative but unless you want a job where you only write papers for a large lab (I think that exists but is rare), you need to show what else you can do. Interested in writing? Start a blog, find a part-time job editing papers for non-English speakers. Interested in policy work? Do an internship in DC, start a policy group on campus, or volunteer for a political campaign. Interested in consulting? Go to as many consulting competitions as possible and join a consulting club. Interested in data science? Check out a python meetup group and keep an updated GitHub of your own projects. Thinking about patent law? Volunteer at the OTL (at Brandeis or MIT or Harvard). This career process begins broadly but will narrow over time. Think deeply about what you tend to do if given free time and be honest with yourself. 
Build connections within your area of interest. Once you know a bit more about what you want to do, find the people who can tell you more and help you get into your area of interest. Are you interested in science policy? Go to the AAAS meeting. Do you want to become a writer? Get involved in the Boston area science writers association or the Medical Writers Association. When you apply for a job, two things will help you get your foot in the door: 1) knowing someone who can vouch for you as a person who they like and 2) proving you have already done the work. 
Take the next best step for yourself.  Grad students sometimes think they have to find the perfect job. Instead take a position that seems like it will make you happy - something where you are looking forward to the time commitment, the salary, benefits and day-to-day work. You won't love everything about the job. It won't be perfect. Your career will be a continuous life-long process.