Rebecca Barton MA'17, Sociology: Research Specialist, Isaacson Miller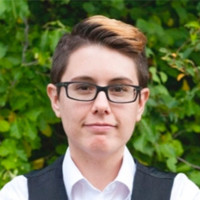 Can you describe your career path and how it has led to your current work?
I came to Brandeis to pursue a doctorate degree in Sociology because I wanted to teach at the university level; however, after gaining some teaching experience I realized it was actually not the career path I wanted. As such, it was an incredibly important decision when I decided to leave my PhD program and pursue meaningful work with my master's degree. I applied to numerous research jobs and came across a job at a unique executive search firm in Boston, Isaacson, Miller (IM). As an executive search firm, IM is dedicated to placing diverse people into executive level positions. It was its social equality commitment that ultimately persuaded me to take the job.  
What services and/or resources did you use while at Brandeis for your career search? 
I utilized a number of resources at Brandeis. I turned to the Graduate Center for Career and Professional Development to get advice about my resume, how to prepare for an interview, and the kinds of jobs I could apply to based on my background. I also used Handshake as a resource to see and apply to open positions. My peers provided me with immense emotional support (definitely needed in the job hunting process!). Professors with whom I had worked closely at Brandeis provided positive references. However, most importantly, I utilized my Brandeis network. 
What skills from your Brandeis degree have you found most valuable in your current work? 
The skills I have found most useful from my time at Brandeis have been those I gained from doing research with a professor. I worked as a research assistant (RA) on a number of projects with Professor Wendy Cadge. As an RA, I learned important skills which  include: project management, organization, communication, and data analysis. Teaching and being a TA also allowed me to learn an important skill for the workplace; how to give supportive and productive feedback. 
What advice do you have for current students as they embark on their job search? 
First and foremost, do not lose hope. The job market can be tough and there may be a lot of rejections, but you will learn something from every resume you format and every interview you attend. Utilize the free resources that Brandeis has to offer, such as Handshake, the Center for Career and Professional Development, and your Brandeis network!