Robert Pearson PhD'10, Musicology: Assistant Dean of Professional Development and Career Planning, Emory University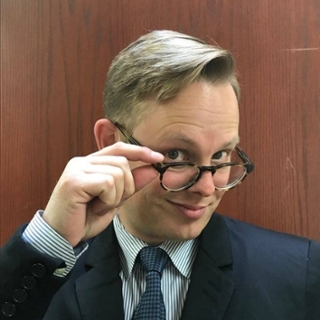 Can you describe your career path and how it has led to your current work?
After graduate school, I took a faculty job in Texas, where I developed a nuanced picture of what it means to be a faculty member in a large, comprehensive university. When my position there ended (as many do), I was not sure what to do next, and so I spent a lot of time researching my career options. I took an entry-level position in a small graduate office before I advanced to a more senior position in a larger office. These experiences were foundational for me. I learned data, marketing, team-building, leadership, and communication skills that enabled me to build a new program in graduate career development for graduate students outside my own field. Most recently, I took a position as Assistant Dean of Professional Development and Career Planning in the Laney Graduate School at Emory University, where I oversee and create professional development activities for 1900 graduate students in more than 40 disciplines. It is a massive responsibility and a richly complex and wonderful job.
What services and/or resources did you use while at Brandeis for your career search?
As someone who currently works as a graduate career advisor, I am embarrassed to admit that I was a chronic under-utilizer of career resources at Brandeis. I do, however, recall a career workshop I attended on networking, run by the Center for Career and Professional Development. Moreover, I received most advice related to the job market from my dissertation advisor who continues to be someone whom I admire and think about very often, but in retrospect I wish I had cultivated a longer and more diverse list of mentors to help me during my time as a graduate student, especially with respect to my career search.
What skills from your Brandeis degree have you found most valuable in your current work?
I still rely upon the graduate training I received at Brandeis every single day, but not in the ways I thought I would. The most valuable skill to me today is my ability to write clearly and persuasively, which I acquired while writing and editing my doctoral dissertation. My ability to envision long-term and large-scale projects and follow them through to completion are also very important to me. Finally, I will also emphasize that foundational readings and subsequent discussions around critical theory texts have helped me to better understand and challenge structures of oppression and bias when I encounter them in my work with graduate students.
What advice do you have for current students as they embark upon their job search?

Prepare early for more than one career path. There are a wide range of career options available to individuals with graduate training. If you put in the work of learning about careers that interest you and networking in target industries, you can follow almost any path you want. Furthermore, take initiative to build new programs or resources at Brandeis around careers that interest you. Something as simple as starting a career interest group can demonstrate to potential employers that you are serious and interested in their field. Finally, take advantage of career and professional development resources that are available through the Brandeis Graduate School of Arts and Sciences.