Sierra Dakin Kuiper MA '18, Anthropology: Senior Manager, Foundation and Donor Relationships, Environmental Law Institute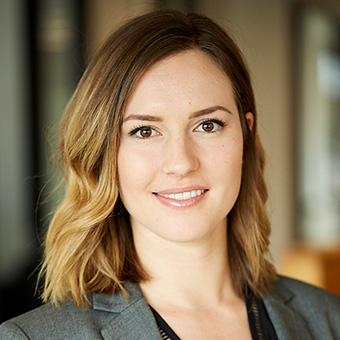 Can you describe your career path and how it has led to your current work?
Between my undergraduate and graduate education, I worked as an Interpretive Guide with Parks Canada, designing and delivering public outreach programs to visitors in Waterton Lakes National Park, Alberta, Canada. My work with Parks Canada inspired me to return to graduate school to pursue a two-year master's in Sociocultural Anthropology. Brandeis was appealing to me because it offered the opportunity to pursue independent research guided by respected scholars. My master's research was inspired by my work experience. I chose to focus on the social dynamics of conservation efforts in the Crown of a Continent - a transboundary region in the Rocky Mountains that includes Waterton Park as well as Glacier National Park. After graduating from Brandeis, I moved to Washington, D.C. to work in the environmental non-governmental space. I worked as a Senior Associate at Waxman Strategies, after spending the summer during my master's program as their Environmental Fellow. At Waxman, I had the opportunity to work on developing project concepts, grant seeking, and grant writing with an incredible team. Now I work at the Environmental Law Institute (ELI) in fundraising, supporting ELI's Research and Policy team with grant seeking and proposal development.
What services and/or resources did you use while at Brandeis for your career search?
I consulted with the Center for Career and Professional Development at the Graduate School of Arts and Sciences (GSAS). I also attended several career fairs both on and off campus and sought out Alumni Events as networking opportunities before I graduated. 
What skills from your Brandeis degree have you found most valuable in your current work?
My master's degree was most beneficial in training me to undertake self-motivated research and writing. This translates well to fundraising, both in supporting project development and writing competitive grant applications. My knowledge and experience with research ethics and methodology also serves me well in my current role, it is something quite unique and valuable that I can contribute to my team.
What advice do you have for current students as they embark on their career exploration or job search?
Don't be afraid to take the road less traveled. It was uncommon for people in my program to seek out summer fellowship opportunities, but this is what allowed for me to pursue a career outside of academia. Explore all the resources available to you, especially less traditional ones.