Sim Janjua MA'16, Psychology: Consultant, Deloitte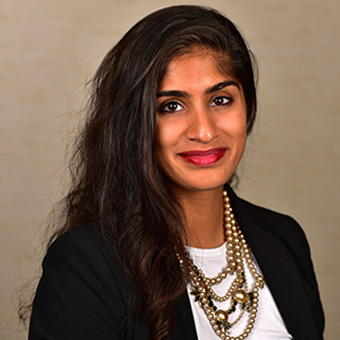 Can you describe your career path and how it has led to your current work?
Initially, I was interested in staying in academia and pursuing research psychology to identify trends and insights as they occurred in the intersection of technology and human development. As I was conducting my Master's research, I realized that while I found reading papers and articles interesting and incredibly insightful, I wanted my career to be more hands-on where I could directly see the impact of the work I was doing. I reached out to my network and many of my peers and mentors recommended I look into consulting. Those conversations brought me to Gartner and then eventually to Deloitte as a consultant.
What services and/or resources did you use while at Brandeis for your career search?
I utilized as many of the resources as Brandeis provides to help polish my resume, amplify my interviewing skills, and build my network. Specifically, I went to the Graduate Center for Career and Professional Development, used Handshake, and reached out to Brandeis alumni within my field of interests to get their perspectives and insights on what I could emphasize and what gaps existed in my resume and skills that I could work to remedy throughout my Master's degree.
What skills from your Brandeis degree have you found most valuable in your current work?
During my degree, I led a research project which helped me build upon and mature many of my existing skills such as project management, team management, organization, communication, writing, data analysis, and implementation. Furthermore, leading a team was fundamental to building interpersonal skills, managing expectations across various personalities, receiving and providing feedback, and maintaining rapport and morale.
What advice do you have for current students as they embark on their career exploration or job search?
My advice would be to take advantage of everything Brandeis has to offer, to own your careers and to keep being pleasantly persistent. I think oftentimes we can see all the resources and either become overwhelmed or become complacent, but Brandeis itself has tons of resources like the Graduate Center, professionals to help students polish their resume, networking events, etc.
Beyond the resources Brandeis offers, take the initiative to reach out to and connect with Brandeis alumni via LinkedIn and other forums - or even send a cold networking email. The worst thing that can happen is not getting a response. And lastly, sometimes emails get lost in people's inboxes or people may be busy, so I don't think it ever hurts to be pleasantly persistent with sending emails, follow-ups, or reminders.