Letter from Louis D. Brandeis to President Woodrow Wilson
February 4, 1920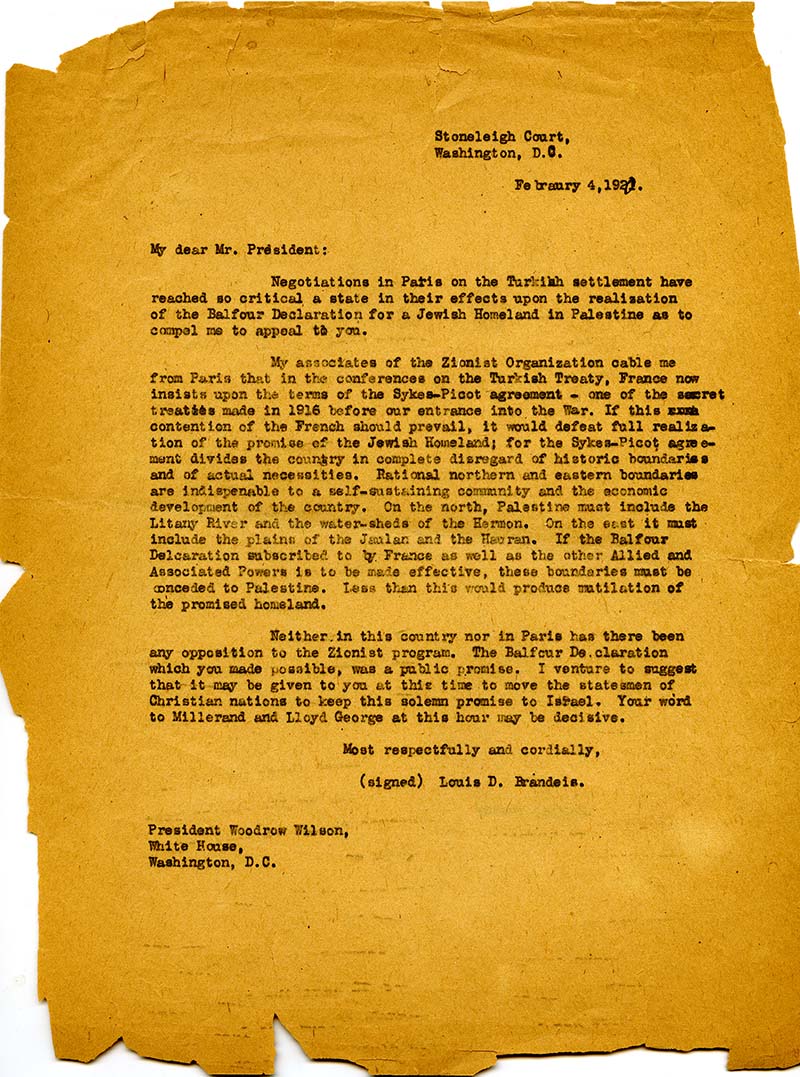 Transcript
Stoneleigh Court,
Washington, D.C.
February 4, 1920.
My dear Mr. President:
Negotiations in Paris on the Turkish settlement have reached so critical a state in their effects upon the realisation of the Balfour Declaration for a Jewish Homeland in Palestine as to compel me to appeal to you.

My associates of the Zionist Organization cable me from Paris that in the confereces on the Turkish Treaty, France now insists upon the terms of the Sykes-Picot agreement - one of the secret treaties made in 1916 before our entrance into the War. If this [crossout] contention of the French should prevail, it would defeat full realization of the promise of the Jewish Homeland; for the Sykes-Picot agreement divides the country in complete disregard of historic boundaries and of actual necessities. Rational northern and eastern boundaries are indispensable(sp.) to a self-sustaining community and the eocnomic development of the country. On the north, Palestine must include the Litany River and the water-sheds of the Hermon. On the east it must include the plains of the Jaulan and the Hauran. If the Balfour Declaration subscribed to by France as well as the other Allied and Associated Powers is to be made effective, these boundaties must be conceded to Palestine. Less than this would produce mutilation of the promised homeland.

Neither in this country nor in Paris has there been any opposition to the Zionist program. The Balfour Declaration which you made possible, was a public promise. I venture to suggest that it may be given to you at this time to move the statesmen of Christian nations to keep this solemn promise to Israel. Your word to Millerand and Lloyd George at this hour may be decisive.

Most respectfully and cordially,
(signed) Louis D. Brandeis.

President Woodrow Wilson,
White House,
Washington, D.C.
| | |
| --- | --- |
| CREATOR | Louis D. Brandeis |
| DATE | 02/04/1920 |
| LOCATION | Washington, D.C. |
| FORMAT | Text (Letter) |
| LANGUAGE | English |
| COLLECTION | Louis Dembitz Brandeis Collection |
| BOX, SERIES | 32, I.I.h.1a |
| RIGHTS | Copyright restrictions may apply. For permission to copy or use this image, contact the Robert D. Farber University Archives & Special Collections Department, Brandeis University Library |