The First Championship Season
On one chilly Saturday afternoon, soccer became a game changer.
by IAN D. SPATZ '77
Thirty-five years later, I can still smell the freshly spread manure in the air of Elizabethtown, Pa. Acres of newly turned farmland hugged the whitelined field where, on one chilly afternoon, a soccer game would change lives and the course of Brandeis athletics.
The Brandeis Judges roared into E-town on an old yellow school bus after a punishing 10-hour ride from Waltham on that leafless, sunny Thanksgiving weekend. Accommodations were similarly basic: four players to a room in a fleabag motel. Busloads of chestpainted,flag waving, hollering fans were nowhere to be seen, but this was nothing new to the Judges or to the few diehards like me.
Without football games, and with precious few universitywide events to bring students together, school spirit was modest, and athletics seemed more an afterthought than cause for primal celebration. So it was nothing short of astonishing that on that Saturday in 1976, the Brandeis Judges would take on the Brockport State Golden Eagles for the NCAA Division III soccer championship. Finally, brainy Brandeis had a shot at the top.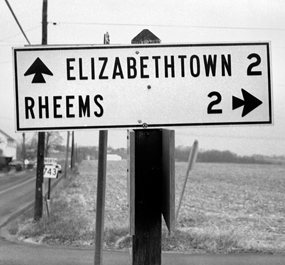 Acres of fields surrounded Elizabethtown, Pa., known
to the locals as E-town, and the site of the 1976 NCAA
Division III Championship.
I found a ride to Elizabethtown College, the tournament site 80 miles west of Philly, to capture the game on film for the Justice. There I joined a boisterous group of parents and students, generously estimated in NCAA official records to number 2,000, cheering from the sidelines. For Mike Coven, in only his fifth season as the men's soccer coach, this championship game was the natural outcome of his grand plan. Coven, just 29, had recruited and built an extraordinary team of athletes without an assistant coach or even enough money to buy decent uniforms. He was certain he had molded champions, and the players displayed the kind of raw physicality, determination, skill and cohesion that are the core of any successful team.
To reach the final, the team had staged a dramatic come-from-behind overtime victory in Waltham. Then, on Friday in Elizabeth-town, they achieved another brutal overtime win in the semifinal game, but not before star goalkeeper Murray Greenberg '77 was sidelined with a badly sprained ankle, throwing into doubt his ability to play on Saturday in the championship game. By the end of the semifinal, the Judges were banged up, taped up and playing on fumes.
page 2 of 4
This was a tough group of kids who saw themselves as playing at least as much for each other as for a largely indifferent student body and administration. Coven believed in them, and they believed they could win.
"By the time the ball was kicked off for the final game, adrenaline took over," recalls Greenberg. He and his teammates ignored the pain and played.

Sidebar Story

The game was close and physical. Brockport State kept threatening to break away, but a tenacious Brandeis defense kept it close. Clutching my old Canon camera, I felt hope and fear by turns wash over me as each team drove the ball toward the opposing goal. After 90 grueling, tense minutes of regulation play, the teams were tied at one goal apiece. There are no ties in championship games.
The first sudden-death 10-minute overtime period ended with neither team scoring. As the sun sank in the sky on that cool fall day, the exhausted rivals took the field for the second overtime. About four and a half minutes later, it happened. Many of my college memories have faded or distorted over time. Some are gone for good. Not this one.
Rob Muller fires a pass to Michael Lichtenstein streaking down the left sideline. Lichtenstein takes it toward the Brockport State corner and sends a crossing pass off his left foot toward Cleveland Lewis, who is flying down the center of the field.
Lewis '79 had been forced out of the game earlier with a bloodied and broken nose. Yet he asked Coven to put him back in for the overtime.
"I think I was kind of disoriented, but I really wanted to get back in the game and try to help win," recalls Lewis.
Lewis leaps to intersect the ball's high arc. A Brockport State College defender — a player whose sole job is to keep the Brandeis star from getting to the ball — jumps with him. Sensing the threat, the Brockport goalkeeper rushes out to try to slap the ball away.
Guarding the Brandeis goal at the other end of the field, Greenberg could see that his Brockport State counterpart wasn't going to get to the ball in time. Coven remembers that "it was surreal, a moment in time that almost stood still."
Rising above his defenders, Lewis' head meets the ball at the peak of his jump. As he redirects the ball toward the Brockport goal, he collides with the Brockport goalkeeper and collapses to the ground, his nose smashed and bloody a second time.
page 3 of 4
"Before the ball even leaves Cleve's head, I know we are going to win the game," Coven recounts. Lichtenstein '79 and Lewis had connected many times on that play. "It was our bread and butter," Coven says with pride.
In frenzied elation, I depress the shutter a moment too late. All I capture is the ball on its path into the back of the now-undefended net.
Exhausted, the Brockport State players collapsed to the ground. Exhilarated, the Brandeis players and fans swarmed the field to celebrate Brandeis' first NCAA national championship.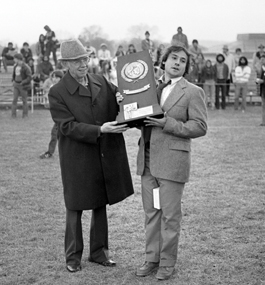 Coach Michael Coven, right, hoists the
championship trophy now displayed in the
Gosman Sports and Convocation Center.
"It's one of my proudest moments," says Lewis, now a business executive in a Denver suburb. Greenberg recalls an overwhelming feeling of "relief and exhilaration." Rob Muller '77 remembers thinking in that moment, "We are now on the map, we are in the record books that Brandeis won it all."


Coven, now in his 39th year as the men's soccer coach, thinks about the championship and his team pretty much every day. "Until that game, the university hadn't really had any success athletically," he says. "They didn't quite know how to handle it. It's not that they didn't care; it's just that they were a little naive about how a successful program was run."

The players didn't mind. "We were on a mission to do something great," Lewis recalls. "There was something about the determination of our guys that won it for us." Early on in their Brandeis careers, Coven had told Muller, Michael Shannon '78, Peter Schachter '77 and Greenberg that he intended to build a national championship team. "At the time, we just rolled our eyes," says Muller. But Coven recruited the best talent, including Lewis, one of the top high school players in the nation.

Then, as today, Brandeis competed in the NCAA's Division III, whose members do not provide athletic scholarships like the giants of college sports. And though Brandeis was mostly white and Jewish in 1976, the team makeup was more diverse. Lichtenstein was a former tank officer in the Israeli army who came to Brandeis on a scholarship, and there were players from Haiti, New York, New Jersey and, of course, Massachusetts.

"We were a community, a family … with a wide range of people from different parts of the country and the world," says Muller, a clinical psychologist and psychoanalyst practicing in Manhattan and Pleasantville, N.Y.
page 4 of 4
Thirty-five years later, the players look back and see participation in athletics as an integral part of their Brandeis experience. Lichtenstein, who practices law in Potomac, Md., and still plays soccer, says, "Soccer was a huge experience for me. I really didn't know anybody, and right away I had a group that I could identify with." Greenberg, an attorney and author in Hewlett Harbor, N.Y., says, "My Brandeis experience was defined by my athletics and my friends."

Much has changed since that day in E-town. Athletes at Brandeis are no longer invisible, the fans spotty or the resources sparse. As the sports program improved and the university grew more diverse, recruiting became much easier. Brandeis is now a member of the University Athletic Association, comprising eight top national universities. Coven's team travels by plane and stays in hotels. Over the past several years, Brandeis has constructed a state-of-the- art soccer stadium. "I don't think many Division III schools support the program as well as we do," claims Coven.

Each year, to mark the anniversary of winning the Division III championship, Muller has called his friend Greenberg and his coach. Like several of his teammates, Muller identifies the championship as a highlight of his life.

Coven cherishes the immutability of that day. "The players gave each other a gift. No matter what happens to you, you can think about that day in 1976 when we won the national championship," he says.


"In the time it took for the referee's hands to go up to signify the winning tally, E-town became part of them, the part that left as champions, the best in the United States, Brandeis' first national champions.
" — "A Weekend in E-town," the Justice, Nov. 30, 1976, by Ian Spatz.

Ian D. Spatz '77 is an attorney and healthcare-policy consultant who works in Washington, D.C., and lives in Takoma Park, Md.