Impact
Seniors Give Back — in Record Numbers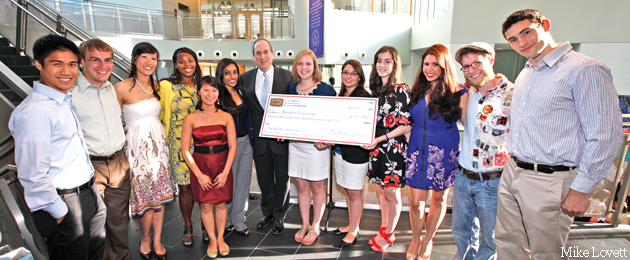 For the second consecutive year, members of Brandeis' most recent graduating class established a new participation record as nearly three-quarters of the Class of 2012 supported the Senior Class Gift.
"For the seniors to support the university in this way is a testament to the way they feel about their Brandeis educational experience," says Nancy Winship, P'10, P'12, senior vice president of institutional advancement. "This is exciting to see and is a strong indicator that they will stay engaged with Brandeis after graduation."
President Fred Lawrence and his wife, Kathy, agreed to contribute $10,000 to the gift if the Class of 2012 broke last year's participation record of 71 percent. As of June 6, 74 percent of the class had given a total of $13,631.
Additionally, 35 percent of the seniors who supported the gift pledged to make a gift to the Annual Fund in each of the next five years.
Allison Berger '12, Anna Clarke '12 and Ariadne Lyon '12 served as co-chairs of the Senior Class Gift Committee.
Seniors who made a gift wore blue-and-white medallions on their gowns during the May 20 Commencement ceremonies.