En Garde for Gold
Olympian Tim Morehouse points to a higher profile for fencing.
by David Nathan
If American sports fans embraced fencing as they do, say, basketball,
Tim Morehouse
'00 would be some kind of LeBron James-Kobe Bryant hybrid, a medal-winning, president-meeting, celebrity-schmoozing, book-writing, tweet-a-minute, globe-trotting poster boy for his sport.
Instead, since most Americans think fencing is a means to keep out meddlesome neighbors, Morehouse wins his Olympic medals (silver, 2008), meets his presidents (Barack Obama, 2009), schmoozes his celebrities (Matt Lauer and Al Roker on the "Today" show, just last month), writes his books ("American Fencer: Modern Lessons from an Ancient Sport"), does his social media and travels the world in relative obscurity.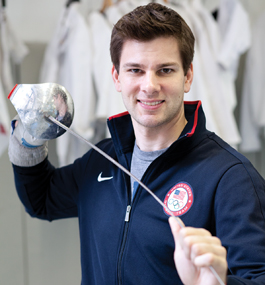 Tim Morehouse '00
As the elder statesman of the U.S. fencing team — he turned 34 on July 29, his first day of competition at the Summer Olympics in London — he prepared for his third and perhaps final Olympic Games with a dual focus: to become the first American male fencer to win a gold medal and to help raise the profile of the sport he came to love at Brandeis.
"I feel a responsibility and a passion to help fencing grow," the two-time national champion says earnestly.
Morehouse has become U.S. fencing's unofficial goodwill ambassador, speaking to companies and schools about his experiences, conducting numerous interviews with media outlets around the world and even giving the president a fencing lesson on the White House lawn.
In 2010, Morehouse co-founded Fencing Masters NYC, the only fencing tournament other than the Olympics that is televised in the United States. He also founded Fencing-in-the-Schools to bring the sport to underserved communities.
Although his stature helps him promote fencing, it's not necessarily an advantage during competition. "Everyone knows who you are and is aware of your game," he says, which means he constantly has to add new strategies.
As a young fencer, the New York native competed for his Riverdale Country School team, not a fancy club program. Overlooked by NCAA Division I fencing powers like Penn State, Ohio State, Notre Dame and Columbia, he enrolled at Division III Brandeis — the only school that recruited him.
Longtime coach Bill Shipman first saw Morehouse in December 1995 when the high school senior won the Mamaroneck (N.Y.) Invitational. The coach's scouting report: good skills, hard-nosed competitor, decent size, fairly fast.
"I thought he would be a good college fencer for us at our level," Shipman remembers. "It would have been hard to anticipate that he would become an All-American and go on to make the Olympic team."
After coaching Morehouse for a while, Shipman revised his appraisal. Not only was his pupil a better athlete than he had first thought, Morehouse showed a near-fanatical dedication to his sport. He worked feverishly to improve his fencing technique, and trained hard to get bigger, stronger and faster.
Morehouse's breakthrough on the national scene came at the NCAA Championships at Stanford University during his senior year. To Shipman, the key was not what Morehouse accomplished — he won 20 matches and finished in third place to earn All-American honors — but how he did it.
"He was behind in five or six bouts and just refused to lose," Shipman recalls, as amazed today as he was at the time. "Once Tim realized he was physically and technically in the same ballpark as the elite fencers, his confidence, enthusiasm and competitiveness took over."
Four years later, splitting his time between training and working for Teach for America, Morehouse made the 2004 U.S. Olympic fencing team as an alternate. In 2008 at the Beijing Games, he and teammates Keeth Smart, Jason Rogers and James Williams came in second in the sabre competition, the highest finish in U.S. Olympic fencing history.
"One of the biggest lessons I learned in Beijing was to set your goals high," Morehouse says. "Our goal then was just to win a medal, so when we advanced to the final we were not as prepared as we could have been to win the gold. We won't make that mistake again."