A Celebration of All Things Brandeisian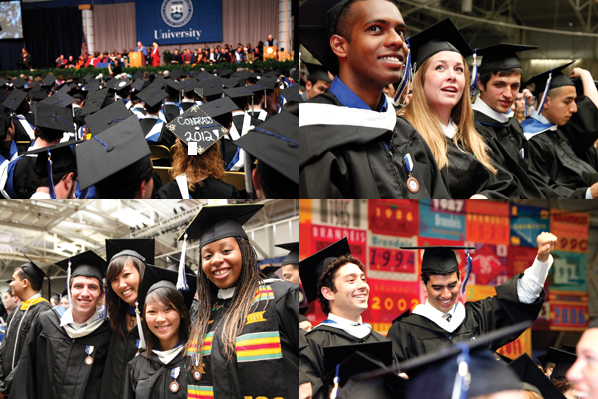 Photos by Mike Lovett
As the university observed its 61st Commencement on May 20, leading advocates for social justice gave graduates a grim overview of the world they face — and a spirited charge to go out and fix it.
In her address, principal speaker Deborah Bial '87 — the founder and president of the Posse Foundation, which creates opportunities in higher education for youth from America's urban public school systems — told about 8,000 graduates, family members and well-wishers in the Gosman Sports and Convocation Center that "the United States has made great progress in terms of civil rights and women's rights. … But the progress that we've made has been too slow. This country is forgetting its way."
She continued, "The people who have come before you [have] made a mess of things. The responsibility to do something now lies with you."
Amartya Sen, a Nobel laureate in economics, warned those attending the Heller School for Social Policy and Management ceremony in the Spingold Theater Center that the size of the national debt may be misused in the upcoming presidential campaign to rationalize deep cuts in public spending.
"A large-scale cutting of every kind of government expenditure, which would slash market demand, would hardly be a reasoned response" for an economy already suffering from insufficient demand and vast unused production capacity, Sen said.
"Human society has always flourished through people helping each other," said Sen, who in addition to his credentials as an economist is widely acclaimed as a humanist and philosopher. "Even economists recognize the importance of social cooperation and social engagement."
Bial, Sen, the late philanthropist Myra Hiatt Kraft '64, Nobel laureate in genetics Sydney Brenner and Juilliard School President Joseph W. Polisi were this year's honorary degree recipients.
President Fred Lawrence, who was warmly applauded by the Gosman Center crowd, assured the new graduates that their Brandeis education has given them the tools they need for the difficult work that Bial and Sen said must be done.
"You have been trained to communicate effectively — may you always use that skill to reach out to others and to build bridges," Lawrence said in a charge to the students that resonated like a benediction. "You have been trained to analyze carefully — may you always be deliberate in your judgments and measured in your actions.
"You have been trained to solve problems creatively — may you always find ways to use your skills for the betterment of a world so desperately needing repair."
Bial finished her remarks with a strong affirmation of Brandeis graduates' abilities to address problems.
"If, during your time at Brandeis, you became involved in a cause, or joined a campus organization to address or discuss or work on a social or political challenge, or traveled to another country to help another community, or wrote a paper on an issue that you feel passionately about, or helped a friend or classmate go through a really hard time, I want you to stand up," she said.
Virtually everyone in the Class of 2012 rose.
"Stay standing," Bial said with emotion. "Look around you. This is an army! You are where our hope lies. Look at the more than 800 of you in this graduating class who care."
 — Charles A. Radin