Alumni News
New Shared-Interest Networks Broaden Your Reach
Are you looking to grow your professional network, connect with fellow alumni who work in your field or find Brandeisians who share your interests?
The new Brandeis Shared-Interest Group program allows alumni to connect with fellow graduates regardless of when they graduated or where they live. The university's inaugural shared-interest groups are the Alumni of Color Network, the Arts Network, the International Alumni Network and the Lawyers Network.
"We are excited to offer our alumni around the world the opportunity to engage with one another on the basis of their mutual interests," says Patsy Fisher, vice president of alumni relations. "These groups will allow alumni to strengthen their connections with one another through both in-person and virtual programming."
The Shared-Interest Group program was developed by members of the Alumni Association board to connect alumni in different ways.
"We are always on the lookout for programs that can strengthen ties among alumni," says Trustee Mark Surchin '78, the Alumni Association president. "We hope alumni will spread the word about shared-interest groups, and encourage their classmates and friends to sign up."
For more information about the Shared-Interest Group program, visit alumni.brandeis.edu/sigs, or email alumnisigs@brandeis.edu.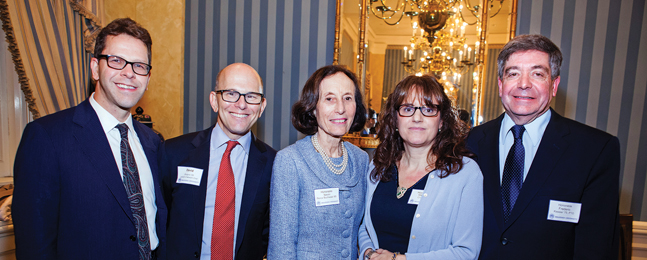 Last fall, more than 50 alumni and friends gathered in New York for a panel discussion with four area judges. Pictured: New York Lawyers Network chair David Shapiro '85 (second from left) with panelists Michael Katz '89; Naomi Buchwald '65; Melissa Crane '86; and Fred Kessler '75, P'10.