Impact
Remembering Trustee Emeritus Gershon Kekst, P'05
The university is mourning the passing of longtime Trustee Gershon Kekst, P'05, who chaired the transformative Campaign for Brandeis, which raised nearly $1 billion for the university during the 2000s.
Kekst, 82, who died on March 17, joined the Board of Trustees in 1986 and was elected trustee emeritus in 2012. He served as vice chair from 2005-09.
"Gershon's knowledge and wisdom were remarkable, and he delivered his advice candidly but warmly," says Larry Kanarek '76, chair of the Board of Trustees. "He cared about his clients, as he cared about all people, and he had a wonderful sense of humor. He was the consummate professional, a wonderful human being, a great leader and a real mensch, and Brandeis and the world will miss him."
Kekst's leadership of the Campaign for Brandeis, which was the first comprehensive fundraising initiative in university history, helped revamp the campus physical plant and place the institution on firm financial footing for the first time.
"Brandeis has lost a great leader who embodied the Jewish ideal of using one's gifts and talents to make the world a better place," President Ron Liebowitz says. "In a number of important roles on the Board of Trustees, he exhibited a remarkable level of dedication to the university."
The university publicly launched the Campaign for Brandeis on March 25, 2003, with a goal of securing $470 million. The campaign was so successful that the Board of Trustees later voted to increase the goal to $770 million. In the end, the campaign raised nearly $1 billion for student scholarships and fellowships; faculty chairs; and new learning and living spaces.
Kekst made one of the first campaign gifts when he established the Zalman Abraham Kekst Chair in Neuroscience in 2001 in honor of his brother. He also created the Jehuda and Shulamit Reinharz Endowed Scholarship, and generously supported the Brandeis Fund and the Parents Fund.
"Gershon was a deeply respected member of the Brandeis Board of Trustees, sought after for his perspective and consulted on a vast range of challenging issues," says Nancy Winship, P'10, P'13, who worked closely with Kekst in her role as senior vice president of institutional advancement. "Many of us were fortunate to benefit from his advice and wise counsel. I will remember him as a creative, thoughtful, generous and spiritual person."
In 1970, he founded Kekst & Co., a privately held public-relations firm that specialized in mergers and acquisitions, corporate and financial communications, and investor relations. Kekst sold the company to Publicis, a French advertising firm, in 2008.
He leaves his wife, Carol, and two children, Joseph '05 and David. Joseph's wife, Dana (Winik) '05, is also a Brandeis graduate.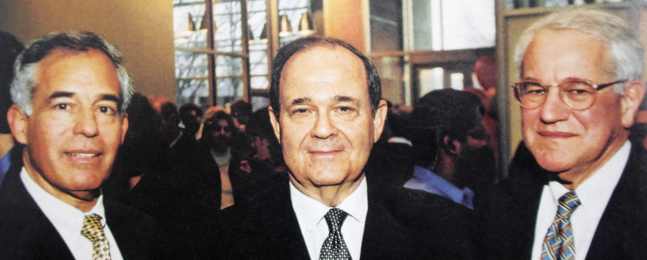 Gershon Kekst (center) with then President Jehuda Reinharz, PhD'72, and Stephen Kay, former Board of Trustees chair, at the public launch of the Campaign for Brandeis in 2003.