On the Bookshelf
Alumni books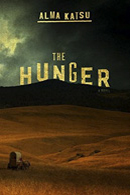 G.P. Putnam's Sons, $27
Take the already gruesome Donner Party story, add a wagonload of frightening supernatural elements, and you have the ingredients that animate this chilling novel. Author Katsu has fashioned a compulsively addictive retooling of historical fact — scant wonder director Ridley Scott's production company bought the film rights months before this book hit the shelves.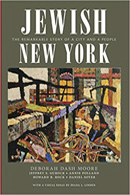 NYU Press, $30
A well-written history that captures, in a single volume, how Jews have influenced New York City — and vice versa — over nearly four centuries. As Moore, professor of history and Judaic studies at the University of Michigan, notes, New York was a city without a "majority population," a demographic twist that offered unusual freedom: "Jews could go about their business, much of it taking place within ethnic niches, as if they were the city's predominant group."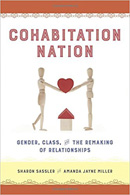 University of California Press, $29.95
Shacking up is the new normal. By 2010, as many as 7.5 million heterosexual Americans were living together in a romantic relationship without marriage. But there's relatively little research on how this arrangement affects a couple's present and future intimacy and bond. Sassler, professor of policy analysis and management at Cornell, and her co-author attempt to fill in these blanks through in-depth interviews, focusing particularly on the variable of social class.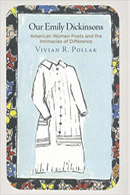 University of Pennsylvania Press, $55
Emily Dickinson influences every female American poet who follows in her wake, asserts Pollak, an English professor at Washington University in St. Louis. To support this claim, she surveys the work of Marianne Moore, Elizabeth Bishop and Sylvia Plath — not just their poems, but their letters, diaries, journals and interviews — exposing unexpected lines of kinship between the late-modernist poets and the reclusive rara avis of 19th-century Amherst, Massachusetts.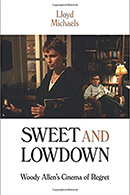 Wallflower Press, $30
Michaels, editor of the journal Film Criticism from 1977-2015, examines the impact of contrition in Woody Allen's films. Regret acts as a plot point in most of Allen's work, be it comedy ("Annie Hall") or tragedy ("Crimes and Misdemeanors"). Yet, as Michaels notes, Allen's characters feel a shallow wisp of the emotion, not a "deeply experienced, sustained remorse." And they rebound quickly — their self-reproach is a momentary reflex, not a catalyst for change.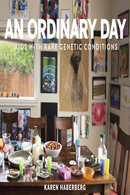 powerHouse Books, $45
Portrait photographer Haberberg captures the daily lives of 27 families with children who have rare genetic conditions. Presented alongside family interviews, the photos are vibrant and empathetic, drawing the viewer into each household's joys and challenges. Haberberg's photography has appeared in The New York Times, The Wall Street Journal and Cosmopolitan.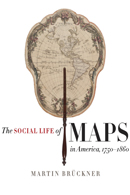 Omohundro Institute/UNC Press, $49.95
Today, with an interactive map and GPS system (aka a smartphone) always at hand, we forget how revolutionary the very idea of access to accurate maps was centuries ago. Brückner, professor of English and material culture studies at the University of Delaware, takes us through the culture shift that happened from the 1750s up to the Civil War, as the publication and wide distribution of detailed maps rejiggered how Americans looked at the world, the nation and themselves.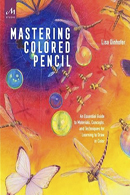 The Monacelli Press, $25
If you're bored with staying inside the lines of an adult coloring book, perhaps you're ready to draw on your own. New York City artist Dinhofer marshals her considerable knowledge to show you how to create polished drawings with colored pencils — discussing color theory, rough versus smooth paper, washes, erasing, stenciling and many other fine points of colored-pencil art. Creating's not your thing? Buy this book for the beautiful color reproductions of Dinhofer's work.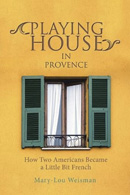 iUniverse, $13.99
Ever fantasize about living in the South of France? So did Weisman and her husband. Then, unlike most of us, they actually packed their bags. This memoir recounts the Connecticut couple's yearly month-long stays in Provence, four in all, the first undertaken when they were in their early 60s. You'll devour this book about learning the ins and outs of an unfamiliar culture, filled with comédies d'erreurs, wryly told.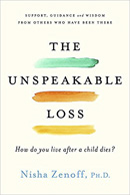 DaCapo/Lifelong Books, $16.99
Psychotherapist Zenoff shares guidance and support with those who suffer a terrible bereavement: the loss of a child. Her insight as a grief counselor is magnified by her personal experience with the topic: the 1980 death of her 17-year-old son. Written in a Q&A format, the book answers such questions as "Will life ever feel worth living again?" "Will our marriage survive?" and "What if my relationship to my child still feels unfinished?" The approach is at once frank and comforting.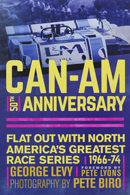 Motorbooks, $60
Car and Driver calls this history of the legendary Canadian-American Challenge Cup, which operated in its original form from 1966-74, one of 16 must-reads for auto enthusiasts. Journalist Levy interviewed more than 75 Can-Am notables — Mario Andretti, Jackie Stewart and Parnelli Jones were just some of those who suited up for the course — for an eye-opening take on what one driver called "the last knife-fight rules racing series."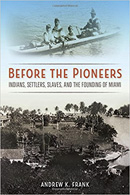 University Press of Florida, $16.95
Even thousands of years ago, people came to Miami to build. After the Tequesta Indians settled near the mouth of the Miami River, they thought big and got busy, erecting ceremonial centers, forging waterways into the Everglades and creating trade routes to the Gulf Coast. Frank, a historian who teaches at Florida State, takes readers from these fertile beginnings up to the construction of the area's first luxury hotels, detailing the industriousness and sense of possibility that made Miami grow.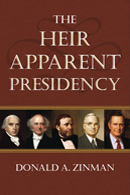 University Press of Kansas, $29.95
Few Americans would disagree with Thomas Jefferson, who wrote in a letter to John Adams, "I like the dreams of the future better than the history of the past." Imagine, then, the plight of U.S. presidents expected to carry on the policies of the president who immediately preceded them. Is it possible to move forward while looking back? Zinman, a political science professor at Michigan's Grand Valley State University, studies the track records of presidents who, like Madison (succeeding Jefferson), Grant (succeeding Lincoln) and Truman (succeeding FDR), tried to follow in a game-changer's footsteps.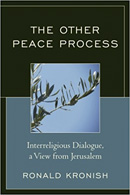 Hamilton Books, $32.99
Rabbi Kronish chronicles his difficult, rewarding years as a leader in the interreligious dialogue movement. A self-proclaimed liberal/progressive/humanist Zionist living in Israel, he says Jewish people must "come up with a reasonable philosophy and practice which will help us learn to live in peaceful coexistence with our non-Jewish neighbors who are also our fellow citizens."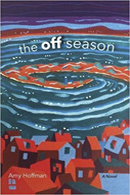 University of Wisconsin Press, $24.95
Off-season months in chilly Provincetown, Massachusetts — the summer crowds a distant memory — can be ideally suited to creative or healing pursuits. In this novel, 30-something Nora relocates to the Cape to paint; her girlfriend, Janelle, is hoping to regain her footing after a bout with cancer. Neither reckons on Nora falling for someone else. But then she does. An evocative story, both funny and real, with quirky characters and a strong sense of place.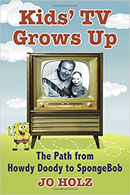 McFarland, $35
From Buffalo Bob to SpongeBob, the Power Rangers to the Powerpuff Girl, children's TV has always had an outsize impact on pint-size consumers. Holz, one-time head of research at Sesame Workshop, is a knowledgeable kids-TV tour guide, steering us chronologically through the decades, pointing out what changed and why, and sizing up out how the programming shaped impressionable viewers and American culture.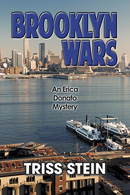 Poisoned Pen Press, $15.95
Stein presents her fourth suspense novel featuring Brooklynite/PhD candidate/amateur sleuth Erica Donato. This time, researching the Brooklyn Navy Yard for her history dissertation leads Erica into a tangle of crimes and secrets, past and present. Solving these mysteries won't be easy, tied as they are to a derelict waterfront site that at its height during World War II employed 70,000 people and covered 200 acres.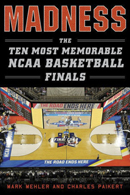 Sports Publishing, $24.99
Wilt Chamberlain. Larry Bird and Magic Johnson. Jim Valvano. Rollie Massimino. Journalist Mehler and his co-author revive all these hoops legends — and many more — with this slam-dunk dip into the ultimate college-basketball challenge. Several March Madness finals that made the authors' top 10: 1957, 1966, 1983 and 2010. You'll be moved to pick and roll through tournament history to figure out your own.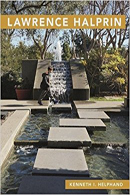 University of Georgia Press, $26.95
This richly illustrated overview of the work of Lawrence Halprin, a landscape architect who died in 2009 at age 93, is part of the Masters of Modern Landscape Design book series. Halprin created such urban landscapes as the Portland (Oregon) Open Space Sequence, San Francisco's Ghirardelli Square and the FDR Memorial in Washington, D.C. Author Helphand is a landscape-architecture professor at the University of Oregon and the author of "Defiant Gardens: Making Gardens in Wartime."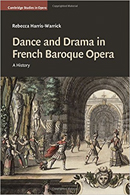 Cambridge University Press, $135
Cornell music professor Harris-Warrick reviews 60 years of opera to prove a terpsichorean premise: The divertissement dancing that happens in every French Baroque opera is no incidental frivolity, but a key to the opera's meaning. As the author writes in her discussion of Jean-Baptiste Lully's operas, "Almost always the dancing characters belong to a collective entity in conjunction
with singers; within this group the dancers provide the movement, the singers the voices."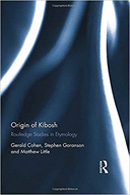 Routledge, $140
Who put the kibosh on understanding the etymology of "kibosh"? Not these authors, who attempt to, once and for all, determine the word's roots. Are they Yiddish, Gaelic, Italian, Middle Eastern? According to this volume, the latter is where the evidence lands: "Kibosh" seems to derive from kurbash, a terrifying Middle Eastern whip.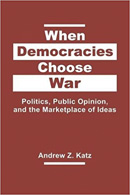 Lynne Rienner Publishers, $75
Katz, a political scientist at Denison University, studies when and why democracies decide to go to war, including how public opinion factors into the complex decision-making. Case studies include Nixon's attempts to win "peace with honor" in Vietnam and United Kingdom's efforts to retake the Falklands from Argentina.